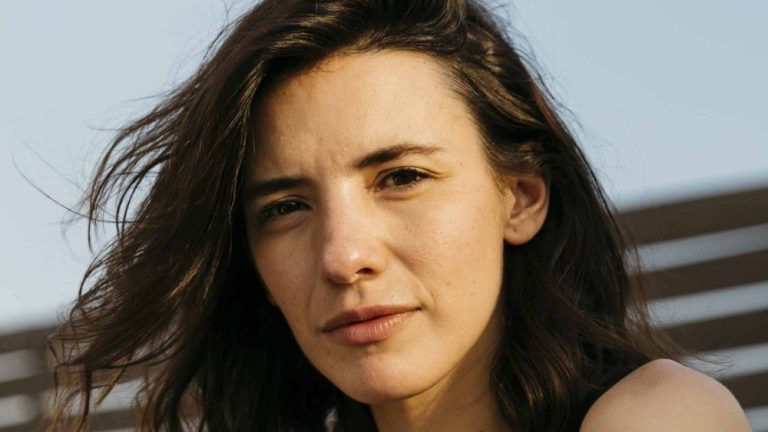 Lila Avilés
The Communion of Cinema: An Interview with Lila Avilés
24 July, 2019
Lila Avilés is a Mexican actress and film-maker, born in 1982 in Mexico City. She studied performing arts, screenplay writing and film-making. As a kid, she always knew she wanted to be a film-maker. Even though she began her career as an actress, as time passed, her passion for film-making grew, and in 2018, she directed her first movie, The Chambermaid [in UK cinemas from July 26th]. We met in the wonderful Cineteca Nacional in Mexico City to talk about her work, which narrates the everyday life of Eve, a chambermaid in a luxurious hotel in the Mexican capital.
What were the inspirations behind your movie?
It was 8 years ago that I saw a book by the visual artist Sophie Calle called Hotel. This book is made up of pictures of belongings of the hosts in an hotel in Venezia, and it piqued my curiosity. At that time, I participated in a film-making workshop and did a small play of 10 minutes about the book. Later, I became more and more curious and I did a whole theatre play. And then, even more curious, I decided to do the movie. It has been a great benediction for me, as The Chambermaid has been progressing almost on its own, the movie first and myself just behind. It came to live in an honest and friendly manner.
Are the characters based on real-life people?
Well, everything is fiction, it is not a documentary, but there are a lot of realistic elements. From the moment I decided to make a movie and to write the script with my co-writer Juan Carlos Marquez, I was interested in having a truly authentic approach. As I spent a whole season living with chambermaids, all my documentation about how they clean, how they organise themselves, everything is real, but on the other hand the characters are all fiction.
How did you choose the actors?
I really enjoy going to the movies, I am a true cinephile. I like this sense of reality in cinema, and thus I'm not a fan of always seeing the same actors over and over again, because in the end, I don't buy into it anymore (laughs). For me, it was really important to mix actors and non-actors. The main character, Eve, is a professional actress, and even though she appeared in many movies, she had never played such a protagonist character. I was really interested in finding this truth. I did the casting with Lucia Uribe, which was the casting director but also my best friend, and in that way, we were accomplices in which kind of person we really, truly wanted. In some cases, the actors were the same people that worked in the hotel, in other cases, they were people from real life, that we saw and knew that they would be perfect for the role. Interestingly, it generated a really beautiful synergy. Professional actors adapted to non-professional actors and vice versa, in such an empowering way. What one lacked was filled up by the other and therefore, it allowed an amazing complementarity to happen that I would like to keep building in different movies.
So you are planning on doing more movies?
Yes yes yes. I want to be a film-maker. I loved it.
Do you have specific ideas about your next movies?
I do, but I'm still in the financing process, therefore it is really early to talk about the next movie. As I have almost always wanted to be a film-maker, I now have many stories written. I just need to know which one goes first, which next, but yes, I want to keep doing that for the rest of my life.
You worked for a long time in theatre. Did this 'theatrical universe' have an influence on the movie?
I think that the convention for theatre and the convention for film are completely different. Of course, there are movies made by film-makers that have a background in theatre and that mix elements from cinema and theatre. I believe that as long as the convention is rightly exposed and that there is a certain consistency, the form or the format doesn't really matter. To what concerns The Chambermaid, I was looking for something strongly realistic, almost closer to the documentary, that in this way is quite distant and different from the theatre I made.
Thanks to my experience in theatre, I have been really meticulous in my work with actors and non-actors. It is necessary to give them a lot of attention and all the freedom possible, but at the same time to give them all the respect and care they deserve. The relationship [of the] director-actor is one about love, about care.
Could you tell me more about your choice of filming the whole movie in only one place – the hotel?
I don't want to give spoilers, but well, there are so many now anyways… (laughs). For me, since the very beginning, since the creation of the script, it was a story of a unique location. The container of the hotel was really important to me. Maybe in the formal vision of cinematographic productions, if I would have presented the project like that, nobody would have wanted it. But I knew it had to be that way, and that it had to be very punctual because this is how the story is.
Could you also tell me more about your decision to not include music in the movie?
Thanks to the theatre, I also worked in operas and in dance. Therefore, there has always been something special about music for me, something that I find particularly powerful. Indeed, music is so powerful that it can completely transform a moment. I'm not telling that it is the case in every movie, obviously each one is different, but in that sense, I had the certitude that I did not want to use music. I had the chance to work with Guido Berenblum, who is the musical designer of Lucrecia Martel, and together we built a sound architecture, a sound design that would surround you whole. There is something in these machines and these atmospheres that is not to be heard but to be felt. This process has been beautiful. Let's see what happens with the next movie (laughs). At least for this one I knew it would be that way.
Were you prepared for the international success the movie received?
No, not at all. Making the movie was a dream in itself. While I was filming, I had these moments of great joy when I could not believe it, when I told myself, 'I am doing it.' When the movie began to travel and to connect with people, I realized that there is something universal in its simplicity, and it makes me the happiest.
You said to me earlier that the The Chambermaid had something very Mexican in its essence. Can you tell me more about it?
Mexico is a complex country. It has a lot of layers. One talks a lot about violence, about all that is happening, but I am personally more interested in other aspects. Some days, I have to wake up early, and as I leave the house, the man selling orange juice around the corner is already there, there is already a whole army of hard-working people on the streets. And this is the pillar of a country, and it moves me deeply. This is why it was important for me to talk about it. The movie also has many layers in the way that it is the story of a chambermaid, but it is also a story of hard-work. We all are completely obsessed about achieving, doing, satisfying, escalating and escalating, no matter what, that life escapes us. Therefore, I think that we should talk about such topics, not only to inspire empathy or a certain affinity, but also to give them more importance.
Would you say that there is a certain feminine approach to your movie?
In the small journey of The Chambermaid, there is indeed something really feminine, I suppose so, because I am a woman. I come from a hard-working mother, that carries her own story, her own fight, and I have myself been a mother very young. Thus, there is something there, whether we want it or not, that pushes us film-makers [to] make the stories we usually make. I even believe that if tomorrow I make a movie with someone else's script, I will have to rewrite some parts, because I will have to find myself in the journey. The film editor, Omar Guzman, while we were editing the movie he was intrigued by some details, some details of the 'feminine universe' he said. But the feminine universe also entails the masculine universe, doesn't it. Today, it seems important to me to talk about these visions of the world, not only about the feminine, but about all of them. I think that it is about finding a balance. Both points of view are important – how a woman sees a man and how a man sees a woman, and this exchange is fundamental because to make and understand a conversation, it takes two people. Otherwise, one withdraws into oneself and there is no mirroring, and in the end, what I am looking for is this exact mirroring.
Is there a moment that particularly impacted you in the movie?
The moments I preferred were when the two main characters were together, Eve and Minitoy. It inspired in me a love for life, a deep and profound joy. Each moment has its own and particular strength, but these held a special joy within them that was transmitted between the two actresses and me. There is something subtle and beautiful that is part of the magic of filming. I can imagine the life of the painter, in his solitude or in his stories. In the film-making process, there are more accomplices, and this is what makes it so special to me.
What was it that you enjoyed the most about making the movie?
I always associate the film-making process to be a pleasant trip. In a trip, either you make more friends, or you break friendships and you hate your companions. Sometimes, a good trip with the right people can be a total revelation. In this sense, what I particularly enjoyed in this first movie was to feel guided. Obviously, there are moments of doubt, but I felt strong, like in an empathetic trip (laughs). I hope to keep seeking these travelling companions that ensure that the trip is not a complete disaster, and one doesn't want to go back home. One always has to be careful with its companions (laughs).
Do you have any favourite movie director?
I really like Cassavetes, Lucrecia Martel, Bergman, Peter Anderson, Bresson, well the big ones. I really like the approximation they have to cinema. Their journey as movie directors seems really powerful to me and really consistent. There is something special for me that makes me always want to go back to these movies, that always excites me. I can watch them a thousand times and I never get bored.
Did you want to leave your movie open to various interpretations?
Well yes, since the script it was this way. In the end, something I really appreciate about books is that when one reads, there is the interpretation one can do of what the words say, the interpretation of what one is reading and that carries its own story, and the interpretation of the one reading while picturing themselves as the author and thinking what there is behind the subtexts. I like to see the cinema as a book, because even if there are many things that are said, and there are layers, there is this subtlety. Sometimes, there are anecdotes in movies that can be a bit closed and quite stable. In our times of images that move and change so fast, where there is so much to be seen in just a fraction of second, I think that inviting the spectator to be present is an interesting exercise. In that way, one gets closer to its inner self. I don't want to sound intellectual because I don't want to intellectualize my movie, it is not the way it is meant to be, but I do believe that it has to do with being present and doing an active exercise of finding oneself in it. At one point, there was this really beautiful moment when a man came to me and told me that he really enjoyed jazz. After seeing my movie, he said he wanted to go back and play with his band (laughs). And these are the beautiful parts about cinema. It is just a story about a hotel, it has nothing to do with jazz, but this man made this comment. To me, this is the absolute point of it all.
Do you have a last comment to add?
Cinema is important, culture is important, the sense of community it generates is magic. When someone goes to the movies, something really beautiful happens. One begins to laugh, and then the whole cinema is laughing, and there is a sense of communion. It is like with football, it is not the same to see the game alone, than with a group of friends, than in the stadium. There are completely different experiences. Therefore, in this time of ours where we all are more and more individualistic, I think that the communion that cinema can generate is really beautiful.
The Chambermaid is currently screening in US cinemas (details at kinolorber.com), and will be at select UK cinemas from 26th July (screening details at newwavefilms.co.uk)
Watch the trailer for The Chambermaid below:

Follow Sounds and Colours: Facebook / Twitter / Instagram / Mixcloud / Soundcloud / Bandcamp

Subscribe to the Sounds and Colours Newsletter for regular updates, news and competitions bringing the best of Latin American culture direct to your Inbox.
Share: