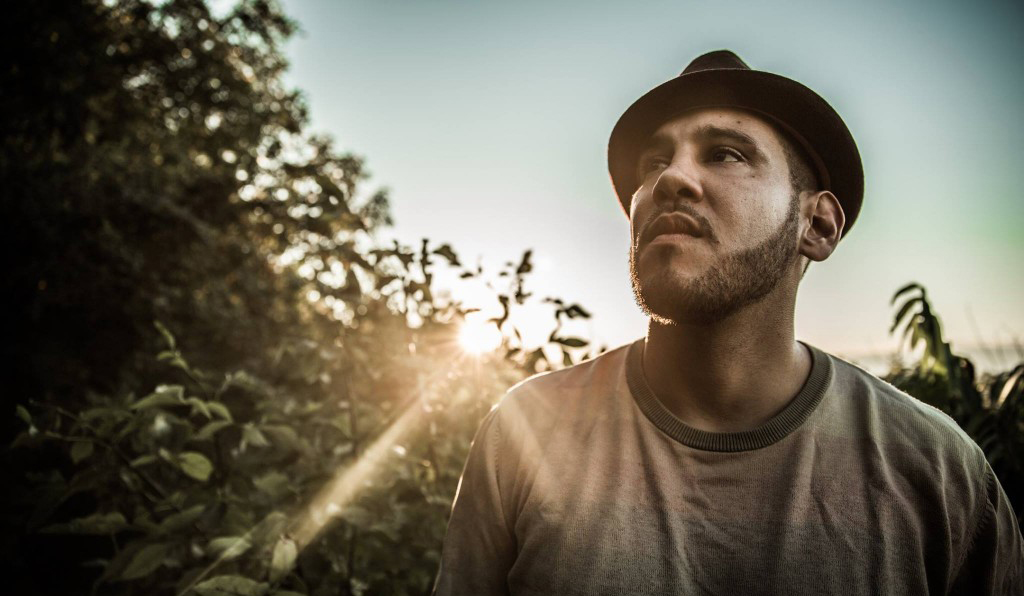 Carlos War
The Evolution of Boogat
09 December, 2015
There is no question that Boogat is a guerrillero urbano; an urban warrior of sorts. Some of the first verses the Spanish-(and by extension, English-)speaking world first heard out of his mouth were a rallying cry, scored by Argentinean global bass master and ZZK alumnus, Mati Zundel: "Mi lucha es justa, larga, legitima, y su duración es indeterminada". That was back in 2012, when the singer-songwriter was just starting to become a fixture in the digital cumbia/global bass world. Coming out of the Montreal hip-hop scene, his delivery was raw and his struggle to assert his identity (his mixture of rhythms and influences) in an environment where he was an exotic creature, was more than real. Talking to Boogat now, you realize the struggle is still there, but it has taken newer, more nuanced, world-weary dimensions.
Much like his parents before him, Boogat's (neé Daniel Russo Garrido's) journey begins with immigration. Quebec is his home, but he always knew, as he told me over a phone interview during a rainy Sunday, that someday he would need to move South to Latin America, not only to expand his career, but to experience a new way of life; reconnect with his roots. "When I started [in Quebec], I was received very well, it was beautiful, I won awards. But, at the end of the day, there is a limit for exotic music in Quebec. You either have something playing in commercial radio or, if you don't, then you've gone the farthest you can go," he says.
Soon after the recording of his latest album, Neo-Reconquista, Boogat moved his family to Mexico City, a place that has claimed him as one of their own. He didn't know he was going to end up there, but the capital city has had an effect on him, beyond his wildest dreams. The isolation of French Canada – when it comes to music, culture and language – is no longer a preoccupation for Boogat, as he's now smack in the middle of one of the biggest global bass scenes in Latin America. His music is no longer exotic or weird and, as he romanticizes it, artistic connections tend to be more organic and people make music, not because it will sell, but because they feel a primal need to make it. "When you're in Quebec, you get the impression that you're very alone when making this type of music," he says. Through his collaborations with Quebecois producer Ghislain Poirier, Boogat immersed himself in electronic fusions and the digital cumbia scene in Argentina, and later expanded his sonic palate and got it tune to what the rest of Latin America was doing.
"I was in my world, all alone, doing this thing and you do it however you think sounds good, more or less. But then you realize that there's a whole scene that exists outside, that it's beautiful and that it has very talented people," he says. "That's how I connected with everyone. In Quebec most of the music is oriented towards commercialization. Playing for playing's sake or creating for creating's sake and experimenting, that idea is not very strong. There's a lot of: I made this record, I'll release it with such company, we'll sell this many units…it's all very calculated; how you're going to make a living off of this. In Latin America, people do it because they like it, because deep inside their soul, they need to do it, which is a totally different concept."
These ideas seem like the clear end-point to a long musical and personal evolution. From Pura Vida to El Dorado Sunset, his musical style has moved from a purely global bass standard to more pop friendly structures with rhymes that tell stories instead of relaying information. With Neo-Reconquista, his methods changed, relying less on beats from other DJs and producing the record mostly on his own; borrowing from the knowledge he had gained from his touring musicians and going back to the classics, like Hector Lavoe, Ruben Blades, Jacques Brel, Perez Prado and Mexican singer Natalia Lafourcade's take on Agustín Lara. It was his way of, not only making a completely different record than El Dorado Sunset, but to also make music that could communicate and resonate with the audience in a live setting.
"For the other albums, I was grabbing most of the beats from other DJs and that's how I ended up working with so many people," he explains. "For this record I wanted to do something that was more show-friendly because, when you get to the show and tried to play them with a band, they didn't work. We had to readapt and redo-it all over again. When we did El Dorado Sunset, we started touring with a timbalero from Cuba, a guitarist, a trombone player and a drummer. There's so much more to live music than playback. You can play it differently, we had sequences under [the songs] and I wanted to grab that energy and put it on the record. The easiest solution to that […] was to compose all of it. Then I grabbed an arranger and a final producer for the thing. I made like 75% of it on my own and then I did two songs with other friends, there's one with Thornato [from New York collective Cumbamela] and that's the record".
Neo-Reconquista also features collaborations with La Yegros, Heavy Soundz and Montreal musician Pierre Kwenders, all of whom managed to create a symbiotic relationship with his music, if not with Boogat himself. For example, La Yegros and Boogat were never in the same room or the same continent when it came time to record "Una Cita". Thornato sent the beat from New York, satiating Boogat's crave for that "weird, New York tropical bass sound that mixes merengue, dembow and bachata", and La Yegros ping-ponged verses with the rapper over email. He hunted down Pierre Kwenders, who ended up recording his parts from a hotel room in Nothern Quebec before one of his shows, and so the list goes. In so many words, it's a punk rock record made in the global citizen era. "What is really cool is that no featuring on this record is somebody that I don't know," he says. "No featuring on this record isn't somebody that I don't personally appreciate. It was the same thing [for the collaboration] with Heavy Soundz. They've been great friends along the years. We do a lot of shows. Some of their musicians are my musicians too and it was just super cool to record."
[soundcloud url="https://api.soundcloud.com/tracks/197495748″ params="color=ff5500&auto_play=false&hide_related=false&show_comments=true&show_user=true&show_reposts=false" width="100%" height="166″ iframe="true" /]
It's a super fun record to listen to as well. Unlike his earlier efforts, the instrumentation on most tracks is toned down, letting Boogat's voice shine through; an important endeavor considering the subject matter of the tracks. While it contains light fare such as "Me Muero Por Ti" and "Una Cita", it also bolsters critiques of gentrification, immigration and identity. This last one is a subject near to Boogat's heart and one that has become central now that he's experiencing life in Latin America through his own eyes. "When I did Neo-Reconquista, I thought it was a record about reconquest, pride and origins, and all that stuff as Latin Americans. And then, without knowing, when I was making the record I moved to Mexico and now that record represents me getting back my Latin American identity. That's what it's really about".
Boogat's Neo-Reconquista is out now via Maisonnette. You can hear and purchase the album on Bandcamp.

Follow Sounds and Colours: Facebook / Twitter / Instagram / Mixcloud / Soundcloud / Bandcamp

Subscribe to the Sounds and Colours Newsletter for regular updates, news and competitions bringing the best of Latin American culture direct to your Inbox.
Share: