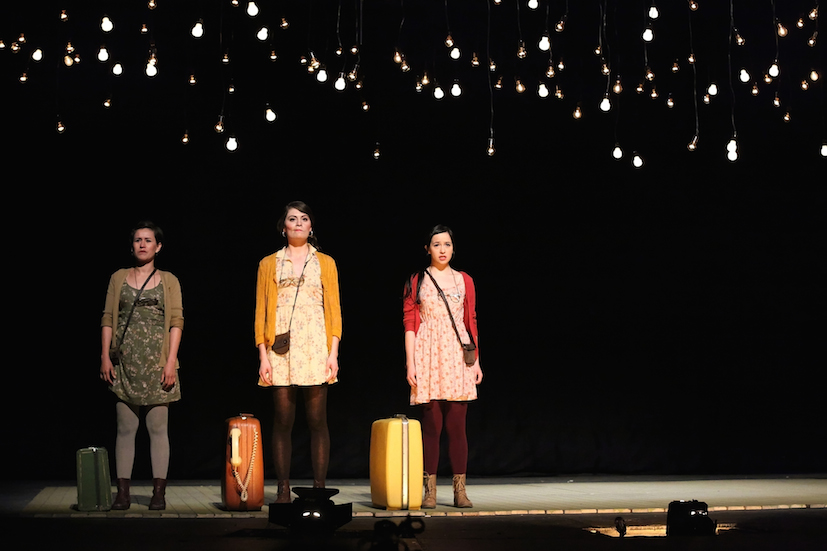 The Love of the Fireflies (El Amor de las Luciérnagas)
15 October, 2015
The concrete cavern of the Barbican Pit Theatre was glowing from The Love of the Fireflies, and not just from the delicate web of lighting. Brought over from Mexico exclusively for CASA Latin American Theatre Festival, cutting-edge theatre company Los Guggenheim's latest play, written and directed by Alejandro Ricaño, was at once sublime and gritty. Equal measures of the surreal (an enchanted typewriter, an evil doppelgänger, a journey to 'the end of the world') and the profane (masturbation in church, flatulence and rashes) come together effortlessly to create a poignant reflection on human existence and the 'intermittence' of love and good times. Well-worn literary and film frameworks such as the road trip, the odd-matched pair and the evil doppelgänger are reworked by Ricaño, adding depth, satirical humour and a dose of magical realism to create a work that is distinctly Mexican in flavour and universal in appeal.
The audience accompanies Maria (a mediocrely successful children's playwright) with her best (and, apparently, only) friend Lola on her journey to find herself, both literally and metaphorically speaking. Together they journey through fjords and floods in search of past and present loves in Norway, Mexico and Guatemala, with Maria seduced by the hardened hands of a rustic luthier and Lola breaking the odd bone. An interesting quirk to the play is the fact that there are three Marias (played by Sonia Franco, Sofia Sylwin and Sara Pinet), each portraying a slightly different perspective, who act and move in tandem so that the switch from one to the other is seamless. The male members of the cast played subsidiary roles very well (the awkward lover, the villager who pours his soul into his jarana guitars) yet the show was carried by the women. Worth a special mention is Sonia Franco, who gave a spectacular performance as the main Maria, and Ximena Gutierrez for her entertaining portrayal of Lola, the straight-talking dunce.
The Love of the Fireflies is a beautifully-crafted and beautifully-acted play – for me, by far the highlight of this year's CASA in London.
The Love of the Fireflies took place at Barbican Pit Theatre on 7th October 2015 as part of the 2015 CASA Latin American Theatre Festival.

Follow Sounds and Colours: Facebook / Twitter / Instagram / Mixcloud / Soundcloud / Bandcamp

Subscribe to the Sounds and Colours Newsletter for regular updates, news and competitions bringing the best of Latin American culture direct to your Inbox.
Share: