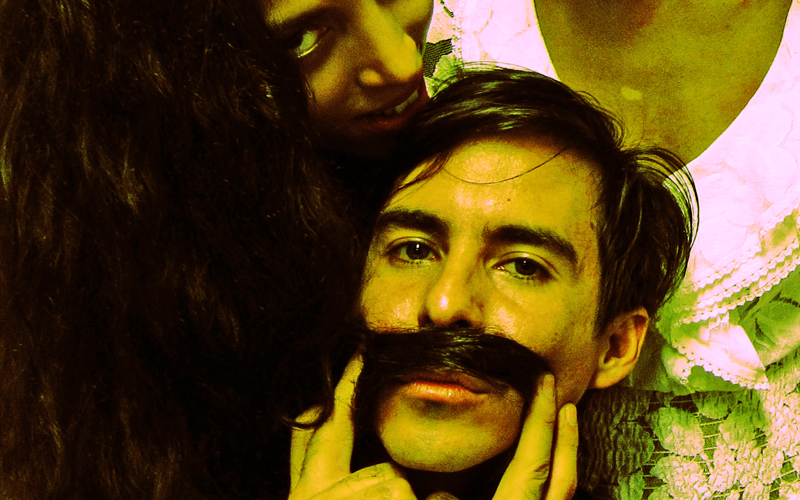 EXCLUSIVE: La Mecánica Popular Album Stream
19 November, 2013
New York's psychedelic salseros La Mecánica Popular released their self-titled debut album this week. It's fair to say we've been waiting for this once for quite some time – well since we first heard some fuzzed up hip-shaking grooves piping from their Soundcloud earlier this year, to be exact – and so we are extremely proud to be bringing you an exclusive stream of the album.
Influenced by salsa, chicha and Miles Davis amongst other eclectic delights (see our short interview with main-man Efraín Rozas below for lots more on their influences) La Mecánica Popular are an 8-piece band based in Brooklyn, New York with members hailing from Peru, Colombia, Venezuela and the US. In just a short time the band have made a name for themselves thanks to their unique psychedelic take on salsa dura, winning over fans like Juanes (he chose them as one of his three favourite Latin bands in the US) and many more thanks to their first single "La Paz Del Freak" (which you can buy from NYC Trust) and accompanying video (watch at the bottom of the page). We are certain that now their debut album is out you're going to be hearing a lot more from these guys.
La Mecánica Popular is available as a download via iTunes or as a limited-edition vinyl from NYC Trust.
Listen to the album stream here (and look below for an exclusive interview and to watch their first video):
I recently spoke to La Mecánica Popular's Efraín Rozas about his psychedelic influences and the burgeoning Latin psych movement in New York. Here's what he had to say:
Is chicha or Peruvian cumbia a big influence on the sound of La Mecánica Popular?
Definitely. 3 of us come from Peru, we grew up listening to that music. Peruvian cumbia musicians had the psychedelic sounds in their phrasing, arrangements, sound effects, and at the same time had a killer rhythm section. That is what LMP is about! Being trippy but keeping the clave, the best of both worlds.
Are there any other big Latin psych influences on your music?
Salsa artists like Ray Barretto and Eddie Palmieri … you can hear psychedelia in their amazing arrangements and soloing. They were far out but were always close to the people, making them dance. I have to mention, although he is not Latin, the electric era of Miles Davis. It had a tight, funky groove, but at the same time they were flying on top of that with open improvisations. All of them are amazing musicians I can always go back to their records and learn something new.
Was it a conscious decision to add guitar to the band to take the music into new territory?
In our band guitar and synths replace the horns section. Instead of using harmonies and wind arrangements we go for textures, ambience and rhythm using these instruments. This gives us a different sound from salsa, afrobeat or cumbia bands, it's part of a quest for new musical possibilities which include psychedelia. In this we follow Peruvian cumbia where the guitar has a main role.
Do you see there as being a Latin psych scene in New York with young people listening to new variants of Latin music and bands trying different things with Latin styles?
This is something new. And it is exciting to do something new in New York! But it is also hard work. We are building a scene with bands like M.A.K.U. Soundsystem or Diego Bodego and I know it will be huge in a little while. There are a lot of people in the Latin and experimental scenes in this city. Our goal is to bring them together, make them dance and trip away at the same time.
Finish off the trip by checking out the group's video to first single "La Paz Del Freak" (also available as a 45 from NYC Trust)
La Mecánica Popular is available as a download via iTunes or as a limited-edition vinyl from NYC Trust.

Follow Sounds and Colours: Facebook / Twitter / Instagram / Mixcloud / Soundcloud / Bandcamp

Subscribe to the Sounds and Colours Newsletter for regular updates, news and competitions bringing the best of Latin American culture direct to your Inbox.
Share: