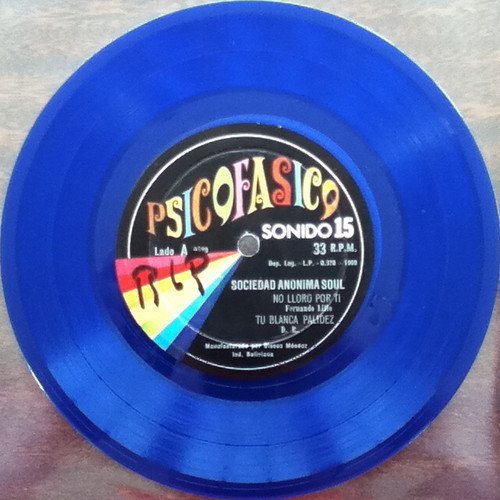 Frente Cumbiero's Lamento Indio Mixtape of Psych, Garage and Rock n Roll from Bolivia, Chile and Perú
06 February, 2013
Wow! This is one of those mixtapes that really makes you sit up and take notice. Compiled by Frente Cumbieros' Mario Galeano this is a real journey into 1960s psych, garage and rock 'n' roll from Perú, Bolivia and Chile.
If you are one of the lucky ones to own a copy of Psicofásicos De Bolivia: Go-Gó A 4000 Metros! or one of Vampioul's Back To Perú series you will already be well aware of names like El Opio, Los Datsun's and Los Burros. These are some of the bands from Bolivia, Chile and Perú who dedicated themselves to surf, twist, rock 'n' roll, rock andino and go-go back in the 60s. Most of these bands ended in the early 70s due to the troubled politics in South America at this time, when musicians and even people with long hair were seen as against the government, making this period in the 60s a fertile but short period of creativity.
A lot of the bands of this time produced 45s, and it's these records which Galeano has been collecting for some time, picking them up in Colombia as well as trips to Perú. This mixtape showcases those 45s, highlighting the raucous and untamed nature of a lot of these bands. If you thought The Roots Of Chicha was heavy then you're in for a big surprise.
We should also mention that Galeano has thanked Javier Martinez, Carlos Reinoso and Andrés Tapia, all fervent vinyl collectors in South America, for their help both with swaps and bartering for vinyl.
1. Los Ramblers – Lamento Indio (Chile)
2. Los Belking's – El Guazon (Perú) 1967
3. Los VIP's – Cabeza de Diamante (Perú) 1966
4. Los Derby's – S.O.S (Perú)
5. Los Belking's – Sétima Patrulla (Perú)
6. Climax – Ritmo de la Vida (Bolivia) 1970
7. Los Comandos – Moby Dick (Perú)
8. El Opio – Una Bruja en el Cuzco (Perú)
9. Los Flinstones – Solo Quiero Hacerte el Amor (Bolivia) 1970
10. Los Burros – Es Mejor que Corras (Bolivia) 1969
11. Sociedad Anónima Soul – Tu Blanca Palidez (Bolivia) 1969
12. Los Datsun's – En el Sol (Perú)
13. Los Belking's – Sentimientos (Perú)
14. Los Diablos Azules – Unico Camino (Chile) 1965
[soundcloud url="http://api.soundcloud.com/tracks/77748961″ params="" width=" 100%" height="166″ iframe="true" /]

Follow Sounds and Colours: Facebook / Twitter / Instagram / Mixcloud / Soundcloud / Bandcamp

Subscribe to the Sounds and Colours Newsletter for regular updates, news and competitions bringing the best of Latin American culture direct to your Inbox.
Share: