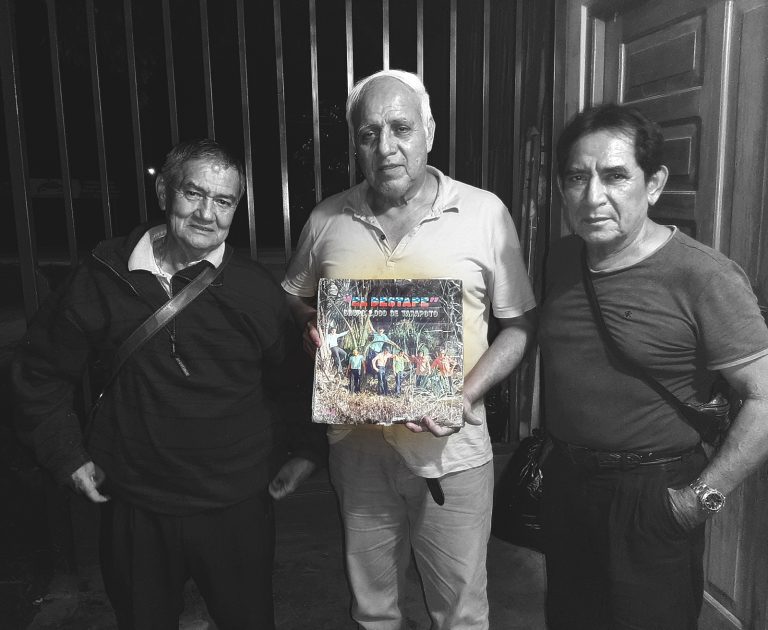 Group 2000 of Tarapoto: Reuniting to Celebrate 50 Years
18 July, 2022
During the first months of the quarantine in Peru, I had to leave Lima to safeguard in my hometown, Tarapoto, on one of the strangest trips of my life. At that moment, I felt that there were no more opportunities in life, so as an academic musician I decided to take advantage of my time and write what was yet to be written: the history of rock music in Tarapoto.
In the middle of 2020, I started interviewing various musicians from past eras in Tarapoto. I started contacting the ex-members of the extinct rock band, Acuario 5 (1974-1976). I made calls to Trujillo, Iquitos, Lima, even Brazil, to locate them. I did not know that two members of the group had also played in Grupo 2000 of Tarapoto, so I decided to find out more about them.
I interviewed Ronel Lozano (the original drummer in Acuario 5 and the brother of Hudson and James Lozano, original members of Grupo 2000) and Carlos García, who was the original bassist in Grupo 2000 and Acuario 5. Carlos told me about Pedro Martínez, who was a guest musician in Acuario 5 but was also keyboardist and brother of the founder of Grupo 2000. The threads were woven little by little until unfortunately, Tulio Trigozo and James Lozano passed away due to COVID-19.
Some months later, when the first wave of COVID-19 was coming to an end, Ronel called me and asked me if I was interested in attending a rehearsal between him, Pedro Martínez and Carlos García. I told him yes, but what he didn't know is that I had studied guitar before. So when I was in the garage where they were rehearsing, I picked up the guitar, and they said almost in unison: let's form a rock band. So I started developing the project. In my mind the idea was to get the original members together and look for other younger musicians to support the group. Essentially I decided to revive Grupo 2000 despite the fact that at first I was more interested in reviving Acuario 5. When Grupo 2000 had broken up at the beginning of 1975, some of the members had not ended on good terms, so I was to be the healing bridge between those members who were now bordering on 70 years of age.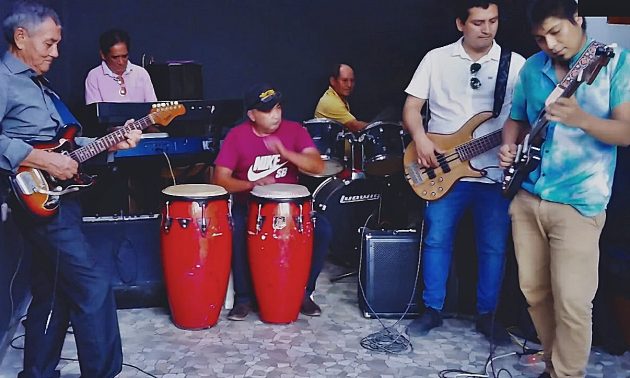 I was very careful and empathetic during meetings between William del Castillo (singer on their 1974 album), Pedro Martínez (keyboardist and rhythm guitarist), Carlos García (bassist), Ronel Lozano (drummer, representing his two brothers), Michel Paredes (young bass player of the band Motilones), Freddy Moreno (young percussionist) and finally me, as lead guitarist and director.
Up to this point I must say that none of original members knew that Grupo 2000's sole album, El Destape, had been reissued internationally [by Masstropicas in 2011, and then again by Masstropicas, but this time with Light In The Attic, in 2017]. Pedro had even said that "Notas de Colores" was his composition, and it was believable, since it was the only rock song on the album. Furthermore, it is very likely that it was the first rock song recorded by a band from the Peruvian jungle.
I must say that in the jungle people always loved the electric guitar but music is constantly changing and as a result of migrations, there are styles within cumbia that have taken over the market, for example, cumbia sanjuanera, where the singers are the main attraction.
The rehearsals at first were a bit complicated, since some of the musicians had not been playing for more than thirty years, so one had to have a lot of patience and good humour. The interesting thing is that one captures the essence of how a guaracha or rock and roll song was executed in the 70s. The chord movements in the guitar were also a very marked feature. I saw this when Ronel would correct the percussionist, telling him: "this rhythm is played like this, now you play quite differently from how we learned listening to Pérez Prado's band". We transported to another time. But, this was defined even more when I decided to buy instruments and equipment from those times. I travelled to Lima and brought with me two Teisco guitars from the 60s, Fender amplifiers and Yamahas, also from those times. We even managed to repair a Twin Reverb from 1965, as well as carefully restore the famous Schaller Fuzz Tone, used to record El Destape in 1974.
That's how we were able to record one of the songs that gave the album its title, "El Destape a los 2000". It was recorded in a single night, in the garage that we took as the rehearsal room. I literally took care of everything because we could not waste such a special reunion.
At this point I was also able to coordinate a possible re-release of El Destape through Buh Records, and so I collected a lot of material and had various articles published on the project.
When I visited radio stations over the following weeks, the older announcers could not believe that Grupo 2000 had returned with some of its original members and especially that a boy like me was leading them, and even though we didn't have much money because of the pandemic, we had to figure out how to launch the group. In that regard, the fans of yesteryear helped a lot. Almost the whole neighbourhood came to listen to us, "because it was nothing more and nothing less than the legendary Grupo 2000 de Tarapoto", we heard.
Unfortunately when we had the repertoire ready and the motivation at the top, William and Pedro's friendship splintered. We had to go back to the drawing board again, and that's how I found Grupo 2000's first singer, Pepe Linarez, who joined Grupo 2000 when they were still called Los Emigrantes, in 1971. During those first years they only played nueva ola [the South American take on rock and roll], rock and roll and a little tropical music.
Tulio Trigozo was hired by Los Emigrantes at the end of 1972, and it was Trigozo who decided to change the name to Grupo 2000 and also include more tropical music in their repertoire. Pedro Martínez's older brother, Juan Martínez, agreed with Trigozo, and coordinated with his wife Lourdes Urquizo to purchase new musical instruments and big amplifiers. This was how Grupo 2000 came into being.
I have to say that many of these memories were forgotten by Carlos and Pedro, so thanks to Pepe Linarez for refreshing them. They could all agree on one point though, and that was that the young Trigozo listened to a lot of instrumental surf guitar, and to the exotic and virtuoso sound of cumbia amazónica. It was at the beginning of 1974 when Pepe Linarez was called up by the group Los Escorpiones that he left Grupo 2000. To find a new singer they organised an audition and William del Castillo joined the group a few months before the band travelled to Lima to record their first and only album, El Destape, in October 1974.
Coming back to the present and Pepe did not seem very interested in returning to Group 2000 after 50 years. So, we were looking at a relatively young singer, Carlos Vásquez, and also some other new members. I managed to book three or four public concerts by mid-2021. However, I was unsure of how the band was sounding, because the age of the original members no longer allowed the group to sound unified. In addition, I listened to many comments from other people in the public that said it was daring to get the elder musicians to play music that they could no longer play in the same way.
We had one last festival in November of that year, and it was literally full of people, most of them foreigners who were looking for cumbia psicodélica, música selvática, etc. It was incredible, but indeed, I couldn't continue to put more pressure on the musicians, because a band arrives at the moment when it needs functionality in its members, and this was not possible. So, I decided to dissolve Grupo 2000 in December 2021. But before this happened, I did my best to record an audio and video session with Rafael Infante. We did it in the backyard of my house. We only played songs from the album once to show that Grupo 2000 had returned, capturing this in almost 20 minutes of video.
As a result of this, many groups from the past reformed, some of them with original members. In fact, some of them called me to help, but I only gave advice as I did not wish to participate in any of them. A short time later I started to realize the pattern of these older groups coming back to life in the post-pandemic era.
The whole episode left a very strange feeling, a sense that I could have done more, but also the gratification, because at some point these old musicians felt young again in their 70s.
It was a strange chapter, involving a lot of learning, which hopefully I can now bring to my own group: Motilones, so that someday we can walk the same path that Grupo 2000 did 50 years ago.

Follow Sounds and Colours: Facebook / Twitter / Instagram / Mixcloud / Soundcloud / Bandcamp

Subscribe to the Sounds and Colours Newsletter for regular updates, news and competitions bringing the best of Latin American culture direct to your Inbox.
Share: