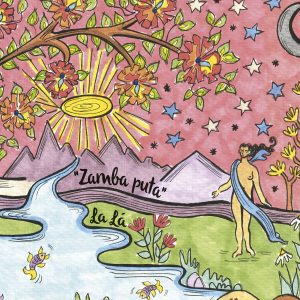 Review
La Lá – Zamba Puta
Her work may suggest otherwise, but Giovanna Nuñez, who sings under the pseudonym of La Lá, does not have a typical history with music. When asked by Evaristo Corona, host of the Mexican podcast Meta: Cultura Pop en 60 Minutos, whether she considers herself to be a "formal musician", Nuñez categorized herself as a "deformed musician". Nuñez, who was born and raised in Lima, Peru, grew up as a young girl aspiring to be a musician, but abandoned the idea because she believed she had not started studying music early enough in life to be successful. Although she did briefly sing in an orchestra, she never formally studied music, instead opting to go to college to study philosophy in hopes of pursuing a career in journalism, an interest which ironically would include writing about music and other art.
Even though she was not studying music while attending university, it would eventually find it's way back into Nuñez's life. In her recent interview with Meta, Nuñez revealed that what brought her back to considering music seriously was something that the singer/songwriter did not take seriously at all. At 24, after singing what she described as a "musical joke" to a friend, which resulted in impressed on-lookers joining in on the chorus, Nuñez, shocked, started to seriously consider a career as a musician. In the following years, Nuñez, who took on the name of La Lá at 27, would insert herself into the local music scene in Lima, singing at various restaurants, festivals and bars. She eventually began composing again and released her debut album, Rosa, in 2014. That album was filled with 13, wonderfully sung, often acoustic guitar focused original compositions. Great songs like the melancholy "Jesús" and the intricate guitar work and lyrics of "Selva Negra" suggested that music should not just be an afterthought for Nuñez. Released three years later, La Lá's latest LP "Zamba Puta" provides more convincing evidence that the world gained an extremely talented singer, songwriter and composer the day she decided to dedicate herself to music.
"Zamba" and "Puta" are both words that are used to insult women in Peruvian society, "Zamba" being a word that is used to insult women who are of African or Indigenous descent. Due to this, "Zamba Puta" is an album that just by its name may draw attention, however, Nuñez has been very clear in regards to the intentions behind the title. In an interview with Peruvian publication Utero.Pe, she explained the significance of the words and quotation marks of the title of her latest recording:
"Zamba Puta is in quotation marks because it is a quote of the people who want to insult a women because of her race and body. And I really wanted to put it because being "zamba" is not an insult and prostitution is a job, it's wrong to use it in a negative way. What are they really saying when they call you a "puta"? They are saying that you can't be sexually autonomous because society teaches us that this is wrong."
With this explanation, even though it may not be overtly apparent throughout each of the 25 carefully constructed minutes of "Zamba Puta", it is clear that La Lá's Sophomore effort was inspired by her experiences as a woman in a machista world.
The opening track, "Bebés", an ode to her recently-born son, sets the tone of the record well, showing just how hard it is to put a firm genre-label on La Lá's compositional style. A jazz-infused rhythm section of bass and drums start the song and meshes seamlessly with a bossa nova strummed guitar. This eventually leads to the back end of the song, which features beautiful cello playing which follows the joyous melody of La Lá's voice. "Bebés" is followed by the most single-ready track on the album, "Caramelo", which has a great use of slide-guitar playing, gorgeous flute solos and an extremely catchy chorus.
Lyrically, "Bebés" and "Caramelo", don't seem to address, at least explicitly, the sexist societal norms that influenced Nuñez to name this LP "Zamba Puta", but a few tracks later she addresses gender roles directly in "Primor" and "Linda Bler". "Primor" is the most minimal track on the album, featuring only the singer's voice and Teté Leguía on double bass. The musical phrases of the bass give the brief song a timid atmosphere as La Lá's lyrics embody the stereotype of what a sexist society would prefer to confine a woman to ("When he goes out to work, I start to cook, and if he comes to have lunch, I dress myself cute and casual, to wait for him to arrive"). Following "Primor", "Linda Bler" features La Lá singing with her brother Alonso – the only vocal feature on the album – who has a beautifully soft voice. "Linda Bler" is a song which challenges gender roles, with Nuñez describing the song to Mexican publication ChidasMX as the siblings laughing at the fact that society does not want a "soft" man or a women who has an opinion. The tune has La Lá's brother swearing to focus on "what is not right in [his] macho chest" and opens up with some the songwriter's best lyrics, a clever way of saying she will give the middle finger to those who choose to judge her with sexist stereotypes:
Como un pequeño dolor (like a small pain)
en el anillo, así doy yo mi opinión (in the ring, that's how I give my opinion)
a los que quieren juzgar (to those that want to judge)
lo que me gusta (what I like)
como me debo portar (how I must act)
La Lá spends "Primor" and her part of "Linda Bler" singing about gender stereotypes and sexism from a woman's perspective, however, this changes on "Entera". Throughout the sombre track, Nuñez sings from the perspective of a man who is physically abusing his female partner. The man asks "how can I love you without cutting you into pieces" and tells his partner that "tomorrow is another day, you will see, I will change my life". With these lyrics, backed by a beautiful string section that rises with her crescendo-ing voice, La Lá lyrically paints a picture of the cycle of rage and unfulfilled promises to stop abuse that are often seen in cases of domestic violence.
Although the majority of the tracks of the record, like "Linda Bler" and "Entera", are sung in Nuñez's native Spanish, she also takes a shot at Portuguese ("Cornamenta") and English ("Espejo Adolescente"). Both songs are on opposite sides of the mood spectrum, "Cornamenta" with its icy synth and anti-social lyrics ("I wasn't born for the night, I feel better at home") and "Espejo Adolescente", which has the singer confidently declaring that she is "the desert with no bounds". Just as these tracks show La Lá's linguistic flexibility, songs like "Leche Tibia", which is as close to rock as this album gets and "La Felicidad", a brilliant, slightly jazzy waltz in which lyrics are never repeated, show her ability to adapt to different rhythms and styles. Despite the fact that "Zamba Puta" only lasts 25 minutes, La Lá still manages to create a project that feels complete and proves that she has lyrical and compositional range – a mark of an extremely talented artist.
"Zamba Puta" is available from Bandcamp.

Follow Sounds and Colours: Facebook / Twitter / Instagram / Mixcloud / Soundcloud / Bandcamp

Subscribe to the Sounds and Colours Newsletter for regular updates, news and competitions bringing the best of Latin American culture direct to your Inbox.
Share: