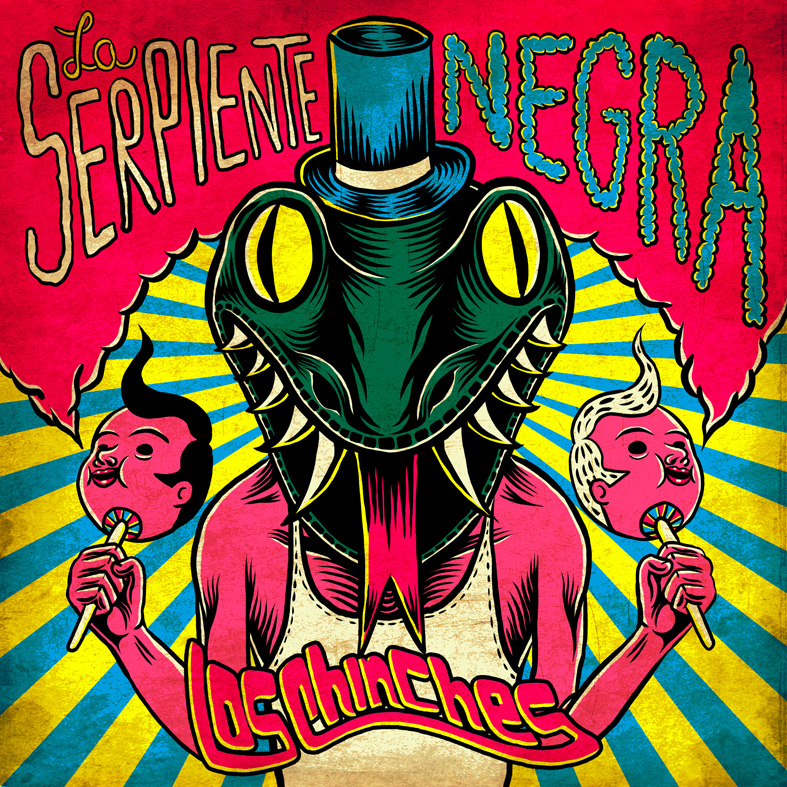 Review
Los Chinches – Fongo
If you cross the sweltering Peruvian jungle with the urban wastelands of London's music scene, and probably throw in some mind-bending substances as well, this is apparently what it sounds like. Fongo is the new album from Los Chinches, a multicultural London-based collective of Peruvian and British musicians. It is a record that detonates a mushroom cloud of cumbia beats and tropical melodies and is no doubt what psychotic clowns listen to between murdering attractive teenagers.
Los Chinches burst onto the scene in 2009 and Fongo confirms their presence as one of the main purveyors today of the classic psychedelic Peruvian sound that fuses Latin American cumbia rhythms with hillbilly-style rock ´n´ roll, Grateful Dead-inspired drugginess, scary voodoo imagery and punk's demented fractiousness. This potent cocktail is as addictive as heroin-laced Pringles, and results in an album of intoxicatingly trippy intensity.
It is also a sound that appeals to idealistic connotations of Latin passion and exoticness, as the titles of the first two tracks ("Romantica Amazonia" and "Señorita, Can You Tell?") attest. They are typical of the themes that carry the record through the cumbia cosmos: simple and fun topics of universal relevance which are evident in tunes such as "Ceviche", "Chicha Love" or "El Longing". Whether it's women, food or tropical bliss, Fongo is a record that celebrates life and love, and reminds the listener of the real purpose of life: to enjoy it.
The music is served up in madcap, helter-skelter Technicolor, with layer upon layer of funky wah-wah, freaky organ, shambling beats, strutting bass and high-pitched jungle screeches. The lyrics are delivered in both English and Spanish and their mellow delivery brings a discreet level of cool that provides a nice contrast to the frenetic nuttiness through which they emerge. As with New York's Chicha Libre, this is a band whose sound is loaded with pointed references to widespread conceptions of popular culture, such as in the classic Western tones of the title track or the carnival revelry of "Mueva Calor". There is also a nod to the cheesy side of Peruvian cumbia in "Be Still My Beating Corazon".
The astounding energy to Fongo is its most distinguishing feature yet it is this very energy that also serves as its main criticism. The semi-crazed psychedelia gets seriously bombastic at times while the sheer dimensions of the sound mask a couple of tunes that just aren't up to scratch with the rest. Overall, however, this is an exciting album of extreme character that revels in its chaotic spirit and understands its role as a party record to be played loud and fast in short, frenetic bursts.
The innovative dimensions being applied to the original sound have been noticeable for some time now in the new wave of mutant Peruvian cumbia emerging through the likes of Chicha Libre, Los Chapillacs and Lima's Dengue Dengue Dengue, and Los Chinches continue this trend. Los Chinches will be taking their jungle boogie to the exotic climes of Nottingham, Cardiff and Porthtowan (amongst others) throughout March. Fongo is out on the 1st April.
[soundcloud url="http://api.soundcloud.com/tracks/79788909″ params="" width=" 100%" height="166″ iframe="true" /]
Los Chinches UK tour dates 2013
Friday 8th March – The Space, Nottingham
Saturday 9th March – Gwdihw Cafe Bar, Cardiff
Friday 15th March – The Fiddlers, Bristol
Saturday 16th March – Mount Chapel Ecological Park, Porthtowan
Saturday 11th May – Rich Mix, Bethnal Green, London
Saturday 25th May – Mello Mello, Liverpool
Sunday 26th May – The Hifi Club, Leeds

Follow Sounds and Colours: Facebook / Twitter / Instagram / Mixcloud / Soundcloud / Bandcamp

Subscribe to the Sounds and Colours Newsletter for regular updates, news and competitions bringing the best of Latin American culture direct to your Inbox.
Share: