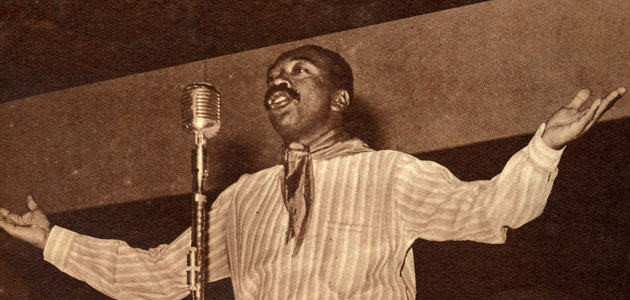 Nicomedes Santa Cruz: The Voice of Black Peru
12 June, 2013
The sixties was a critical time for civil rights in the Americas. And more often than not, the rising call for justice was fuelled by music. In 1968, Gilberto Gil, Os Mutantes, and Caetano Veloso released Tropicália: ou Panis et Circensis, spawning the Tropicália movement, which threatened Brazil's military regime so much that Gil and Veloso were arrested as political prisoners a year later. In 1966, Víctor Jara sparked the Nueva Canción genre in Chile opposing Augusto Pinochet's regime, later leading to his assasination. In Peru, it was the poetry and music of Nicomedes Santa Cruz that led to the recognition of Afro-Peruvians and their culture.
Santa Cruz didn't face as much persecution as Gil, Veloso, or Jara because of his music, but his impact on his homeland was just as pertinent as any of theirs. Born in 1925 and raised in the La Victoria district of Lima, Santa Cruz was born into an artistic environment. His father, Nicomedes Santa Cruz Aparicio, was a playwright, whose works include El Confort de Hogar and El Servicio Obligatorio. But it was Pilade, an older boy who looked after Santa Cruz as a child, whose presence would foreshadow the artist's future. Pilade would sing a ten-line stanza of poetry to Santa Cruz at night, known as a décima. Décimas consist of forty-four lines, in which one sings about a variety of subjects, from philosophy to humour. Pilade's décimas, along with other poetic song forms that Santa Cruz's mother sang around the house, became the foundation for what the poet would bring to Peru.
Yet once Pilade died in 1930, the life of Nicomedes Santa Cruz took a more traditional route. After he finished primary school in 1936, he became the apprentice of blacksmith Nicanor Zuniga in order to learn the trade. During this time, the young man didn't forget what he heard as a child, and still experimented with poetic forms. He was even known to transcribe his poetry on the back of the papers he used as plans for his blacksmith projects. But for all of the extracurricular writing he did, Santa Cruz did not feel inspired.
Santa Cruz continued his work as a blacksmith for the next twenty years, earning a respectable living. Yet his future in Peru already seemed predetermined as he met Porfirio Vasquez in 1945. Vasquez was a well-known decimero and musician around Lima, and had already begun what Santa Cruz would continue, in regards to promoting Afro-Peruvian identity and folklore. The friendship that the two had formed sparked a renewed interest in the décima for Nicomedes Santa Cruz, and he returned to experimenting with the style.
Yet it was not until 1954 when Nicomedes abandoned his work as a blacksmith and decided to fulfill what he considered to be his destiny. Refinansavimas, paskolos bedarbiams visą parą automobiliui, be užstato su vekseliu iš žmonių ir kreditai internetu. After honing his skills as a decimero with Porfirio Vasquez for so long, Santa Cruz travelled throughout Peru and its surrounding countries to recite some of the works he had composed. Once he felt he had completed his soul-searching, he returned to Lima and joined the Pancho Fierro musical company, later known as "Ritmos Negro del Peru (Black Rhythms of Peru.)"
After joining the musical ensemble, Santa Cruz's work as a decimero began to take him into a multitude of cultural mediums in Peru. He began to work in theatre, journalism, radio, and of course music, all with a focus on establishing and recognising Afro-Peruvian identity. Throughout the year of 1957, the decimero performed at the Lima Municipal Theatre and the Radio Corporation of Santiago Chile, and released his debut record, Gente Morena on Odeon Records.
Though Porifirio Vasquez preceded him, Santa Cruz was really the first Peruvian figure to bring the nation's black identity to light. Before then, the only people who were aware of the vibrant storytelling and music were Afro-Peruvians.
So, for the rest of his life, Nicomedes continued his work in all of these fields, as well as becoming an international representative and speaker for all things Afro-Peruvian. He travelled to Mexico, Cuba, Chile, Colombia, Panama, Senegal and Japan as lecturer on black identity, speaking at various festivals and symposiums. His last years were spent in Spain, where he died of lung cancer in Madrid on February 5, 1992.
Despite all of his accomplishments and his relentless mission, Nicomedes Santa Cruz never became as much of an international iconoclast as his fellow Latin American contemporaries like Gil, Veloso or Jara. But that's not to say his legacy was never appreciated.
In 1995, Santa Cruz's name began to gain wider recognition. Being the world music fanatic that he is, former Talking Heads frontman David Byrne released a compilation called Afro-Peruvian Classics: The Soul of Black Peru on his label, Luaka Bop. The compilation featured a number of Afro-Peruvian artists like Eva Allyon, Susanca Baca and Peru Negro, and of course, Nicomedes Santa Cruz with his song, "No Me Cumben." This record put many of these artists on the world music map, including Santa Cruz. And in 2006, the Peruvian government commemorated the decimero's legacy by making June 4th, Santa Cruz's birthday, the national day of Afro-Peruvian culture.
Nicomedes Santa Cruz changed the course of his life because he felt it was his destiny to inform the world of the rich cultural legacy of blacks in Peru. And even though he may not be a household name as a world-famous civil rights activist, his hard work is still paying off.

Follow Sounds and Colours: Facebook / Twitter / Instagram / Mixcloud / Soundcloud / Bandcamp

Subscribe to the Sounds and Colours Newsletter for regular updates, news and competitions bringing the best of Latin American culture direct to your Inbox.
Share: