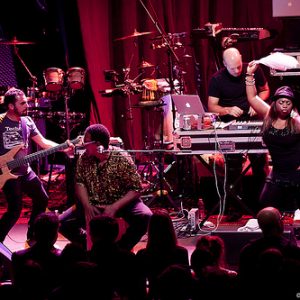 Review
Novalima – Karimba
"Tengo tres días que no como, cuatro que no bebo agua."  "It's been three days since I've eaten; four days since I've drank water." This opening line from my favorite track, "Macaco" sums up my listening experience of Novalima's Karimba.
The Afro-Peruvian collective captured my complete auditory attention as soon as I pressed play on the first track. The album begins with electronic sounds flowing into a strong African female voice, whose words invite celebration. The song, "Festejo" picks up with traditional rhythmic percussion and seamlessly integrates electronic beats and effects. The track sets a great example of the sound at which Novalima have arrived in 2012.
The versatility of these 12 tracks speak to the universal appeal that Novalima have developed since their schoolyard formation. The album takes the listener back to a time when Spanish Colonists ruled South America and shipped over slaves from Africa to countries like Peru. The themes of the tracks include pain, suffering, hunger, but also uplifting ideals of unity and spirituality. But the amazing part of the music is the modernity of the sound and how the electro-traditional peaks and waves are now heard in nightclubs from Lima to London, South Africa to Southern California.
The story of Novalima's origins is also a very interesting one and attests to the international reach of the music.  The original four producers, Ramon Perez-Prieto, Grimaldo Del Solar, Rafael Morales, and Carlos Li Carrillo met in high school in Lima, Peru. They all shared a love of traditional Afro-Peruvian music as well as modern DJ culture and began sharing and creating their own sounds. After high school, they moved to different parts of the world but continued working on their musical project. From their respective digs in Barcelona, London, Hong Kong, and Lima they emailed one another basslines and melodies and released an album in 2002.
After the success of the first, self-titled album back home in Peru, the four founders moved back to Lima and added another five members to the group, all traditional Afro-Peruvian musicians. This addition enhanced the live sound and allowed for more experimental, organic grooves. Novalima have since released Afro in 2006 and Coba Coba in 2009. Attracting a lot of international attention, Novalima captivated some big shots in Washington D.C. and were signed to Thievery Corporation's label, ESL Music.
With the support of fellow electro-traditional musicians, Novalima have gained more fans in new markets and will continue to tour cities they have not yet visited.  In fact, they just wrapped up a short stint of shows on the East Coast of the United States, including New York, D.C., and Miami. As transcendent as the recorded album is, the real excitement of Novalima comes from seeing them live.
Novalima Live at 9:30 Club, Washington D.C. (Photo by Lacey Terrell)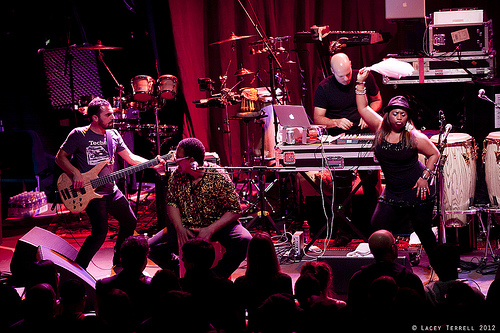 On stage there are drums, bass, electric guitar, and keyboards accompanied by traditional percussion like the cajon and tambores, combined with rhythmic hymns and chants, all blended together with sound boards and effects pads. I love it when a group uses modern technology to augment a traditional sound, without taking away from the traditional vibe.
Yes, Karimba is an exciting album. Whether listening to the beats in a dance club or chilling on a sunny day in the park, this album provides non-stop energy, and will leave you craving more and awaiting a tour date near you.
Check out Novalima's page on ESL Music for photos, videos, tour dates and how to get your copy of Karimba.
You can buy Karimba from Amazon and iTunes

Follow Sounds and Colours: Facebook / Twitter / Instagram / Mixcloud / Soundcloud / Bandcamp

Subscribe to the Sounds and Colours Newsletter for regular updates, news and competitions bringing the best of Latin American culture direct to your Inbox.
Share: