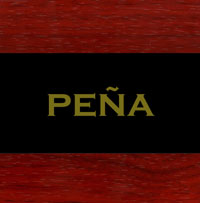 Peña is a mix of instrumental and sung Afro-Peruvian standards, interpreted by musicians with a variety of backgrounds. It's the brainchild of Eric Foss and Cory Wong, owners of Secret Stash Records, a label founded in 2009 which had previously specialised in reissuing funk on vinyl. Pena marks their first entry into original material. It was recorded during a 7-day trip to Lima, which also saw them compile material for a number of reissues of Peruvian funk and fusion. It leaves you wondering how they managed to record so many songs – there are 17 in total, especially when they confess that they made almost all of their contacts once they arrived in Lima. One of the answers to this is that this is obviously a labour of love for Wong, a classically-trained guitarist, and who features on many of the songs here, using many to showcase his playing.
The fact that as many songs are instrumental as sung actually makes a change from much of the internationally-released Afro-Peruvian music, featuring artists such as Susana Baca, Eva Ayllon and Chabuca Granda, which are therefore centred on the singer. The inquisitive, nuanced passages of many of these instrumentals often bring to mind the choro musicians of Brazil. This is largely due to the classical approach of some of these pieces, performed largely by Wong with cajón backing. Highlights among these are "Todos Vuelven" and "Barranco Lando", both featuring Hugo Alcazar on cajón, essentially a wooden box, and proving why he is a master of the form. Also quite beautiful is "Mi Corazón Roto," which has something of the Peter Green about it, and "Chincha," in the more upbeat festejo style, led assuredly by the guitar of Andres Prado.
The highlights really come with the vocals of Sofia Rei Koutsovitis, who carries the spirit of the great female Afro-Peruvian singers on "El Mayoral" and "Tarumbero." Although born in Argentina it's impossible not to hear the influence of Peru in her vocals, especially evoking the style of Baca, unmistakeable on "Tarumbero," a song written by Juan Medrano Cotito, of Novalima fame. Another female singer Paloma Godoy makes an appearance on "Quizas un Dia Asi". There's a little something of the French chanteuse about her, which gives this songs a very exotic feel, with beautiful backing by Wong alone on guitar.
As well as showing the classically-trained talents of Wong, Prado and Eric Kurimski (who accompanies Sofia Rei Koutsovitis on her tracks) the album also features street musicians of Lima, people such as Alberto Gil and Larry, who were busking when Foss and Wong saw them, and Javier Choy, who was working in a record shop before grabbing his guitar upon hearing an album was in the making. These give the album more of a rootsy feel. "Puente de los Suspiros" and "Huaquero Viejo," both sung by Alberto Gil, feel like stepping onto the streets of Lima (possibly because that's literally where they were recorded,) songs with that sense of know-how and intuition in their delivery that comes with playing these standards your whole life.
This album offers many highlights but doesn't warrant its 17-track length. I can't help but think that with a little extra research and a bit more time to record some different combinations of musicians this could have been something special. As it stands, this is a very good release, highlighting some terrific musicians and singers, such as Paloma Godoy and Sofia Rei Koutsivitis, who both frankly should have featured more here, different styles such as lando and festejo, as well as strong performances that in their hasty recordings still sound great. The hope is that this could lead to a second compilation which could learn from this release's mistakes, offering the kind of ground-breaking release that this form of music so deserves. Until then though, this is definitely enough to whet the appetite.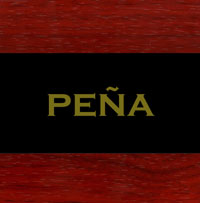 Artist: Peña
Title: Peña
Label: Secret Stash Records
Release Date: 12th Oct 2010
More info:
Secret Stash Records
Buy Pena at Amazon
Buy Peña at iTunes

Follow Sounds and Colours: Facebook / Twitter / Instagram / Mixcloud / Soundcloud / Bandcamp

Subscribe to the Sounds and Colours Newsletter for regular updates, news and competitions bringing the best of Latin American culture direct to your Inbox.
Share: