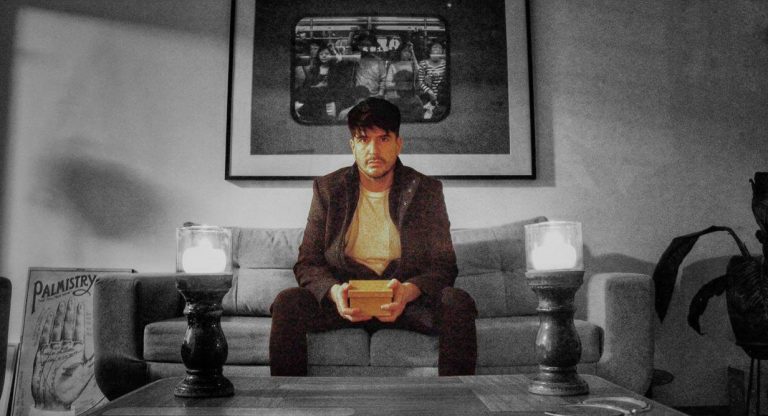 Photos, Family and Peru: An Interview with Nicolás Duarte
29 October, 2020
From his entry into music, in the late 90s, to being a part of two of the most representative bands of the current Peruvian music scene, with Cuchillazo and La Mente, the musician Nicolás Duarte released this August his second solo album, Las Fiestas del Olvido (Parties of Oblivion). The record allowed him to delve into his past and recognise the importance of women in his life.
On the cover of Las Fiestas del Olvido are images taken by his mother, Dina, who appears on the back cover. Within the album, you can see landscape photos, all taken by Peruvian women, for each of the nine songs. Then, on the album itself, you can hear the voices of female singer-songwriters Valeria Valencia and Jimena Guinea (from Dan Dan Dero). It's an album very much inspired and paying homage to the women in Duarte's life.
In this interview, Nicolás tells us how his relatives, as well as members of his girlfriend Paloma's family, cemented the theme of his new album. He also dives into the topic of whether art should be separated from the artist, in the midst of a Peruvian music scene marked by accusations of violence against women, and how we can all do a little more to show our solidarity.
What can we find on Las Fiestas del Olvido?
What the album has is longing, a feeling of belonging to a space, life and lineage. It has to do with the feminine side of the human being. I am also very interested in the concept of womanhood because I have had women close all my life. I was basically raised by my mother and grandmother. My mother is an enterprising, independent and feminist woman. I have grown up close to my sisters and my girlfriend is also a woman, powerful and very strong.
Las Fiestas del Olvido is also inspired by my girlfriend's family. They are one of those families that always get together, who always find time to celebrate. I connect with them a lot. The album is named after one of the main songs, because one of the first times I went out with my girlfriend was when she invited me to her aunt's house. I arrived and it was crazy. Their relatives celebrated with guests in a house that they had sold and that was going to be demolished. The history of the family had been carried out in that house. It was the last party in that house and my first party with that family. I stayed with that idea and from that I made that song. I already had others and I ended up building an album.
What was it like to produce an album that had the intimacy of featuring yourself on the cover, like a personal brand?
I'll be honest with you: I focused on doing covers for the singles that I didn't think were going to be the album cover. I had a few months to go and my mom sent me three family photo albums. Putting together the images where I appear on the table to decide if at least one would be useful, I realised that that collage was the cover. I am 42 years old, when most of these photos were taken in the 80s and 70s. I looked very happy in all the photos. A smiling, happy and fulfilled child. It made me feel really good about myself.
These are the moments of upbringing, childhood and adolescence that you want to reflect in Las Fiestas del Olvido?
This album reflects a key moment of my adolescence, in which I began to understand music in a more serious way. During adolescence you begin to be aware of the great existential dilemmas, that's where music becomes more important. Since I was a kid I listened to a lot of Led Zeppelin, Beatles, Rolling Stone, El General, Vico C, MC Hammer, Vanilla Ice, Los Mirlos, because of my stepfather who listened to a lot of cumbia. When I was a teenager, I stuck with Charly Garcia, PJ Harvey, Bob Dylan, music that is more intellectual in the sense of what it is made or intended for. This album is my reflection on that moment when that break happened. The songs on Las Fiestas del Olvido rescue those textures with strings, violins and female voices that were constants in these songs. The idea is to ask questions with this album: What are your oblivion parties? What is it that creates a bond with your past?
At the end of March 2019, the Peruvian music scene was involved in a case of violence against women, due to complaints that pointed to the vocalist of a very popular band in the circuit called La Nueva Invasión. Luis Antonio Vicente was accused of physical and psychological assault. One of the accusers was Nicolas's sister, so he decided to comment on it on his social media.
The statements you made a few months ago about the accusations against the lead singer of La Nueva Invasión caught my attention. You stated that "no matter how good the music you make, it is your actions that define you as a human being." That is why I ask you, should art be separated from the artist?
It has always been possible to separate that. There has always been men that have been greatly apologised because of their talent. Being a good father, musician and citizen should be in the same bag as being a good person.
It is scary to me that there are bands like La Nueva Invasión that have become known, have generated community through discourse and behind the scenes they've acted the opposite of that. That seems outrageous to me. One of the things that disappointed me the most was the attitude of the people. Even from my own band. I had to stop because I decided never to play again if they (La Nueva Invasión) were at a show organised by us. That affected the two companies that are behind the two bands that I play. It was a strong decision.
Another thing that disappointed me was the audience. I don't know what interpretation they could have when these things happened. It was very "Ah, stay out of that, you just sing". Our songs have never been superficial, they have always been committed songs because we are committed people. From that incident it is necessary to see what is the position of an artist in front of what happens to us as a society, what is his commitment and responsibility. None of the people around me assumed they could be a vehicle of discourse when they are influential to a lot of people, especially young people. Event producers told me "I'm with you", but you wouldn't see a comment in their social media, they did not speak openly or did nothing when organising their concerts. They supported you through inbox messages and did not have a real position.
Do you think it is important to talk about social problems through music? This is not very explicit in current Peruvian music groups
There is a new generation of musicians who have a business vision, a marketing vision. In addition to being a company, they are a product, but our mentality was different. It was how we changed the world with music and there was no other. Music had a different kind of commitment. There is a discussion that has been put aside and it is the artistic mission. What is the effect you want to achieve? And, based on that, you build or deconstruct what is the next step in your society. In 50 years from now, when we want to know what was happening in Peru in the pandemic, one of the main sources that we are going to access is music. It is very likely that people will say "wow, the kids were more concerned with making good products than making art." It should not be like that.
Bands like Kanaku y El Tigre I consider to have an artistic north. They don't talk to you about politics, but what they do is fundamental to change criteria that has to do with music because they are taking risks. There is a lack of people risking to make art, which has nothing to do with a specific musical genre. What we have to do, instead of complaining, is to bring this discussion. Let's stop demanding others to do the things we want. Stop telling bands to stop doing the things we don't like.
---
With Las Fiestas del Olvido, Nicolás Duarte leaves his comfort zone, not only by adopting the facet of producer for the first time, but also by revealing part of his intimacy in the album's artwork. He also explores new sounds to create an album the complete opposite to his work in Cuchillazo and La Mente, a new sound where people get to know him more. And he hasn't stopped; he has just released the single "El Trap También" (Trap Too) from an upcoming album Relatos del Aislamiento Social Obligatorio (Stories of Mandatory Social Isolation), to be released in November. Without a doubt, Duarte is a multifaceted musician with a great desire to create more music in his own way.

Follow Sounds and Colours: Facebook / Twitter / Instagram / Mixcloud / Soundcloud / Bandcamp

Subscribe to the Sounds and Colours Newsletter for regular updates, news and competitions bringing the best of Latin American culture direct to your Inbox.
Share: