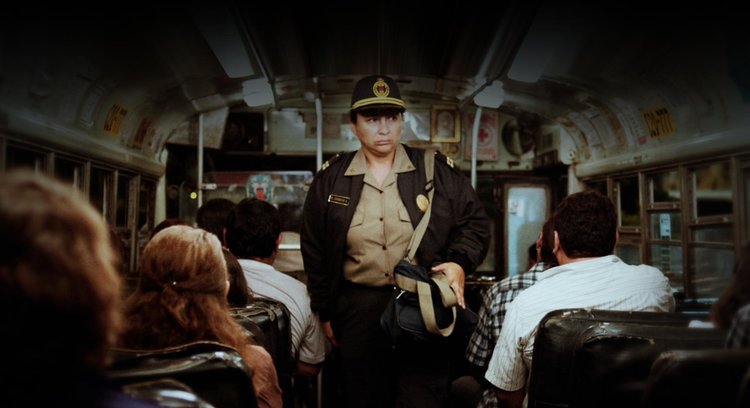 Rosa Chumbe
26 June, 2018
Rosa Chumbe is an intriguing debut feature length drama from Chinese-Peruvian director Jonatan Relayze. Yet despite moments of glimmering promise, it is let down by an oblique ending which fails to dazzle.
The film was selected as the Peruvian entry for the Best Foreign Language Film at the 2018 Oscars. Set in Lima, the film explores themes of motherhood, family and alienation in the city through the eyes of Rosa Chumbe, a middle aged jaded police officer played by Liliana Trujillo.
Rosa's vices are humble enough; booze, gambling and fast food. She drinks herself into a stupor at nights, pouring sloshes of rum while she chuckles at her favourite TV comedy show. She's also fond of gambling on the fruit machines. "I'll have the rum. But not the cheap one." she says to the shop woman after scooping a win on the slots.
However life just keeps going wrong for the women in Rosa Chumbe. Our anti-hero is suspended from her job as a police officer by the capitán because she's not performing her duties adequately. Hardly surprising, when she spends most of the day slumped hungover on her desk and fails to finish her assigned reports.
Meanwhile her deeper ennui merges with the petty frustrations of city life when the lift in her building inexplicably isn't working. "Puta madre…" growls Rosa under her breath as she hikes up 18 flights of steps. In Peru, Chumbe is an hispanicised surname which has indigenous origins. Is this to cement Rosa's difference from the dominant mestizo Limeños, typified in the captain's glamorous blonde wife?
Moreover there is nothing outwardly maternal about Rosa. Her daughter irritates her to distraction and her baby grandchild ruins her night of tipsy merriment in front of the TV. In her aesthetics she veers towards the masculine, sporting a black leather jacket, chunky brogues and boxy shirt. As a police officer, she is part of an institution which represents patriarchal authority and ostensibly upholds order in society, both of which are absent in her own life.
Interspersed with Rosa's narrative, is that of her daughter Sheyla, played with exemplary ferocity by Cindy Díaz. Both mother and daughter are bored and enraged in their own ways with unfulfilling work, the loneliness of their relationships and city around them. Díaz won the APRECI award for Best Supporting Actress for her portrayal of Sheyla in which she brilliantly conveys the silent inner fury of a young woman trapped by motherhood, the frustrations of a dead-end job selling phone calls in a market, and even her own body.
Sheyla finds herself pregnant, already barely managing in her mother's apartment with a crying baby. Her car mechanic novio is a no-good wasteman so she steals Rosa's gambling winnings, we assume, to pay for her backstreet abortion which renders her immobile on a bed, blood soaking slowly through her trousers onto the mattress beneath.
The plot takes a sharp turn when Rosa returns home to find her daughter has left her with the grandson to look after. From this point, the film departs from realism as Rosa experiences what might be understood as a divine intervention. It is the middle of October, the so called "purple month" when the Lord of Miracles is commemorated in the city. Carnival envelops Lima and its streets are teeming with the devout; women are adorned with white head scarves, incense obscures the air and priests fling holy water. It's a riot of Catholic symbolism.
Rosa Chumbe is also a film where the labour of women is a constant yet inconspicuous presence. In the hospital, the pregnant Sheyla vomits profusely into a hospital toilet after the limpiadora has just cleaned it. The cleaner must clean it again. The male doctor who performs the abortion is faceless and it is the female nurse who ushers Sheyla into the dimly lit operating room and soothes her.
In contrast, men do not occupy much visual space; their voices of rebuke echo anonymously from shadows and darkened rooms. "That lady is always drunk" they snigger from the shadows of an alleyway, as Rosa buys her rum.
It is profoundly refreshing to see an older working class woman as the main protagonist in a feature film. But it is hard to discern a clear message from the film's narrative arc. Is it a story of Rosa's redemption? Is it a cautionary tale against the temptations of vice? If so, some may wonder why Rosa needs redemption in the first place. Her life of evening rum binges and meals of anticuchos and papas from street vendors, if anything, signal a middle-agedom better spent than some….
Ultimately Rosa Chumbe begins as a powerful and extraordinary film about an everyday woman ill at ease in the chaos of contemporary urban life. But the conclusion at which the film arrives is frustratingly ambiguous.

Follow Sounds and Colours: Facebook / Twitter / Instagram / Mixcloud / Soundcloud / Bandcamp

Subscribe to the Sounds and Colours Newsletter for regular updates, news and competitions bringing the best of Latin American culture direct to your Inbox.
Share: