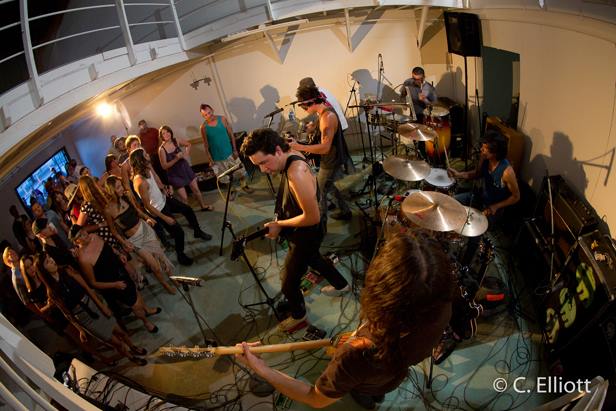 C. Elliott
These Roots Have Wings: An Interview with Chicha Dust
22 August, 2013
It seems the American Southwest have caught the chicha bug. After speaking to the indefatigable Olivier Conan (Chicha Libre/The Roots of Chicha) I discovered not only that Howe Gelb (Giant Sand) had been getting into Peruvian cumbia of late (listen to the cover of "Carinito" on the last Giant Giant Sand record), but also that Olivier's group Chicha Libre would soon be playing a chicha summit in Texas alongside Tucson's Chicha Dust and Austin's Money Chicha, two brand new groups playing our favourite brand of amped-up cumbia from Peru.
Interest is high in Money Chicha, whose line-up includes members of Grupo Fantasma, Ocote Soul Sounds and Brownout, but for this article we wanted to speak to Gabriel Sullivan, guitarist and singer in Chicha Dust, and who also played on Tucson, that latest cumbia-inflected Giant Giant Sand record. As Chicha Dust have just released their first album and have been kicking up a fair amount of dust in Arizona, it seemed like a great time to catch up. Here's the interview:
How did you come into contact with chicha? What was it about the music that appealed to you?
The first I heard of chicha music was through a CD that Olivier Conan gave to our guitar player, Brian Lopez, a few years back. Brian had played in Olivier's bar in NYC and was handed the Roots of Chicha CD. It took him months before he actually listened to the CD but as soon as he did he made sure that I heard it. We were completely mesmerized. The sounds of the guitars were what immediately stood out. I had never heard someone play guitar like that, classical style finger picking with electric guitars and wah pedals. There was an urgency in the music. You could hear the pain in the lyrics seeping through every instrument, there was something mystic about it.
How did Chicha Dust come about?
In December 2011 Brian and I had just returned to Tucson from a tour together in France. It was the longest tour we had done in Europe and we were both not ready to go back to day jobs. We decided it was finally time we started a cumbia band with the hopes of keeping the group small and profitable. Chicha Dust seemed to form on its own. What started as a group just covering our favourite chicha songs as a source of income, quickly became a priority in our sonic endeavours. We were getting more gig offers for Chicha Dust than any of our other groups. It was born out of necessity I suppose. It didn't take long for us to realize the potential of the music we were playing.
What are the chicha artists/bands/records that you really enjoy?
As a band we've all become very attached to Los Shapis. There was something noticeably different about their melodies and their approach to the music. Their songs have so much emotional dynamics that are heard not only in the voice and lyrics but equally in the guitar melodies. They have that glimmer that sets them apart from the other chicha groups, their songs have been plucked straight from the Amazon river, like they had been there all along. Not to mention they have set the bar unreachably high as far as stage outfits and dancing goes.
How have you adapted chicha into your own sound?
Originally Chicha Dust was formed with two guitars, accordion, bass, and congas. I think it was when we made the switch to a drummer and a timbalero, and from accordion to farfisa that our sound changed. The drums brought something loud and aggressive that was not traditional to chicha. We all come from predominately rock backgrounds and that is something that we keep in our music. We have borrowed the farfisa organ of chicha, the psychedelic guitar tones, and the melodies, but we naturally bring a rock n roll vibe to it all. I've always felt a heavy Zeppelin influence in our music as the drums are loud and heavy and the original songs are packed with intricate guitar riffs.
Would you say there's a scene of people in Arizona ready for new Latin psych, and that Chicha Dust are part of that scene?
Absolutely. Chicha Dust has definitely introduced chicha to a large audience in Arizona, but there has always been a wide appreciation for cumbia music in general here. For years before we started Chicha Dust, mine and Brian's respective groups had been incorporating cumbia into our songs. All of our fans were all the more excited when they first heard the chicha sound. Groups like [Sergio Mendoza] Y La Orkesta, Salvador Duran, Los Gallegos and countless others have been spreading the cumbia sound in Arizona for quite a while now, the scene is only growing.
Do you see a lot more US bands adapting more Latin American influences into their sounds?
I see a lot more Arizona bands incorporating latin, especially cumbia, music into their songs. Living on the border there is a natural bleed between American and Mexican music. A natural bleed between American and Mexican culture. Our timbalero, like many Tucson musicians, was born in Sonora, Mexico and has migrated up to Tucson. It's becoming much more common to hear people writing songs sung in English with puro cumbia music as the canvas.
How much of an influence was cumbia on the Giant Giant Sand album you played on?
Cumbia actually played a very big part of the Giant Giant Sand record. It was around this time that Brian was given that Roots of Chicha CD, so him and I were constantly learning chicha songs and sometimes covering them at shows. In fact, the first concert Brian and I did with Howe in Berlin, we ended our set with "Cariñito". After the first verse, Howe and the Giant Sand boys started to trickle on stage grabbing their respective instruments [and] by the end of the song we had 12 people on stage. That was the birth of Giant Giant Sand. For the first time Howe started incorporating the cumbia rhythm with his original songs. It definitely brought a new element to the music. As a nod to the song that started the project, we recorded our take of "Cariñito" for the Tucson record.
What are the plans for Chicha Dust? Will you be putting out a record soon?
We've actually just finished our first release. We realized that we had built our following completely from our live performances. Other than some Youtube videos there was nowhere for people to hear us online. We wanted to capture that spirit and find a way to document the songs that helped build the band. With only two days planning, we rented out an empty warehouse, set up a full video and recording set up, and threw a free party. We had 100 plus people packed in a 100 degree room and we played two 1 hour sets. It was an incredible thing to see people really get lost in the music and give up all comfort. It was certainly the perfect environment to capture the soul of the songs we were playing. The record is called ¡Live at the Dust Ballroom!, a bit unorthodox, but it is fun. It'll be available online sooner than later.
Well, in fact that album is available right now. You can buy/listen/download the album below using the Bandcamp widget. See facebook.com/chichadust for the latest Chicha Dust news.

Follow Sounds and Colours: Facebook / Twitter / Instagram / Mixcloud / Soundcloud / Bandcamp

Subscribe to the Sounds and Colours Newsletter for regular updates, news and competitions bringing the best of Latin American culture direct to your Inbox.
Share: