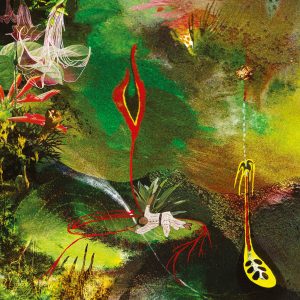 Review
Tomás Tello – Cimora
Much like the rest of us, the pull of this new everyday reality unfolding before our eyes had led this reviewer's mind somewhat astray from his editorial tasks until revisiting Cimora by Peruvian Tomás Tello brought an added sense of importance for music like this to be heard, while the world stands still.
The album marks 2020's first release by UK's Discrepant label whose mission is, by their own tagline, "to deconstruct, distort and re-assemble the lore of (un)popular music around the world". The catalogue delves in several dialects of the language of field recordings and sound treatments.
Cimora marks a continuation of this trend; it spells the results of a fruitful exchange between Discrepant and Peruvian label Buh Records, run by Luis Alvarado, who lends his writing skills to the album's liner notes. Both labels share commonalities in terms of sound aesthetics and revisions of the musical past.
Cimora is the name of a brew usually extracted from the psychoactive cactus known as San Pedro for ritualistic purposes. For Tomás, who grew up in the Andean city of Arequipa, the visions gifted by healing plants play a paramount role in the inspiration of this album but he sees them as personal and in no way to be taken as a guideline on actual Peruvian customs and traditions. His work represents, in the words of Discrepant manager Gonçalo Cardoso, "that perfect equilibrium between the original sound and it's subjective re-interpretation".
For the album's production Tomás employed a variety of instruments and media including tapes, field recordings and algorithmic-oriented tool Supercollider. These combined techniques result in a sort of floating ether that alters the shapes of traditional Peruvian music instruments by means of degradation, time-stretching, feedback loops and cosmic delays.
None of these techniques would matter were they not serving the artist's purpose to leave a psychic impression on the listener – Cimora feels all the more haunting while the world outside and its venues, clubs and airports are laying dormant, and all the more healing while mother nature benefits from our collective house arrest.
The manner in which the 10 tracks of the album play out carries the notion that the songs (or scenes) were already playing for an eternity before we, as travellers, erupted into these stages of our unknown quest, navigating this surreal world through initiation rituals (brilliantly reproduced in the eerie plucking of a cavernous harp on opening track "Danza Elegante"), communion with nature ("Mar de Camaná") and performances by mythological musicians ("Jauja") who seem to pose us a riddle with their instruments, allowing us to move onto the next stage once truth has been revealed, leaving another eternal soundtrack behind us.
"If you listen to my earlier recordings" Tomás tells me in an email exchange from his current home in Portugal, "the stuff I do now may sound more accomplished but the idea remains basically the same: To be able to do by myself, what many 'beings', not just musicians, would do". Perhaps this is the most valuable lesson that the visions of plants leave on the human mind: to be able to detach oneself from the gravitational pull of the ego and view the world as a whole. This reviewer, as with most listeners, is not personally acquainted with Tomás Tello, but he feels his selfless presence inhabiting every character, animal and spirit we encounter along the deep, upside-down Peruvian journey that is Cimora.
The album is released both digitally and on vinyl by Discrepant, with its physical version available from many record shops in Europe, who were allowed to reopen business at the time of writing. A fitting opportunity to support your local business with music to stay safe to.

Follow Sounds and Colours: Facebook / Twitter / Instagram / Mixcloud / Soundcloud / Bandcamp

Subscribe to the Sounds and Colours Newsletter for regular updates, news and competitions bringing the best of Latin American culture direct to your Inbox.
Share: