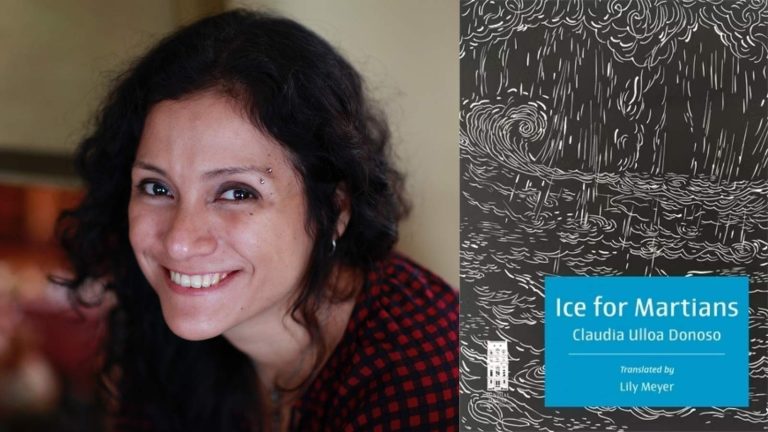 Uniquely alienated characters in 'Ice for Martians'
17 October, 2023
Claudia Ulloa Donoso's latest collection of short stories 'Ice for Martians/Hielo para marcianos', published in English by Sundial House, is an anthology full of tales of uniquely alienated characters.
One of the authors chosen in 2017 for the Bogota39, a selection of the most promising Latin American fiction writers, Claudia Ulloa Donoso's previous works include the short story anthology 'Little Bird' (published originally in Spanish as 'Pajarito' and translated to English by Lily Meyer) and 'El pez que aprendió a caminar', as well as the novel 'Yo maté a un perro en Rumania'. Ice for Martians is no exception in her line of unusual tales where the extraordinary is intertwined with the ordinary.
While the martians referred to in the title of the book and its first story are a type of Peruvian ice lolly, the theme of alienation weaves a thread through all of the characters Ulloa Donoso creates.
Some of the stories are darkly comic, such as the titular story 'Ice for Martians', in which a proud Peruvian mother escapes the monotony of domestic life through newfound patriotism at the prospect of meeting her daughter's foreign boyfriend, leading her to rope her son and husband into doing absurd things. In 'The Transfiguration of Melina', a religious young woman whose prayers have never been answered finds her dreams coming true in the most unexpected way as a consequence of witnessing a hit-and-run. 'Actor' is written from the perspective of a cruel, unsatisfied husband who comes up with an extreme but effective plan to escape the boredom of work and his unhappy marriage.
Other stories are suffused with isolation and fear. In 'I just want a cigarette', a woman overcome with loneliness wanders alone in the rain in search of cigarettes and a human connection, while the protagonist of 'I closed my eyes' becomes increasingly desperate as she spends night after night in the throes of insomnia. The title of 'Alarm' neatly reflects the undercurrent of tension that builds as a woman attempts to flee an abusive partner.
The anthology is split into two halves: the first part of the book consists of the English translation of the stories, followed by the original Spanish version. Although this structure might lend itself to learning Spanish, it's unusual and for bilingual readers it may make more sense to skip straight to the original versions. Translation is a difficult art, but Lily Meyer has done a good job of staying faithful to the original Spanish and keeping the stories rich and engaging.
'Ice for Martians' is a short book, consisting of just six stories. It's a great sample of Ulloa Donoso's work and reinforces her talent for writing alienated, singular characters.
'Ice for Martians' by Claudia Ulloa Donoso, translated by Lily Meyer, is available from Sundial House.

Follow Sounds and Colours: Facebook / Twitter / Instagram / Mixcloud / Soundcloud / Bandcamp

Subscribe to the Sounds and Colours Newsletter for regular updates, news and competitions bringing the best of Latin American culture direct to your Inbox.
Share: