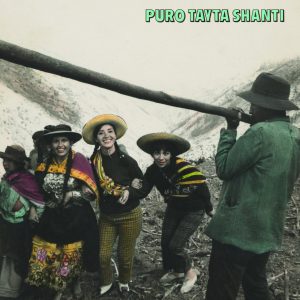 Review
Various Artists – Puro Tayta Shanti
Some years ago my friend Rick Omonte aka "Shaki" sat me down at his house and played some really mesmerizing and moving music on his turntable. He said he wasn't sure I would dig it, but thought that if anyone outside immediate family members should be tested out (he had already played it for his partner and she was a fan), I would be the one he'd want to lay it on. And a good thing he did, too. Through a magical afternoon of show and tell, I experienced wave after wave of intrigue and investigative pleasure as he played rare 45s and unknown LPs and showed me photos and album art that intrigued me from the get go. The visceral, primal sounds coming off those old records all had the human heartbeat in common, and there was something other-worldly and spine-tingling in the crazy horn blowing, the animal sounds, the drum beating, the random shouting and whooping, the oddly Asian sounding high-pitched singing. It was something out of time, out of sequence with today's digital global sound bites. I couldn't quite place my sensations at first — there was something familiar and at once foreign to it. Was I hearing shamanic pop music from Siberia? Home recordings from snowy Lapland? An unknown regional sub-genre from Vietnam? The other party music from those islands off Surinam? No, wait, there was Spanish, Quechua, a bunch of saxophones, Andean-sounding harp, elements that made me think of those cassettes my aunt brought back from her trips to the Andes… I knew Shaki was part Peruvian and we had bonded over a love of Latin music in general and Peruvian tropical genres in specific, so it had to be something from that special corner of Pachamama.
He then revealed his family connection to the sounds he was playing, telling me a fascinating story of discovery and connecting with his indigenous Peruvian roots on his father's side. When he concluded his wild narrative of how he was directly part of this very unknown, foreign-sounding stuff, and had travelled to its source in search of more understanding, I was moved almost to tears. It was genuinely lump-in-the-throat beautiful to witness his mission of self-discovery through the lens of these fiercely preserved and marvelously expressed folkways. But at this point, they were just a string of separate, obscure recordings.
He asked if I thought he should pursue this obsession he had with folkloric syncretic Tayta Shanti 'Sanitaguero' party music from Peru's central sierra mountains, and make something out of it that he could pass along to consumers, worrying that perhaps it would be too hard to license, or be perceived as too strange, raw, repetitive or folkloric to be appreciated commercially by outside audiences. Would there be an appreciative audience? I said I believed in him, loved the music and the story behind it, I told him he was capable of rising to the occasion because he had love in his heart and a deep connection, and that he was already on the right track and to not give up till he was done and this incredible indigenous cultural expression came to the light of day for contemporary consumers. If he made the product as beautiful as the music, and did some explaining, the people would follow him and 'get' what Puro Tayta Shanti was all about, at least enough to dig it the way I was digging it! Thankfully he did just that, and then some, with the encouragement of friends and family, and through founding his own label, Discos Shaki, and finding a sympathetic and equally willing collaborator in Little Axe Records.
If you appreciate unadulterated global sounds from exotic locals, are an intrepid armchair stereo traveler with a bent for cultural syncretism, or just like Peruvian cumbia but want to go deeper, then Puro Tayta Shanti is the record for you. Going over the well-written, extensive and beautifully laid-out notes is a fascinating read (the glossary is especially helpful), to be sure. Shaki informs us of Tayta Shanti's "long history of complex syncretism" expressed through its disarmingly simple song structure and unrelenting tribal rhythm that is at times minimal and raw and yet can also be layered with intricate multi-instrumental arrangements. He shares with us a total of 16 songs that reveal different layers of meaning and are the end result of an unbroken lineage of thousands of years of indigenous belief and cultural practice that are inherently acts of resistance against colonial and post-colonial oppression (and suppression). As inspirational as it is enjoyable, this 'instant mountain rave' soundtrack spans the gamut from 'purer' (a debatable term), simpler sounds to ornate, orchestral adaptations, stretching from a period of cultural awakening spearheaded by Shaki's family friend Carmela Morales (kicking off side one) in the late 1960s until the genre was well established in the region by the early 1980s. With this release the rest of the world will now get to sample some 'Puro Tayta Shanti' and partake in Shaki's awesome discoveries for themselves.
Puro Tayta Shanti is released by Discos Shaki/Little Axe Records

Follow Sounds and Colours: Facebook / Twitter / Instagram / Mixcloud / Soundcloud / Bandcamp

Subscribe to the Sounds and Colours Newsletter for regular updates, news and competitions bringing the best of Latin American culture direct to your Inbox.
Share: