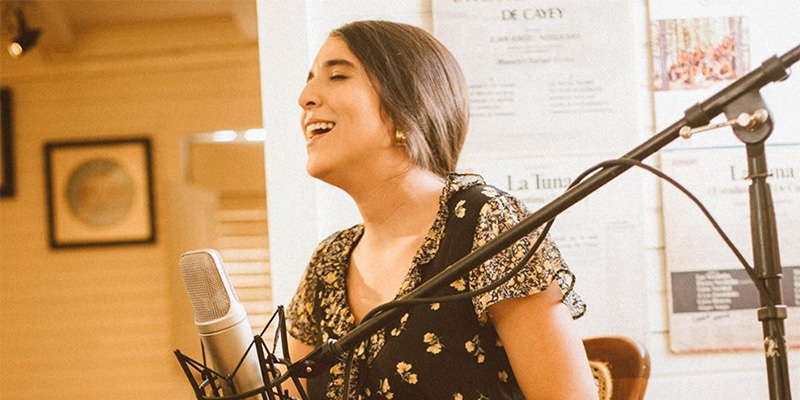 Andrea Cruz, A New Puerto Rican Talent Bound for SXSW
07 March, 2018
Andrea Melina Cruz Tirado is a singer-songwriter from Puerto Rico. In recent years she has expressed her day-to day life and musical experiences through deep nostalgic vocal melodies and soothing guitars. She has a clearly developed musical style that infuses American indie folk with Latin American folkloric sounds and rhythms that can be heard in her arrangements. Six months ago, just four days after Hurricane María struck Puerto Rico, Andrea Cruz released her debut album Tejido de Laurel, as scheduled, without delay despite the state in which the island found itself; in the hope of motivating and strengthening Puerto Ricans after the devastation of the hurricane.
Andrea Melina is about to head to the well known SXSW Festival in Texas and we were able to have a nice chat to discuss her process for recording and releasing her debut album.
Tejidos de Laurel is a very beautiful album with an honest voice and if I may say so, with a hint of nostalgia also. I believe it's your first studio album, yet you achieve a very mature sound with very intimate songs. Where does the inspiration come from, and what was the process for producing your debut album?
Tejido de Laurel started to take life when I was playing under the name Amapola. When I got into the studio and started recording, I noticed everything was very deep and personal for me. I decided to stop using the pseudonym Amapola and use my own name. It was a very positive and honest thing for me to release this album with my own name. The ten songs on the album were written while I performed in many different places in Puerto Rico. Little by little gathering deep feelings and experiences that taught me how to live and write [music]. I didn't study music, so what I learned came from many influences (American, folk, European, etc) and with some time I started getting better at writing.
Tejido de Laurel was also co-produced by Rafa Rivera, who writes most of the musical arrangements. As for the song writing process, we usually start out with the guitar and voice and then start building up on that. The aesthetic and visual concept [of the album] comes from wanting to have organic elements. Laurels symbolize victory, strength, and overcoming battles in oriental culture. Knitting (tejidos) is a millennial [and timeless] practice; it has been done for centuries and will always be something we do as humans. I believe a lot in craftsmanship and the use of organic materials. So the name comes from wanting to pay homage to this, comparing my music as something organic that has helped me grow as a person and overcome the obstacles life puts in our way.
Now that you mention your beginnings, lets talk a bit about your past. When did you start to make music, and what were your first steps as an artist?
Well I started in school singing in choir, but I never really studied music. When my parents divorced I even quit singing. Years later I met Rafa (co-producer) and we clicked. I started making music again with him. I think the first song we wrote was "Escríbeme" which is on the album, but something was missing. We got together with Anthony Granados and Estaban Alice, who were actually my neighbors and we formed the band. As I mentioned we started out playing as Amapola but with the passing of time things started getting serious. We started playing in many places, but the name did not meet my expectations. That's why when we entered the studio, we had the talk and agreed to use my name from then on. To be honest, I can be quite jealous with my music and with what I do (she laughs). I dive completely into my music and get lost in it. Having this great team-work helps a lot also.
Beautiful. I believe that when something is so intimate and personal, we put twice as much work on it. So then, you go into the studio and record the album under your own name. Tell me… Tejido de Laurel was released just four days after Hurricane María struck Puerto Rico. It's probably the toughest time people have had in the island in the past decade; 90% of the country did not have water or electricity back then. How big of a challenge was this for you, how did you deal with it?
Hurricane María was the hardest thing this entire country has ever been through. It was a mix of emotions between fear, disappointment, and many other things. I can't even begin to describe it. I was a bit selfish because I only thought about the album during that time, and after all the ups and downs I even thought about quitting. I fought back, it made me stronger and resilient as a Puerto Rican. I was able to channel my anxiety for a better cause. I started visiting affected communities that lost everything. To my surprise, food was not what they wanted most, but rather connection. I could feel that this is what people needed most. Having someone to talk to, letting go of their worries and having a sense of unity island-wide. They loved hearing music since there was no electricity, no batteries, tv or radio. Art has that amazing power of healing and connecting when needed to most. It's wonderful to hear these words. Believe it or not I think the whole world was worried for Puerto Rico and all of the affected communities by Hurricane María.
So fast forward a bit to when you recompose yourselves. You released a live acoustic session of the first album single, "Canción de Amargura" with Bayoán Ríos and Waldemar Reyes. How did this collaboration come about?
Well Bayoán had already recorded the cuatro venezolano [part] at the studio so we knew each other already. And Waldemar lives in Los Angeles so we worked out everything first through phone calls. He's an experienced producer and contributed a lot to the folk-ish sound of the album. We were never able to do the official video (for obvious reasons) so we decided to do this acoustic live session at La Casa Historica de la Música Cayeyana [see video below].
So let's talk about what's to come. We know you're bound for the SXSW Festival in Texas and it's your first time. How do you feel, and what does this mean to you, personally?
SXSW is a big festival. My main goal is to gain knowledge and experiment. I'm still new to all of this so I want to get as much experience as I can in foreign places. I'm very open to whatever happens and am very proud that I've been selected to play there without the help of third parties and go 'full band'. For me, this is truly valuable with the amount of work we have put into this and see it blossom with my whole team. I can't wait to go and see how people react to my music. Also it's a great opportunity to understand better the music industry, it's always changing and we all need to learn and adapt.
Is it your first time playing outside of Puerto Rico?
No, earlier in 2017 I was able to play at a Sofar Sounds New York Event in Brooklyn with Rafa Rivera. The second time was in Chicago, being part of the play Baudelaire in a Box, where they had done a wonderful Spanish adaptation of the poems with a few other Puerto Rican artists. It was amazing, people loved it.
Is that the one where Lizbeth Roman and Cheryl Rivera also performed?
Yes, that's the one!
Blessed. And to wrap it up… what plans do yo have after SXSW? What can we expect from you?
After SXSW I have a lot of things to do! Working with music videos, tour dates, an official album concert and two more possible trips outside of Puerto Rico which we'll confirm soon enough!
You can find more videos, music and info on Andrea Cruz at andreacruzmusica.com
Andrea Cruz will be playing:
March 8th – Westelm, San Juan PR
March 16th – Speakeasy, SXSW Austin TX

Follow Sounds and Colours: Facebook / Twitter / Instagram / Mixcloud / Soundcloud / Bandcamp

Subscribe to the Sounds and Colours Newsletter for regular updates, news and competitions bringing the best of Latin American culture direct to your Inbox.
Share: