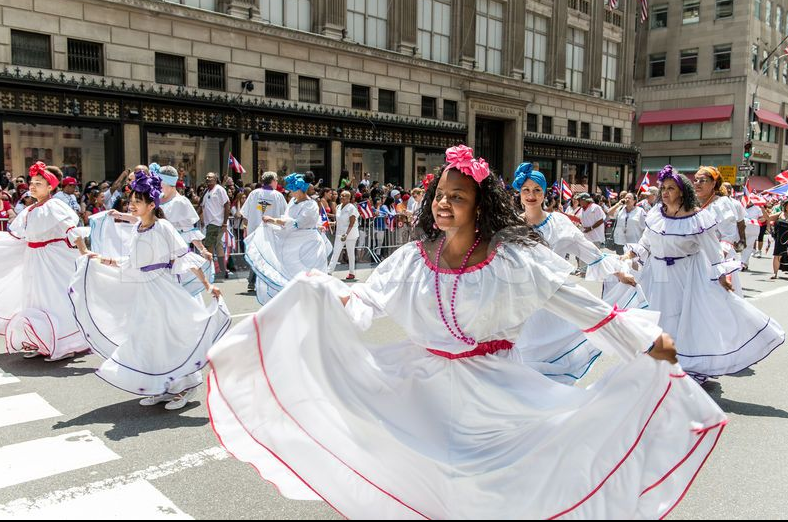 For The Love of Puerto Rico: 10 Great Salsa Tracks by Boricuas
14 June, 2015
There's nothing like summer in New York City, and each year on this weekend – the second Sunday in June – the Big Apple and the surrounding metropolitan area celebrates Puerto Rico and its people.
New York City's Puerto Rican Day Parade takes place annually along Fifth Avenue in Manhattan. Since the inaugural parade in 1958 (then in Spanish Harlem, also known as El Barrio), it continues to grow in size and popularity, last year hosting more than 60 floats and 20,000 marchers, and drawing close to 2 million spectators along Fifth Avenue.
The Grand Marshall of the 2015 parade is Emmy, Grammy, Oscar, and Tony Award winner, Rita Moreno (she played take-no-shit Anita in West Side Story). Salsa superstar, Victor Manuelle, will serve as the Parade King.
Salsa composer, musician and arranger, Angel "Cucco" Peña , who has won more than 120 awards in music including the Grammy, composed a theme song for this year's parade, and will also be honored.
'La Isla del Encanto' and Boricuas have a special place in my heart because when my parents immigrated to the States in the 70s, Puerto Ricans were the majority ethnic Hispanic group. To non-Hispanic whites and blacks, if you spoke Spanish, you were Puerto Rican and there wasn't much inquiry beyond that. The majority of my friends growing up were, and still are, Puerto Rican. Puerto Ricans had their festivals, parades, and restaurants, and they influenced culture, especially music.
Because Puerto Rican salsa – from the island or what they would go on to call Nuyorican salsa – was loved by my father, he passed that love of it to me. And so it is the definitive music I'll always associate with Puerto Rico, and why I put together this list of songs in honor of Borinquenos and the National Puerto Rican Day Parade. Enjoy:
Willie Colon and Hector Lavoe: Che Che Cole (1969)
It's nearly impossible to pick one song by the great Nuyorican composer and artist, Colon, and the man who would be known as "el cantante," for his wonderful voice, Lavoe, but this early work is a great place to start. After all, it's in this album that Colon introduces Lavoe to the world. The track is obviously influenced by a nursery rhyme from what I could best find originated from Ghana with the help of recording director, Johnny Pacheco, who had recently returned from a trip to Africa.
Hector Lavoe: Mi Gente (1974)
The Fania All Stars performance at an enormous concert in Zaire in 1974 made history. Lavoe's was magical, and this super danceable track, off his debut album, La Voz, is all about celebrating his "gente" of Puerto Rico.
El Gran Combo de Puerto Rico: Un Verano En Nueva York (1975)
Based on the island's capital of San Juan, El Gran Combo de Puerto Rico is a full band and orchestra that celebrated 50 years of performing in 2012. Considered by many as "the most popular salsa band in history," they're still touring, and if you're lucky, you'll see then perform this song about all things good about summer in New York City.
Ángel Canales: Lejos de Ti (1975)
This salsa brava was written by Ángel Canales, who was born in Santurce, an area near San Juan that, today, is a haven for artists and surfers. Canales would go on to grow up in Spanish Harlem, and this track, which got heavy radio play because DJs likened his voice to a hybrid of great vocalists, such as Hector Lavoe, Juan Legido, and Fernando Alvarez, is about how Puerto Rico will always be his number one love.
Eddie Santiago: "Que Locura Enamorarme De Ti" (1986)
The late 1970s, the popularity of salsa brava and caliente began to decline, and the 1980s saw a rise in salsa romantica. It would often start slow and pick up around the chorus. Eddie Santiago is among this type of salsa's most popular artists. Sure, his sappy love songs were a departure from the days of salsa brava, but who knows? He probably started a salsa lovers' baby boom.
Willie Colón: "El Gran Varon" (1988)
Again, he's a master composer, but because Willie Colon sang vocals on this track (with lyrics written by Panamanian singer-songwriter, Omar Alfanno), and clearly had a pulse on what was going on it the streets, it made my list. "El Gran Varon" is about Simón, a transsexual who is rejected by his father, and dies at a young age of a strange disease (AIDS) in the 1980s.
Tito Rojas: "Señora de Madrugada" (1993)
Hailing from Humacao, Puerto Rico, Rojas, a.k.a. "El Gallo Salsero" (The Salsa Rooster), was a specialist in "salsas sensuales," meaning they were for the bedroom. But el gallo was no sleeper, in fact, at one point in his career, he went through a bout of "he showed up late and slurred his lyrics." His songs ran the gamut of romance, but this one is about a "lady of the night," if you catch my drift. Plus, this video is a riot.
Jerry Rivera: "Que Hay de Malo" (1993)
Puerto Rico is known to export pretty boys (Menudo, anyone?) so it's no surprise that the 1990s saw salsero Jerry Rivera's pretty face all over the radio and Spanish-language music video channels.
DLG: "Muevete" (1996)
Dark Latin Groove, better known as DLG, was born in the mid-1990s when super producer, Sergio George, found vocalists Huey Dunbar and James "Da Barba" de Jesus. The group gave romantic salsa a hip-hop and reggaeton spin, and this track is a clear homage to Fania heyday with its sample from Willie Colon's "La Murga," and tropical vibes.
Marc Anthony: "Aguanile" (2007)
He's a fantastic vocalist with a cadre of hits in his own right (here's a favorite from his Grammy and Latin Billboard winning third album, Contra La Corriente, from 1997) but, because he always wanted to play Lavoe in a movie, why not pick a song from the album that Anthony considers a tribute to the great cantante? Besides, it really showcases Anthony's wonderful vocals in a song that fuses traditional Puerto Rican salsa with an Afro-Cuban influence, and includes the heavily religious practices of Santeria. Aguanile is a song composed in Spanish, but also has a lot of chants from the Nigerian language Yoruba, where the roots of the Santeria religion were established.
Bonus track: Big Pun: "100%" (2000)
Ok this is NOT a salsa track, but as I mentioned, Puerto Ricans influenced culture in the Northeastern United States big time, and in New York City, in particular, that included hip-hop. For a great history lesson in that, check out this recent episode of Latino USA. This track by Big Pun, released posthumously in 2000, showcases the right amount of braggadocio lyrics by the first Platinum- selling Nuyorican emcee, a wonderful sample of Argentine pianist and composer, Lalo Schifrin's, "Anita," and a great hook by a Nuyorican R&B artist, Tony Sunshine.

Follow Sounds and Colours: Facebook / Twitter / Instagram / Mixcloud / Soundcloud / Bandcamp

Subscribe to the Sounds and Colours Newsletter for regular updates, news and competitions bringing the best of Latin American culture direct to your Inbox.
Share: