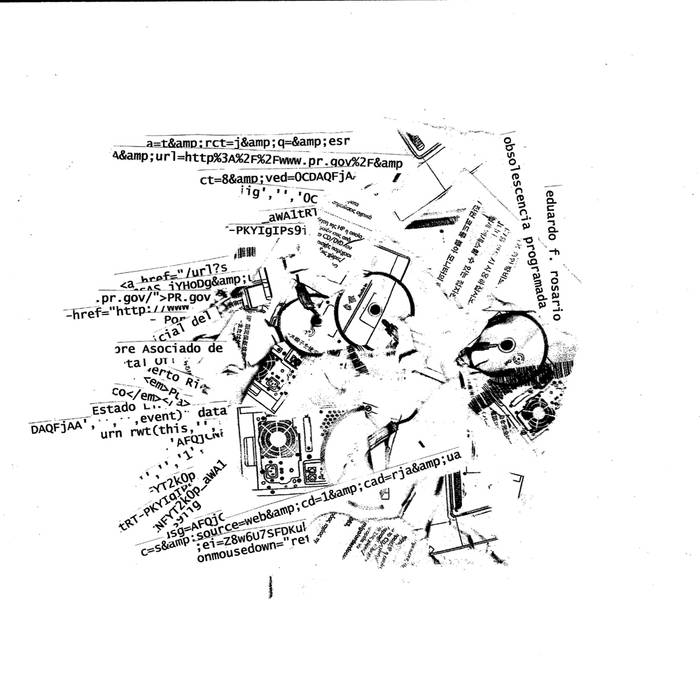 Textured and Ambient: The Lowercase Sounds of San Juan Artist Eduardo F. Rosario
09 February, 2017
Recently I wandered into an old record shop. It's musty smell and compacted layout rolled out into the tiny confines of a room no bigger than a small outdoor camping hut; its contents were laid out upon old worn shelves covered with a thick layering of dust. From crate to crate, shelf to shelf, the place exhibited a nostalgic sense of mood; plastered upon the walls were old tour posters from deep within the past… In the middle of the store, crate diving into a collection of pasty old jazz records, stood an old man well past middle age. While I glanced around upon posters that seemed as old as the walls themselves I stopped and looked, confused, at one giant poster hanging just above the door frame that read, in fantastically giant letters, that Brian Eno would be releasing a new album of 'ambient experimental' music. Seeing the confusion on my face, the old man kindly walked over and pointed to the poster: "new music from the man himself!" I smirked and didn't give any direct answer.
"He's one of my favourites, Eno is… He was way ahead of his time, musically speaking. I was obsessed after I first heard him. The best kind of ambient musician out."
I must have been impressed by the gentleman's taste because I turned to him and said, completely unrestrained, "have you heard of Eduardo F. Rosario?"
A while ago I stumbled upon an article in the depths of the internet about, of all things, Latin American experimental music. The article listed significant artists who rivalled the likes of well-known and more 'celebrated' North American and English experimental composers and musicians. The premise seemed promising: experimental and avant-garde music from places where conventional 'pop' music seemed foreign and 'out-there' enough for somebody from America or Europe. And for this reason, the article did not disappoint. Amongst the Tim Hecker-sounding electronic artists and the Merzbow-inspired noise musicians to the downright avant-garde club music that sounded like somebody was using a jackhammer on a dance floor, the musicians and artists covered within the article were even more intriguing than anything coming from the US, England or indeed most English-speaking countries.
But amongst the pool of musicians and artists listed in the article, one stood out with a substantial kind of intelligence, of true experimentation. That artist was San Juan, Puerto Rico based Eduardo F. Rosario; whose music evolves around electronic experimentation with a fantastical sense of imagination and creativity that is also reflected in the visual art he creates.
Specifically, Rosario creates different breeds of textured ambient music such as lowercase music, a form of minimalist music in which tiny sounds like rustling leaves or pebbles under foot are magnified to create an alternative listening experience. The sounds meld together, generating a style of experimental music that is neither meditative or thorough, but instead a direct listening experience.
[soundcloud url="https://api.soundcloud.com/tracks/282277154″ params="color=ff5500&auto_play=false&hide_related=false&show_comments=true&show_user=true&show_reposts=false" width="100%" height="166″ iframe="true" /]
Rosario was educated at the Conservatory of Music of Puerto Rico where he received a Bachelor of Music, evident in the way that his music stands out from the rest of his peers, in both his compositional style and practice of abstraction. This is also apparent within his art practice, which generally centres around objects, machines and sound installations with chords and wiring on display, the central gizmo and gadgets hanging out, surrounded by neon or decorative lighting mirroring heavy industrial tones. Much of Rosario's visual art displays a pre-occupied approach to modernism; couple this with the distinct sounds of his music and a unique and engaging form of art is stationed right in front of you.
Through his Soundcloud, Bandcamp and own website, Rosario has released several smaller EPs and mini albums that showcase his musical talents, such as the intense and sonically avant-garde "Falla and Fractura" (listen above) which switches the ambient hum of lowercase music with the push and pull of power electronics. One of the first songs of Rosario's I came across was the hushed epic sound of "IIOP" (listen below), a song that relies on twisted and subtle micro-sounds to create a minor wall of electronic sound. The use of electronics is perhaps the only steady element in each recording, as every single song morphs and transitions from sound to sound and from genre to genre. Another important element of Rosario's music is his attentiveness to improvisation; something perhaps most notably observable on his electroacoustic full length release Data Ignota which centres around nine experimental, free-electronic improvisation tracks. His other releases include the four track Formato Inferior on which one can hear the influence of industrial music in his avant-garde songs as well as a few more EPs and a live release.
[soundcloud url="https://api.soundcloud.com/tracks/251647935″ params="color=ff5500&auto_play=false&hide_related=false&show_comments=true&show_user=true&show_reposts=false" width="100%" height="166″ iframe="true" /]
Besides music Rosario also publishes a zine called Facsímil and has had his art published in several well-known publications, including the art/poetry/prose-centred Little Tell. However, despite these publications, online music releases and ongoing art and installation practices the genuine brilliance of Eduardo F. Rosario is overlooked, under-rated or simply and plainly unknown. And while the larger part of the Western world continues to praise musicians like lowercase practitioner Steve Roden and the ambient overlord Eno, the genius of Rosario stays humbly meddling in the underground of Latin America, untouched or unobserved by publications and large audiences.
In conclusion to the aforementioned story about the record store, the gentlemen aptly switched on their speakers and listened to some of Rosario's music, only to void little comment on their opinions of the music. Perhaps Rosario is just a little too left-field, perhaps he's too experimental or avant-garde, or maybe, just maybe, he's more engaging and interesting than Eno… Just maybe. Although his success around the world does not equal that of his well-known peers, through his recordings and performances, Rosario has become an important and interesting character on the fringe of linear music in Latin America. Let's just hope the rest of the world catches up and starts listening.
Links
Website
Bandcamp
Soundcloud
Little Tell Blog

Follow Sounds and Colours: Facebook / Twitter / Instagram / Mixcloud / Soundcloud / Bandcamp

Subscribe to the Sounds and Colours Newsletter for regular updates, news and competitions bringing the best of Latin American culture direct to your Inbox.
Share: