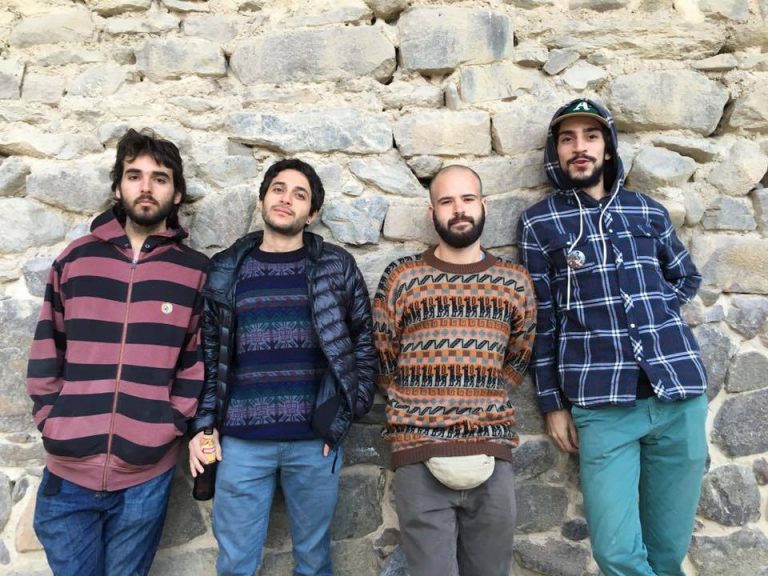 We Are What's Left of a Nation After Colonialism: An Interview with Puerto Rico's Los Bronson
21 December, 2018
Los Bronson are an instrumental group based in San Juan, Puerto Rico. Using surf rock as their base, the band merges classic sounds from the genre with others such as funk, jazz and punk. In 2015 they released their first album and organised the first-ever, self-produced Bronson Fest, an indie music festival that quickly grew as a must for independent music scene lovers and artists in San Juan and beyond.
Following further editions of Bronson Fest, as well as international tours, the group released their second album, La Fiebre Insular, earlier this year. It's an album full of rocking riffs, a more diverse sound, and plenty of Los Bronson's energy and modern surf rock essence. We were able to have a quick chat with them to talk about their latest release, their self produced festival and other things.
First impressions on the new album… you've got a pretty interesting album cover. A 'not so typical' depiction of a Caribbean island with all it's glorious pollution and toxic waste as a bomb is about to go off (Which reminds me a bit of the artwork for "El Experimento Caribeño" by Sr. Langosta). What inspired it and where does the name La Fiebre Insular (Insular Fever) come from?
It's funny you mention Sr. Langosta because we're really good friends and were 'cooking' both our albums more or less at the same time and had many conversations about how we had similar takes on our next album concepts. The name Fiebre Insular comes from the outcome of this 'Caribbean experiment', what is left of a nation after decades of colonialism and also the fact that we are such a small island. The fact that we live surrounded by water, and the oppression of big brother up north, has some interesting effects on people in the long run.
Well politics and music have always gotten along so well. I remember you had the album release scheduled for your infamously great Bronsonfest for sometime earlier this year, but that was postponed due to the aftermath of Hurricane Maria. How did this all change your plans?
Well, like everything in Puerto Rico, this delayed all our plans. We were forced to focus our energies in different things and had to focus on one thing at a time. Before the hurricane, we had found a music tech company who were going to be the sole sponsor of the festival but once [Hurricane] Maria passed we couldn't see a music festival taking place, people were living in inhumane conditions, and some where even dying. This wasn't the time for the festival. So we decided to go in a completely different direction with our album release; first we had to complete the production process and send the masters to a record pressing plant in USA (the record pressing process took a few months) and then once we had our physical copies, we organized a very intimate unplugged concert where we had musical guests. It was a delightful experience. Since then we have been touring the island taking the album all over PR, we dubbed it 'La Gira Insular'.
Will there be a third edition of the Bronson Fest?
We've had the festival production on hold, but a few days ago we started to roll the ball with this. So yes, we can expect a third edition some time in 2019.
So back to the album… You open up with an intro which seems like the beginning of a storm coming in. I can hear a lot an idea of 'nature versus man'. Was this part of the original idea for the album or was it a tribute to what happened with Hurricane Maria?
We already had the idea of making the sound design intro depicting the sounds and feel of PR (especially San Juan). We created the intro some time after the hurricane and you can definitely hear Maria's influence over it.
So are these real recordings of the hurricane or are they samples?
It's a mixture of sounds I recorded with a Zoom field recorder and samples I found online.
I also noticed that the title to the first song on your first album is "Jurakán" which is the native indian word for "Hurricane". Would you consider it some kind of omen?
Yeah, kind of. This song was released in 2015 so there hadn't been a hurricane in a while, the name comes from the crazy whirlwind feel the song's intro has. But this song has definitely grown in meaning over the past year, every time we would play it live you would feel the bittersweet feeling of the audience.
You emphasize caneking a lot in your artwork. Can you explain what caneking is to our readers?
This first came to mind after having one of those crazy nights/shows where you drink shots straight from the small rum bottle (caneca) and how one becomes a 'crazy drunk king'. But like many other songs and themes from the album, this grew in meaning after the hurricane when the easiest way to fall asleep (in the hot, dark nights) was to get drunk until the heat and mosquitoes didn't bother you any more.
On the new album you seem to bringing out the big guns with wind instruments, piano, organs and expanding out to different music genres. How did these new arrangements come about?
During this second time around, in the studio we had much more time to plan the session and we also had more resources like a great producer/sound engineer, Julio Gonzalez, from El Padrino recording studio, and many musician friends who where more than willing to collaborate. We just had to take the opportunity to make the best and biggest album possible.
So, after having a successful vinyl release and touring the island… Are there any plans for taking the new album out to other countries or states in the US? What's next for Los Bronson?
Mexico is our next goal, it's calling to us. Then we might do a USA west coast tour and maybe even Europe. Wherever the music takes us.
La Fiebre Insular is available on digital platforms.

Follow Sounds and Colours: Facebook / Twitter / Instagram / Mixcloud / Soundcloud / Bandcamp

Subscribe to the Sounds and Colours Newsletter for regular updates, news and competitions bringing the best of Latin American culture direct to your Inbox.
Share: