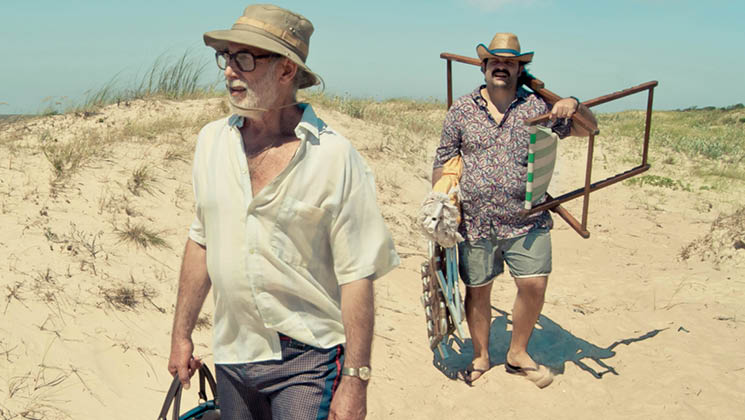 Mr Kaplan
15 October, 2014
Mr Kaplan is the latest offering from Uruguayan director Álvaro Brechner (Bad Day to Go Fishing) which screened at the BFI London Film Festival on Saturday. Jacobo Kaplan (Héctor Noguera) is a Polish Jew who emigrated to Uruguay to escape the Holocaust. The film itself is set in the late nineties and sees Mr Kaplan as a somewhat stubborn old man who is struggling to stay in control of his own life.
An act of clumsy driving sees his family hire an old friend, the portly and well-meaning ex-policeman Contreras (Néstor Guzzini), to act as Mr Kaplan's driver. Contreras himself is going through a similar personal crisis, filling his days with pinball and beer after being let off from the police department by his corrupt boss, while his wife and kids live with his brother-in-law. In a typical stroke of silver screen fate, this unlikely duo become a dream team embarking on a mission to kidnap and bring to justice a man they suspect of being a Nazi on the run.
Brechner's film is a delightful take on our desire to feel a purpose in our lives. Although they are separated by more than 30 years in age, Kaplan and Contreras are united in their need to pursue the German to counter the impotence that was characterising their lives before circumstances brought them together.
As with any 'odd couple' movie, there are plenty of obstacles along the way and in Mr Kaplan these often come with strong doses of warm humour. The pair sneak into a funeral, outwit the police and deceive their own families on their way to becoming true detectives.
Contreras is the archetypal sidekick: often drunk and slightly useless, he is nevertheless determined and comes good in the end. Noguera is sensational as the film's lead. Despite his age and bitterness with the world, Kaplan has a cheeky edge. He attempts to cheat in his eye test and is hilariously stubborn in the film's opening scene: determined to win an argument with old friends, Kaplan throws himself into a swimming pool despite the fact that he cannot swim and must be rescued by his wife (Brechner has revealed that this is a true anecdote based on his own grandfather!).
Overall the film is charming and enjoyable. It's a neat consideration of ageing and the battles we create for ourselves in order to feel necessary. While touching and warm-hearted, the comedy throughout stops Mr Kaplan from fading into over-sentimental cheese. The film's conclusion is very well executed in this regard, some questions are answered, others left open for consideration. Mr Kaplan himself may only have a few years left in him, but his adventure with Contreras has given him a new lease of life that leaves him smiling into the closing credits.

Follow Sounds and Colours: Facebook / Twitter / Instagram / Mixcloud / Soundcloud / Bandcamp

Subscribe to the Sounds and Colours Newsletter for regular updates, news and competitions bringing the best of Latin American culture direct to your Inbox.
Share: