Spring with a Broken Corner – The Life of Mario Benedetti
23 December, 2010
I clearly remember the news last year when Mario Benedetti passed away. For my British colleagues this may not have meant much more than any other death; however, for the Spanish-speaking world, this meant the death of some of our finest words and verses.
Mario Benedetti was a Uruguayan poet who belonged to the Generation of 45, a group of writers which blossomed in Montevideo in the second half of the forties. He was a star that faded in 2009, but who remains through his best work. And this work is not only for poetry lovers and readers: when it comes to reading Benedetti you do not need to like poetry, nor even literature, to engage with his poems. If you are a human being, some of his verses will go through you like a spade bringing up the bitterest times and feelings or the happiest of your moments. He was not a kind of writer, but a kind of person, who touches deep inside you with his strength, his hopelessness, his honesty, his beauty, his ability for love, and the way he described all these things.
Man of Shakespearian prince's names, he was born in the autumn of 1920 in the Uruguayan town Paso de los Toros, and left us eighty-nine years later. Benedetti got into the literary world during the 40s, when he wrote for a weekly publication called Marcha, which would later be censored by the right-wing government of Bordaberry in the seventies. He published his first essays and novels in the mid-forties, and married his only wife in 1946. South America, with such a rich political history, produced along with the likes of Benedetti, some of the best literature and poetry of the 20th century. Benedetti started getting great recognition in Uruguay and the rest of South America followed.
Mario wrote tales, poems, novels and drama, nothing escaped the pen of this master. A few years after he got involved in the world of literature. He was already contributing in high positions to more than three publications; some of the most prestigious literary magazines at the time. Even some of his best known work such as The Truce or Pedro and The Captain were later adapted to cinema and theatre. And so were his poems, which were made into music by the great Spanish songwriter Joan Manuel Serrat and recorded by him.
As a character to go down in history, he was, like many open-minded and progressive artists and writers in South America during those years, involved with politics. In 1971, Benedetti joined some of the members of the Tupamanos party to found the March 26 movement: a group supportive of the left-wing coalition to fight for the proletarian rights and discuss a political reality which did not force any political ideology or conditions of any kind. Along with his new political initiative he was nominated leader of Hispano-American Literature at the University of the Republic in Montevideo. It was in 1973 when Bordaberry provoked the coup d'état in Uruguay. Mario Benedetti had to leave due to his political position and sought shelter in Argentina, Peru and Cuba in the following years, and in between and after all of them: Spain. He eventually settled down in Madrid in 1983 and contributed to the opinion section of the prestigious newspaper El País. Even when he went back home he still travelled to Spain where he said part of his heart was. In 1993 he returned to Uruguay, and reunited with his country and his wife – a period which he called desexilio (return from exile), a topic which occupied endless pages in his work of that time.
Although he split residence between Spain and Uruguay, his health forced him to stay in his hometown a few years later. Mario, who claimed not to have had an easy life, was a man of principle, and a classic romantic who started to ease away from his work in 2006 when Maria Luz, love of his life, and tireless partner over sixty years, passed away. Described by his biography, published the year of his death, as an exceedingly discreet myth, even his face and expression were those of an essentially good man, and so is he portrayed by the documentaries and literary works which talk about him.
He received the most prestigious awards from all over the Hispanic world, even Europe (mostly Spain). In the present days he remains as one of the dearest characters of the South American literature and one of the most talented writers remembered. The World I Breathe, La vida ese paréntesis, The Loneliness of Babel, Existir Todavía… all stand as must reads of Hispanic literature and the legacy of a man whose last words were:
My life has been like a sham,
My art has consisted,
Of not being too noticed,
I've just been hovering during my old age,
The brown sheen of the bluebirds,
Has never detached itself from my skin.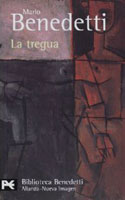 Recommended Reading:
1960 – La Tregua / The Truce
1979 – Pedro y El Capitan
1982 – Primavera Con Una Esquina Rota
1984 – Geografias / Geographies
1993 – La Borra del Cafe
1996 – El Amor, las Mujeres y la Vida
1997 – La Vida Ese Parentesis

Follow Sounds and Colours: Facebook / Twitter / Instagram / Mixcloud / Soundcloud / Bandcamp

Subscribe to the Sounds and Colours Newsletter for regular updates, news and competitions bringing the best of Latin American culture direct to your Inbox.
Share: