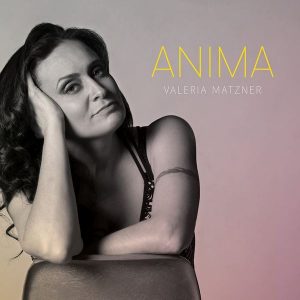 Review
Valeria Matzner – Anima
"I don't want to show I have a pretty voice. I want to tell a story," says vocalist and composer, Valeria Matzner. She spent her early years in her native Uruguay, studying Western classical music, while imbibing Brazilian MPB, Argentine tango, Uruguayan candombe and other Latin American genres that were the soundscape of Montevideo. At the same time, Matzner was drawn to hard rock, punk and grunge, but ultimately felt uncomfortable with them, and now, having resettled in British Columbia, she's been exploring music with a jazzier framework, while devoting time to self-discovery. With her own quartet, she has released her first solo album.
Anima represents a return to Matzner's roots, coupled with musical inputs, most notably American jazz, that have contributed to her identity as binational/bicultural. The laid back as well as uptempo tunes of Anima more than fulfill her promise to narrate a story; they put into words and music the soul-searching that has informed who she is today after travels and travails within and outside her self; it is for good reason that she sings comfortably in Spanish, English and Portuguese.
They are mostly her songs, but Canadian pianist, Scott Metcalfe, who handles most of the arrangements, serves as co-composer on some. His arrangements are deft, dynamic and sensitive, and he adds understanding and sparkle to her intent. At times, though, the highly charged conjunto, under his lead (Matzner, Metcalfe, bass, and drums, and a number of guest players) overpowers Matzner's more relaxed and patient vocals.
In "Contemporaneo", Metcalfe's piano opens above muffled conversation with mambo strains, as if in a Havana night club during the Golden Age; incongruously, yet felicitously, he's joined by the ethereal, sensuous, and percussive sound of Gustavo Santaolalla's and the Gotan Project's patented electrotango. This clever, slick mix begs Matzner to meet it with sway, emotional clarity, and her story conflating a lost love with the magical city—Buenos Aires, we assume—where their romance unfolded. Aleksander Gajic comes in with a stunner violin solo to polish off an intriguing first tune. He's a guest on Anima, adding commanding chops and sonic and emotive texture to the tunes in which he's featured.
Matzner plays with possessing another's music on one tune, shaving the electronic effects from Radiohead's "Broken Landscapes" and delivering a straight-ahead, more personalized love song. Here, she does front the prettiness of her voice.
"For My Father" celebrates her reunion with her father, separated when Matzner was young, reunited when she was a mature adult. Her text here is all scat-sung. Gajic's violin returns to assume, it truly seems, her father's voice, both contrite and elated. He soars in this new persona, even to gypsy heights. The percussion, too, is brought up for proper emphasis, and Metcalfe's piano is, as always, energized. "For My Father" is an uplifting, even playful piece. Matzner however, could have matched better her vocal to the spontaneity of the other players, letting fly more her scatting, or adding apt lyrics.
Anima is an enjoyable and well-crafted listen. With some fine tuning the Valéria Matzner and Scott Metcalfe's collaboration is certain to appeal to those who appreciate a sophisticated Latin breeze to their standard jazz, and a 'pretty voice' that also tells a story.
Anima is released by Triplet Records and available from Amazon UK and Amazon US.

Follow Sounds and Colours: Facebook / Twitter / Instagram / Mixcloud / Soundcloud / Bandcamp

Subscribe to the Sounds and Colours Newsletter for regular updates, news and competitions bringing the best of Latin American culture direct to your Inbox.
Share: