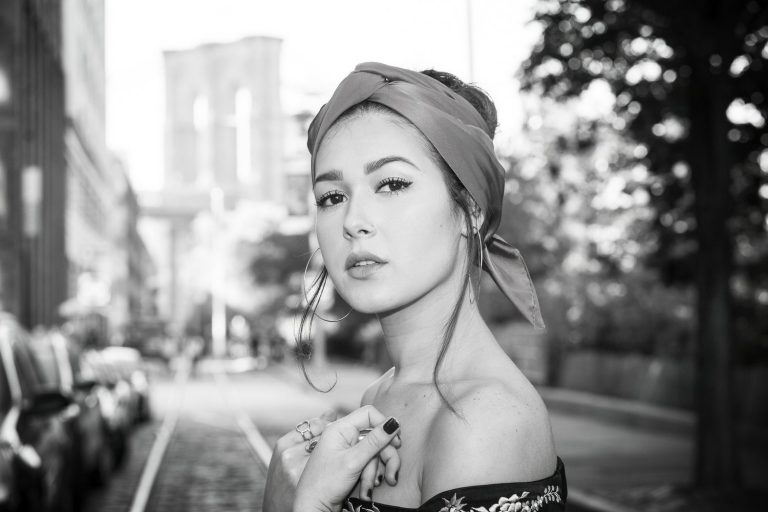 'They Call Me Nella, the One with the Fractured Voice'
12 November, 2018
I spoke to Nella Rojas Mata while she was visiting Caracas, Venezuela. She made time for our meeting by stepping away from a small gathering. Her family was bidding goodbye to a cousin who was leaving Venezuela, yet another young person looking for a more promising future elsewhere.  When we ended our Skype conversation she confided her urgency to get back to her family: "I don't really know when I'll see her again." That is the state of affairs for hundreds of thousands of Venezuelans.
Margariteña in Boston
Margariteña is how you are referred to when you are from Margarita, a little jewel of an island north of Venezuela's coastline. It's where Nella was born and raised. She lived for more than half of her life in this tropical paradise that has both beautiful white sandy beaches and lush mountain jungles fed by freshwater springs. So, why would she choose to be anywhere else?
"It is no secret that there are millions leaving the country". Nella believes that is why there is an influx of Venezuelan musicians all over the world. But when Nella left, it was not as an escape but wanting to develop her career as a musician. She had reached as far as she could with resources in her home country. She wanted to rise to the challenge of a deeper knowledge in music composition and voice so she made her way to Boston. The Massachusetts capital, also known as the Athens of America, due to the richness in cultural and intellectual influence, is a mecca for musicians, and there, she chose to attend the prestigious Berklee School of Music.
One thing leads to another
Nella considers that being resilient and focused is what has gotten her to where she is right now. She's never had a doubt that she would dedicate her life to music.
After saving for tuition for a couple of years she made it to the doors of Berklee, but she still needed to audition and to be accepted.  She needed a song, and while she was mostly inspired by jazz, r&b, and pop, her mentor Aquiles Baez suggested she should consider doing a merengue venezolano and accompany herself just with body percussion.  This was not exactly her cup of tea, but she did it. Little did she know that, later on, that piece of advice would literally launch her career. The video of her singing "La Negra Atilia" went viral, instantly catapulting her into being a celebrity.
La Negra Atilia
Merengue venezolano is different than the homonymous merengue danced in Dominican Republic. "It is as interesting to musicians as it is to my mother…" she says about the odd meter 5/8 piece that has made her famous around the world. "…Because musicians find it unique in its rhythm and feel curious to study it. And on the other hand, my mom has a feeling of belonging and can dance and can sing to it with natural ease". She knows she has got it made when one piece can bridge a gap between two different worlds.
Being abroad she realized that, in order to shine among so many talented people that surrounded her, she needed to look inward and dig deeper. In doing this, she found that her Venezuelan roots were very present and made her truly unique. Why look anywhere else? Venezuela has plenty of musical treasures. She learned the merengue, "La Negra Atilia", from a mandolin player who had learned it from a Venezuelan teacher. A popular song in Venezuela, the piece had found a home in the school in Boston, waiting to be re-discovered at a global level. The lyrics are absolutely heart-felt when they are interpreted by Nella and the description in the song brings you to Porlamar, By-the-Sea, her hometown, which makes it even more meaningful.
"Early in the morning, she rises
Atilia, the black woman,
With her woven basket carrying items for sale
is not five yet, no blue sky that announces dawn yet
on route to the to the market of Porlamar
young and black, she makes her way.
A Chinese cotton shirt, some nylon underwear,
a Spanish cologne, a deck of cards, and some menthol,
a very fine blouse, some perfumed soaps, and facial creams
But by the time sun's out, la Negra Atilia has every item sold."
Me Llaman Nella
It was in the US that she was heard by Spanish producer Javier Limón. Immediately he approached her, they connected and started working on a few musical projects. He must have been impressed because Nella's very popular hit, "They Call Me Nella", was actually composed by Limón and it describes her vividly. "Me Llaman Nella", a poem-story told in the first person goes like this:
"They call me Nella, the one with the fractured voice
the one who is awake at night, singing the verses at dawn
They call me Nella, I am of cinnamon and fire
if from me you want a song
from me, you'll have to steal a kiss"
Nella was especially impressed by the vivid descriptions Limón makes of her native island even though he has never set foot there.  She asked him about this and he said he has heard so much of Margarita that he was able to paint that picture in his mind.
The lyrics also express his special sensibility when describing the cheerful nature of its people along with the hardships in Venezuela.
"I come from such an old world
a new friend to pain and hunger
a world so true that belong only to big hearts
a fantasy world, with neither tall walls nor lies
inhabited only by people
who search for a sip of liberty"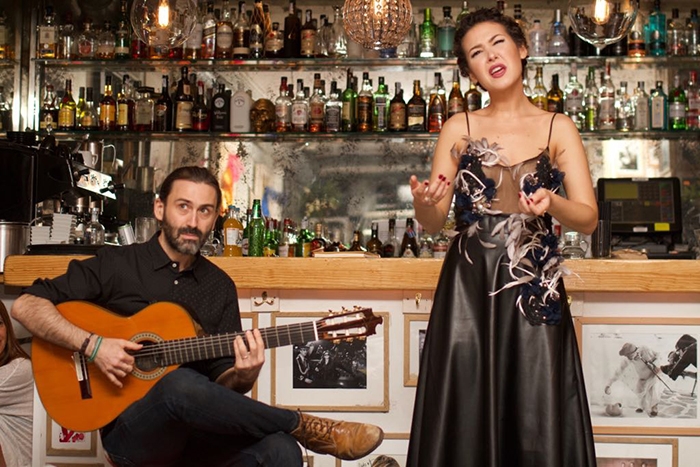 Se Muere Por Volver y Dias de Fiesta
Nella talked about how everything has accelerated in her professional career just in the last year. She recently featured as a singer and actress in the movie Everybody Knows, and she will also be in Oscar Award winner Asghar Farhadi's new movie which includes Javier Bardem, Ricardo Darín and Penélope Cruz. Nella says this experience was revelatory for her, twelve-hour days, hard work and being on set with the stars watching them "do their thing".  The music was written and composed by Javier Limón for the movie and is sung in a very authentic Spanish style. Nella is very proud that she can immerse herself in the music in a way that there is no barrier when it comes to genre. Music is music. She loves that people may think she is from Spain, that means to her that she has grasped the essence of cantaores.
Coplas and Honesty
She says "I like intelligent texts". When Nella started working with Limón he showed her his compositions and lyrics. She was fascinated by his writing. She talked about the need she has to make a connection with words and interpret lyrics with depth. Nella feels fulfilled and comfortable interpreting the Spanish coplas. She has studied the flamenco singers and finds a very deep sense of honesty in lyrics and in song. "There is a nakedness between the singer and the audience". It reaches the soul of people through its passion and expression, it reaches even of those who do not speak Spanish. Nella explains that it is this deep authenticity and honesty and closeness to the audience that inspires her the most in her new productions.
Her Bag of Tricks
Nella is a versatile artist.  She has made a plunge into her new found passion for cantaores but there is more. When asked, "what do you listen to?" the answer a few years ago would have been Christina Aguilera, Celine Dion, Alicia Keys. She is thrilled that a new Latino movement is making strides: Monsieur Periné, Laura Guevara, Natalia Lafourcade. She pulled out of the bag a few artists that are fun, eclectic and based all over the globe. Mayra Andrade from Cape Verde; Hiatus Kaiyote from Australia; Buika from Spain; and then there are the ones closer to home and she's always admired: Juan Luis Guerra from Dominican Republic; Ilan Chester from Venezuela.
At the London Show
Experience a mix of Venezuelan folklore, Nella's compositions, the movie's "Everybody Knows" music theme and new Spanish coplas. You are in for a beautiful performance!
Nella is performing at the Southbank Centre, London on Sunday November 25th. Full details here.

Follow Sounds and Colours: Facebook / Twitter / Instagram / Mixcloud / Soundcloud / Bandcamp

Subscribe to the Sounds and Colours Newsletter for regular updates, news and competitions bringing the best of Latin American culture direct to your Inbox.
Share: