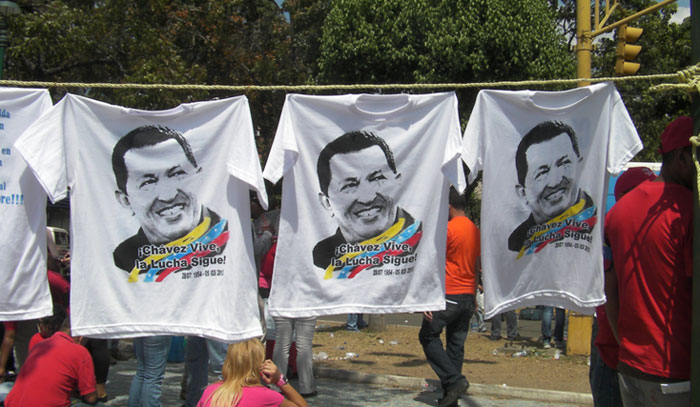 In Memoriam: A Hugo Chavez Playlist
12 March, 2013
Unless you've been living in a cupboard for the past week you will be well aware that Venezuela's President Hugo Chavez passed away on Tuesday March 5th. Over the past 14 years Chavez, and his United Socialist Party of Venezuela (PSUV), ruled the country as a liberal and democratic state with many ideas and philosophies stemming from Chavez's admiration for Simón Bolívar. Of this there is no doubt.
It's also been a controversial presidency with the country's far-left principles and unwillingness to co-operate with some of the world's major nations leading to a polarity of opinion from abroad and within the country itself. With this in mind, we don't intend for this article to continue the debate on whether Chavez's reign as President has been a success or not. If you want to discuss Venezuelan politics or economics you will be better served by reading TIME, The Economist, The Guardian, The New York Times or any other newspaper. Our focus on Sounds and Colours is to discuss South American culture, and that is what we intend to do here.
Since Chavez's passing millions of Venezuelans have congregated at Fuerte Tiuna, where his body has been on display at the Military Academy. Far from being a completely sombre occasion, there has been much music. Here, we want to feature some of that music, and so below you will find a number of clips of songs inspired by Chavez; some of these were written specifically to help Chavez's election campaigns, some were written simply because they love Chavez, and some were simply adopted by Chavez and his supporters.
Whether you love Chavez or not, you cannot deny that the man inspired some great music.
Lloviznando Cantos "Militantes Con Chavez"
http://www.youtube.com/watch?v=yDD7Xg6X9To
Sistema Sonoro Tiuna, James Lakay, Akiling de Bituaya y Ariana "Somos Caribe"
http://www.youtube.com/watch?v=eViXRywMD3g
DJ Manza "Chavez Es Otra Beta"
[soundcloud url="http://soundcloud.com/ola-bolivariana/chavez-es-otro-beta-remix"]
Patriotas "Área 23"

DJ Pablo Guzmán y Guerrilla MC: Hugo Chávez "Diana Carabobo"

Rodbexa y Truko "Oda a la Vida"

JyK Salsa "Juventud con Chávez"

MC Patron "Cambiando El Diagnóstico"

Additionally the PSUV have made available a whole compilation of Chavez-inspired songs free for download, including many of those mentioned above. Just go to juventud.psuv.org.ve/unsololatir to download some of this music.

Follow Sounds and Colours: Facebook / Twitter / Instagram / Mixcloud / Soundcloud / Bandcamp

Subscribe to the Sounds and Colours Newsletter for regular updates, news and competitions bringing the best of Latin American culture direct to your Inbox.
Share: