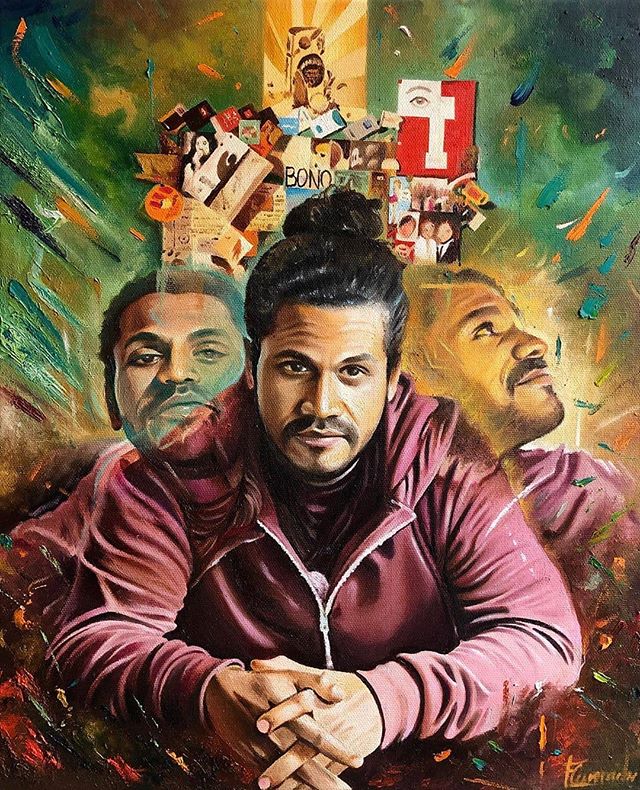 Punto y Seguido. Period. Next Sentence… Rafa Pino Evokes Home in Poetic New Video
21 April, 2020
On April 16th, a great music video, officially premiered. "Punto y Seguimos" is the first composition from an album called Catálogo de Materias Pendientes Vol 1. by Rafa Pino (Latin Grammy Award nominee for Best Folk Album with El Tuyero Ilustrado).
Shelter-in-place has meant an ever-flowing deluge of information, music, movies, recommendations, and must-sees urgently competing for attention. But this video immediately caught my eye. I was glued to the screen from the beginning to the end, and that is rare for me. "Punto y Seguimos" is truly special. 
I was fascinated by the lighting on the dancer, spotlights moving in and out, and once Rafa started singing, he held me there, listening to his heart-felt, intelligent, poetic lyrics and then… Then there is a heightened interlude of the drum, bass and vibraphone paired with wild and explosive smoky images that merged with a change of key, a grounded earthy beat and a flowing dancer animated in silhouettes. Many of these elements evoked home, ground, roots. You see a video that has a balanced combination of intriguing imagery, folklore, poetic lyrics, and progressive jazz.
"Punto y Seguimos" feels fresh and sincere. I connected in so many ways that I couldn't help but call Rafa and ask him about it. We spoke, and after traversing millions of tangents over music, roots, our lives away from our home, and friends in common, we moved onto the video and its composition. I'll share some things that captured my attention.
Punto Cruzao (Crossed point)
Punto cruzao is a genre that comes from the folklore of the north-eastern area of Venezuela. It has a specific musical form and poetic metric. Rafa told me about José Julián Villafranca, one of this genre's most prolific exponents, who passed away recently in 2018. His legacy remains strong. Rafa directed me to one of Villafranca's original songs done in punto cruzao, "San Juan No Celebró Su Día" (St. John Didn't Celebrate His Day). Villafranca walks around singing a clever mythological story of his own creation. And then I found out that C4Trio premiered last year their version of this punto cruzao with Ruben Blades, on June 24th, Día de San Juan. At the bottom, you can see both versions.
Punto y Seguimos (Period, we keep going on)
An endearing attribute of Rafa Pino's lyrics is his playfulness with words. Both the name of the album and the name of these songs are a double entendre.
Materias Pendientes (pending matters), from the album title, also relates to resit subjects, classes that you did not pass in school, and you either have to repeat or do another exam to try and pass them.
Punto y seguido is an expression that teachers use in dictation meaning "period, next sentence". But Rafa titles this song "Punto y Seguimos". Period, we continue.
Here are some lyrics: "Ni la distancia mas larga nos aleja por completo, /pues hay un baúl completo que nuestra memoria carga" ("Not even the lengthy distance drives us totally apart, /since in our minds we weigh a trunk filled with baggage").
Further along another line cuts straight to our heart: "Reflexionar, ser prudente/ y justo y desenfadado/ cuando nunca se ha purgado el rencor del subconciente" ("To reflect, to be prudent / and fair, and content / when the resentment from our subconscious hasn't yet been purged").
This is a love song, with the awareness of pain after a separation but not an end, we are still relating to each other. A proper title: "Punto y Seguimos".
Punto y Aparte (Period, next paragraph)
"Punto y Seguimos" made its debut on April 16th, 2020, but its production started six years ago. The song is composed and co-arranged by Juan Diego Villalobos, who also plays the vibraphone, and it takes you from blues to folklore, to progressive jazz, to key changes, to superb instrumentation. It is dynamic. It keeps you listening.
Musicians recorded in different countries, at different times. Production stopped when money was short, or artists were not available. Literally, it's been a journey for all the artists involved. Rafa is very grateful to the generosity of many and the participation of a creative and dedicated bunch of artists. A real feat of collaboration which includes engineer Germán Landaeta, drums by Daniel Primm (master teacher of Afro-Venezuelan percussion at Berklee School of Music), the artistic video from Verónica Fuentes (Imagu Lab), the beautiful dancer Romina Guarisima and Rafa's partner-in-song Edward Ramirez on the cuatro venezolano. We are grateful to Rafa's persistence. Bravo! One down, nine to go.
Before I finish, it is important to highlight one person in particular who played on this piece. That is Gustavo Marquez. Gustavito, most people called him, was a superb bassist. He is the groovy bass on this piece, and he was 28, way too young, when he succumbed in a fierce battle to non-Hodgkin's lymphoma. Rafa Pino dedicates this song to his memory.
"Punto y Seguimos" is the first of ten. Keep your ears open for more from Rafa Pino, for the next deliveries around May 2020.
Here's Jose Julián Villafranca performing "San Juan No Celebró Su Día":
And the version by C4Trio y Rubén Blades:
Punto y Final (Period. The end)

Follow Sounds and Colours: Facebook / Twitter / Instagram / Mixcloud / Soundcloud / Bandcamp

Subscribe to the Sounds and Colours Newsletter for regular updates, news and competitions bringing the best of Latin American culture direct to your Inbox.
Share: