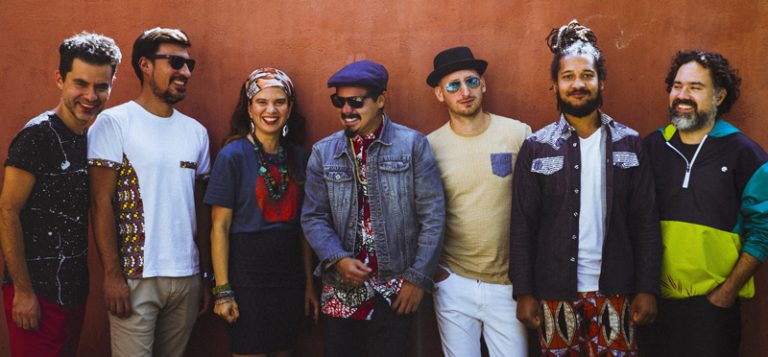 Under The Influence: Raul Monsalve
22 October, 2020
Bichos, the new album from Raul Monsalve y Los Forajidos is a tour de force of Afro-Latin grooves, recalling the jazz fusion golden era of the late 60s and 70s, but also steeped in afrobeat and the Venezuelan rhythms and instrumentation that bandleader Monsalve grew up with.
Born in Caracas, Monsalve is now based in France and an integral part of a Venezuelan diaspora scene that is bringing Venezuelan music to the masses. On Bichos he teams up with members of Insólito Universo, with whom he plays bass, Family Atlantica's Luzmila Zerpa and Betsayda Machado, whose Loe Loa album was one of our favourites a few years back, as well as other guests.
Here, he chooses ten songs and artists that have had a huge influence on his music. Scroll to the bottom to listen to the tracks in a mix produced by Olindo Records especially for this article.
Sun Araw Meets The Congos – Happy Song
This record ends up on my headphones regularly. I've always loved albums where I can't quite work out all that is going on and I feel lost. That's what I get from this one, although it also has that classic dub sound on the vocals and percussion. The whole album is a personal North Star for me.
Orlando Julius – Afro Instrumental
My new album is perhaps mostly influenced by the music of master Orlando Julius. His way of structuring songs and his mastery for a less is more aesthetic are big inspirations in my music. This album was recorded at Ginger Baker's studio and it's a beast.
Art Ensemble of Chicago – Zombie
AEC are basically my heroes. There isn't a better way to sum up what I aim to achieve as a creator than "ancient to the future". Generally speaking, versions of Fela Kuti tend to be a disappointment, but on this album the classic "Zombie" is a trip.
Oswaldo Lares – Saludo a San Juan Bautista
Oswaldo Lares is the Venezuelan Alan Lomax. Thanks to his work we can relive and study magical moments from our culture. This chant to Saint John the Baptist is full of mysticism and devotion.
Son de Chuao – No la rompas
Son de Chuao is one of the most powerful groups from the Venezuelan coast. I listen to this track almost daily to see if I can catch a glimpse of their energy and bad-ass groove.
Grupo Madera – En Mi Cintura Traigo de To'
Grupo Madera isn't just a musical inspiration. Their influence in the culture of the barrios of Caracas in the 70s and early 80s is a clear example of conviction and struggle. This track is a Golpe de Mina from the Barlovento region and it couldn't be heavier.
African Head Charge – Beri Beri
Collage, dub, delay, reverb, juxtaposition, GROOVE, bass and sub bass…. which part of it don't you get?
Thomas Mapfumo & The Blacks Unlimited – Shumba
I've been listening to Mapfumo and Zimbabwe's shona music for years. From the first moment I felt a connection with Afro-Venezuelan percussion, like culo e' puya or quitiplas. On Bichos I made an attempt to mix both genres in the track "La Pulga".
Patato y Totico – En el Callejón
Patato on percussion, Cachao on the bass, Arsenio Rodriguez on tres. This album is my bible.
Un Dos Tres y Fuera – Son de Tambor y San Juan
Another major influence. Not only did they manage to capture the spirit of traditional music, but they also transported it outside of this planet through the use of synthesizers, electric bass and drums. They signal the birth of the fusion of traditional music with rock and electronica in Venezuela, in my opinion.
Bichos is out now on Olindo Records
Listen to "Pa' Los Maestros", a spicy cha-cha-cha from Bichos below:

Follow Sounds and Colours: Facebook / Twitter / Instagram / Mixcloud / Soundcloud / Bandcamp

Subscribe to the Sounds and Colours Newsletter for regular updates, news and competitions bringing the best of Latin American culture direct to your Inbox.
Share: