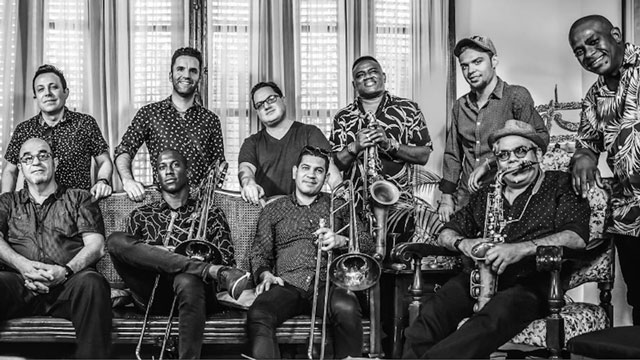 A Conversation with Orquesta Akokán's Jacob Plasse
15 January, 2019
Cuba/NYC's Orquesta Akokán has had one hell of a debut.
Their self-titled debut record (on Daptone Records) is nominated for a Grammy. They're touring when possible (this week they're in Sydney, Australia, for Sydney Festival) and had a rousing performance at New York City's premiere world music event, globalFEST (complete with inclusion in the New York Times recap), on the 6th of January.
How Making the Music Became Making the Band
Quite the year one for a project whose main objective was not necessarily becoming a band, according to one of its founders, Jacob Plasse, a producer based in New York.

"When we started doing this, we wanted to make a record. We didn't see it as making a band," he said. "And then the first time we played live, we were like holy shit! Even from very first gig, it felt like something special, which is rare."

The band has gotten raves from the likes of the Times, KCRW, WNYC and more, for bringing the golden age of Cuban mambo to world music fans. Why mambo?

It was a slow evolution, said Plasse, whose love of Latin music spurred him to create Los Hacheros, a well-known salsa/son band in New York City, about a decade ago, as well as the label, Chulo Records.

"I'd really been into studying this older music (mambo), and wanted to create something original and new using this music as a springboard. It is a forgotten sound, as you know, Cuban music took a left turn after that period," said Plasse, who tossed the idea around with pianist and keyboardist Michael Eckroth.

"We talked to [lead singer and co-founder of the group, Jose] Pepito [Gomez], recorded some basic things here in New York, and then we let it go. Then, Pepito was going to Cuba o do a concert with a band he used to play in and he invited us to go along. His gig turned into a recording session, which turned into an album. I sent it to Daptone, and they loved it, and it made a huge difference. The stars aligned."
Music Makes You Dance, Lyrics Hit the Heart
What makes the Orquesta Akokán record special is its lyrics. Though recorded in the current era, the songs have lyrics that feel as if they were written in the 1950s.

Cómo tú no me supiste querer,
Ahora no puedo ser como ayer x2

Ya no soy el mismo de ayer,
Ese que corría cuando tu llamabas

El que tus caprichos y fantasías
En realidades te las convertía

Ay, yo pasaba casi todo el día
Dándote todo a cambio de nada
Ay nena, espero que comprendas que, esto no es como ayer!"
– "Otro Nivel" by Orquesta Akokán (Read a translation via Vinyl Me, Please.)

"The lyrics are really all Pepito, he's a wonderful songwriter," Plasse said. "He has his own vision. He grew up playing trova, he knows all that repertoire." (Read about trova, one of the great roots of the musical Cuban tree, here.)
Band Members as Friends and Mentors
Orquesta Akokán's stage presence also makes their live shows very special. This is a 13-piece big band that plays supremely well, and its band members span a variety of ages. There's a reason for that, Plasse said.
"We wanted to make sure it was vibrant, a cross section of influence, involving people who were familiar with today's music, but also the old style. There's a lot of younger guys who were students in what is considered to be the Juilliard of Havana. So several of the guys in the band have this natural mentor/mentee relationship. It's a joy to be around. They just really… feel joy when they're performing and it translates with everybody."
So what's on the agenda for Orquesta Akokán in 2019?
Touring, of course. Sadly, because the relationship between Cuba and the United States is still complicated, state-side performances are tough. However, having already toured in Hamburg, there will be more Europe to come, Plasse said, naming London as a goal. And Latin America? A natural fit.
"Colombia is a prime target," he said. "It's just a matter of finding the right opportunity. We'd love to get this music out there heard live."
And, of course, there is the matter of the 61st Annual Grammy Awards, which air on the 10th of February. The humble Plasse seems still shocked about it all.
"It's pretty unreal," he said. "For me, I find it less productive when music is attached to a work. It can cloud the reason that you're doing this. It feels amazing just to make this music and put it out there."
Watch the band's excellent performance at Washington, D.C.'s Kennedy Center, taped earlier this month, here.

Follow Sounds and Colours: Facebook / Twitter / Instagram / Mixcloud / Soundcloud / Bandcamp

Subscribe to the Sounds and Colours Newsletter for regular updates, news and competitions bringing the best of Latin American culture direct to your Inbox.
Share: