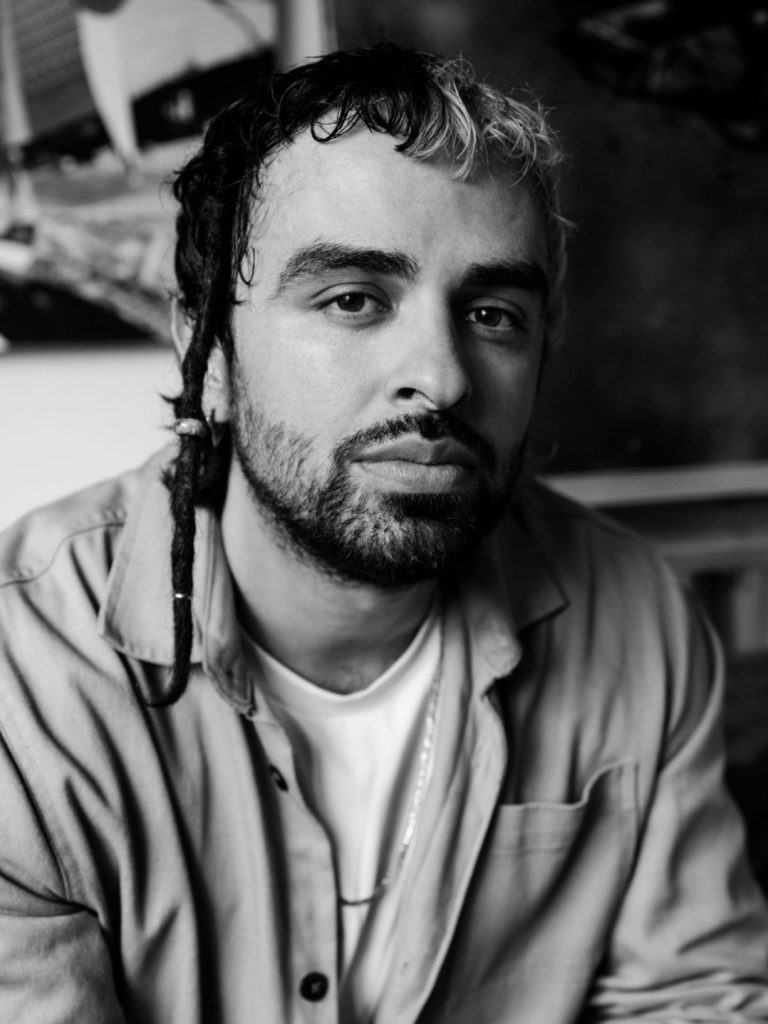 Chatting with NYC filmmaker Miguel Gallardo
10 July, 2023
The journey from music video director to feature film director is one music and film fans have come to know in big names like Spike Jonze, David Fincher, and Antoine Fuqua, to name a few. We're pleased to report it's still happening with independent filmmakers such as New York City's Miguel Gallardo.
Gallardo has been on our radar for some years now as he worked on a tour footage and a music video for NYC-based Dominican artist Saso. This past May, we caught his short, Herizon, at the Big Apple Film Festival, and really enjoyed it. The best way to describe the film is like being stuck in a well-styled bad dream.
Just this month, the short was picked up for the Festival of Cinema NYC, which runs from the 4th through the 13th of August. The film is also up for Best Cinematography in the 10-day festival, held in Queens.
We recently spoke with Gallardo, a Bronx native of Puerto Rican and Colombian heritage. He shared that Alejandro Iñárritu, Guillermo del Toro, and Alfonso Cuaron have been significant sources of inspiration for him.
Sounds and Colours: How did you get interested in shooting, be it photography or video? How old were you? Who inspired you?
Miguel Gallardo: Funny enough, my mom recovered old camcorder footage of me as a kid directing my even younger siblings to make these embarrassing but funny zombie, spy, pirate, you-name-it short films. The cast was always my brother, sister and myself and eventually any cousin who came over got involved and had a role. Looking back, what was fun to do for me were early signs of a love for filmmaking and I had no idea.
Fast forward, I'm in college and have a band called All Year Summer. Broke as we were, we couldn't afford to pay anyone to make our music videos. I was a multimedia major and through an internship at the studios there was able to access equipment. Little did they know (and I am superrrr grateful for their support) I would constantly take out thousands of dollars of equipment to make whatever my friends and I could think of. That's how it all started. I was hooked. Pretty soon, I took on photography and challenged myself to take photos that told a story in a set or single still. I was fascinated by art and the concept of different interpretations depending on who's looking at it and how they are feeling. That is the art I started making and strive to make to this day.
S&C: How did you get the idea for 'Herizon?'
The idea for this film came pretty quickly as I was spending a short amount of time in Miami at the same time as my friend, Carolina, who played the lead in Herizon. I knew I wanted it to be on the beach so for whatever reason, be it from a dream or daydream (I was driving trucks cross-country at the time and had plenty of time to imagine), the concept was created. Our schedules did not allow us to make it then but thankfully, we were able to reschedule. Side bar: my creative process sort of works in reverse; I come up with an idea then all the deeper themes begin to reveal themselves during the making.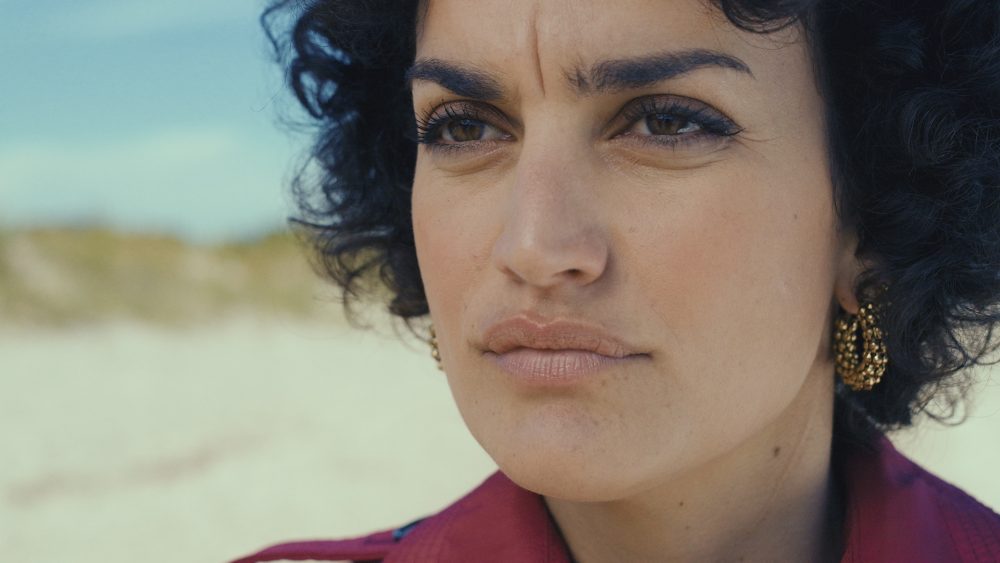 I began to realize I had been feeling depressed because I have not been making anything for myself. I was in school again, doing freelance work and teaching. Besides a limiting schedule, I also felt I haven't given myself a solid chance to push my work to a wider audience. As a result, I decided to elevate the idea's production, build a team of friends and creatives I respected, and treat it like a film. For me, Herizon became a metaphor for actively removing all the restraints that keep me from pursuing what lights my heart on fire. Little by little we would add small easter eggs in the costume design, lighting and cinematography that reflected the narratives we were hoping to ignite.
S&C: You picked a Latina actress and friend in the lead role. Does her Latinidad have anything to do with the story you're trying to tell? In other words, does your experience as the son of a Colombian dad and Puerto Rican mom inform your film storytelling?
I was raised to be proud of my heritage and always was. Not only do I represent them both proudly as a filmmaker, I want to incorporate people from Latine backgrounds into my craft as much as possible. Herizon's cast and crew is predominantly Latino, with the exception of my Albanian girlfriend, one friend from the Republic of Congo and another who is Black.
For the music of the film, I was inspired by the score of Iñárritu's Birdman, but I wanted a Latin twist. I needed congas. The Puerto Rican side of my family has a long history of musicians and I finally got to start this collaboration with Herizon. My cousin (Lele Ortiz) and uncle (Heriberto Ortiz) helped to put together a couple of guys that would help to create an original score. We recorded in a barber shop my uncle cuts hair in after the last customer left. This session was incredible special for me. Not only was I with family and a couple of respected musicians I had just met, it was a great exercise of listening. Based on the direction of the action and emotions of the film, they would share their ideas on the style of Conga playing that would be most fitting. With the film playing on my laptop, they were playing bomba and plena to the actions of Carolina, similar to a traditional live performance with a dancer. The rhythms we chose were made to represent elements such as her heartbeat, her feet, her anxieties, her connection to nature and herself.
Taking the step of going to Puerto Rico to make this score was one of the layers I removed to get closer to my heritage. Carolina is from the Canary Islands, a Spanish archipelago off the coast of Africa. The collaboration between Carolina and myself sends a message of putting aside the ethnic historical tensions to remember we are all on this very internal, human journey. The ocean and nature serve as the grounded, connecting element between the Canary Islands and Puerto Rico, even though we have had very different relationships with Spain. An easter egg includes the colors of the elusive bikini Carolina finally gets into by the end of the film. The blue and white is very close to the colors of the Canary Island flag.
S&C: You've done music videos. You've done marketing videos. And, now, a short film. What is next? Another short?
For Herizon, particularly I would love to see the short placed in galleries where viewers get to have a private experience. The film is meant to be a sort of mirror to the viewer. A group exhibition centered around ethnicity and identity would be ideal. A group show would be amazing as well because thematically, Herizon is just as much about community as it is an introspective commentary. As a living piece of art I would like for it to find its place among other pieces that were made with similar intentions, to inspire others going through familiar conflicts.
What's next! As a director I'm diving deeper into my passions and family history by making a documentary series about volleyball. This will be a project diving into the culture of volleyball in the places that embrace it most. Both of my parents were volleyball players and coaches and I spent my whole life at their games and practices until I was old enough to be on my own teams. I continue to compete to this day and recently became certified to teach physical education in NYC. Health is a theme I plan to visit often and with this project hope to reveal tools people can use, especially the Latine community, for them to live longer, happier lives. Focusing on the physical and mental practices of these athletes and coaches, I plan for the first episode to be about volleyball in Puerto Rico.
Then more narratives! I'm working on a short about the synchronicities with strangers you pass on the street, and a feature about a very specific military experience based on the Marine chapter of my best friend's father (also Puerto Rican). As a director of photography I am working with friend and director Chris Toro on a science fiction short film inspired by the space observatory facility in Arecibo, Puerto Rico.
I am thrilled with Herizon being my introduction to the film world as it is only the tip of the iceberg.

Follow Sounds and Colours: Facebook / Twitter / Instagram / Mixcloud / Soundcloud / Bandcamp

Subscribe to the Sounds and Colours Newsletter for regular updates, news and competitions bringing the best of Latin American culture direct to your Inbox.
Share: