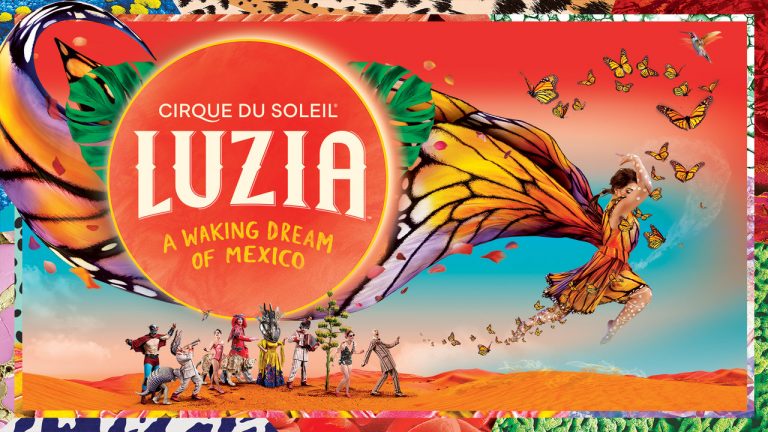 Cirque du Soleil's 'Luzia: A Waking Dream of Mexico' Coming to London; Interview with Cirque's Artistic Director and Lead Performer
09 October, 2019
Cirque du Soleil returns to the Royal Albert Hall with an awe-inspiring ode to Mexican culture. Celebrating its 30th anniversary in the UK, the acclaimed Canadian circus troupe presents its most ambitious show to date: Luzia: A Waking Dream of Mexico.
Danny Concha catches up with the show's artistic director Gracie Valdez and leading lady Shelli Epstein to discuss the excitement and challenges ahead…
This coming January, Cirque will cast a Mexican-themed spell on its UK audiences… what was the motivation for conjuring up this dreamlike image of Mexico?
Gracie Valdez: Mexico has always had a special place in our heart… particularly for the show's writer/director [Daniele Finzi Pasca]. He lived and travelled extensively through the region, and wanted to recreate his experiences without making them literal. That's why Luzia feels like a dream; it's a symbolic reimagining of Mexican life. It's about celebrating the imagination… not pinpointing a specific street in Guadalajara.
Luzia is Cirque's most technically-challenging production to date. Can you talk about the challenges of integrating modern technology into the circus tradition?
GV: It's been a challenge, and there are two key aspects in mind. Of course, we want to be ahead of the game in terms of entertainment quality… and technology is a big part of that. For example, Luzia features a rain curtain (10,000 litres of recycled water), which is a first for us. Whilst it can be tough adapting, we want to see how far we can push in terms of new approaches to traditional acrobatics, and this is a statement of that. That said, we also recognise the limits of technology. Bottom line, this is live production. We want you to be physically present, and not experiencing a performance through your mobile phone. The 'live experience' has always been central to the circus. We want to keep up [with modern entertainment], but at the same time stay traditional.
As you return to the UK, what do you hope to achieve with Luzia?
GV: As with all of our shows, we want you to be unplugged from reality and to see what can be done, physically. It gives you renewed hope. I want the audience to be inspired by the energy, joy and creativity… The show ends with a big party and its ultimately a celebration of life and love. We want you to walk away a little bit lighter at the end of it. Renewed hope, renewed excitement.
Speaking of excitement… Shelli, how does it feel to be Luzia's leading lady?
Shelli Epstein: I still can't believe it! I'm a Londoner, and I can't get over the fact that we're coming here. It's magic. All the people in my life…they're here. The fact that I can show my friends and family what I have been up to in the last eight years is something very special. We were in the Royal Albert Hall today, and I got shivers.
Can you tell us a bit more about your role?
SE: My character is called the 'running woman'; she is based off the Tarahumara tribe, which is the ultra-marathon running tribe in Mexico. She is also part monarch-butterfly, which represents the migration from Canada (where Cirque was founded in 1984) to Mexico.
Finally, I have to ask about the nerves… what goes through your head as you are about to perform?
SE: …A lot! Acrobatics is never easy, and my act (Russian Swing) is very high-risk. Circus has taught me so much about my nerves. In the beginning, I would be all shaky, and you can't have that. But that doesn't mean nerves are bad… they're good! For me, it was about learning how to suppress them and enable my nerves to work in my favour. It's a very challenging and interesting skill… a lot to do with breath. Once you jump or fly, the adrenaline spikes and you have to learn to bring it back down because if you're going to jump again, you can't have it at that level. It's really a mental thing. If I'm jumping and I don't feel anything, that's when I know I shouldn't be jumping. That's when I know it's dangerous.
Thank you for sharing that… and can't wait to see the show!
Luzia will be at the Royal Albert Hall from Sunday 12th January until Sunday 1st March 2020. Info and tickets from royalalberthall.com

Follow Sounds and Colours: Facebook / Twitter / Instagram / Mixcloud / Soundcloud / Bandcamp

Subscribe to the Sounds and Colours Newsletter for regular updates, news and competitions bringing the best of Latin American culture direct to your Inbox.
Share: