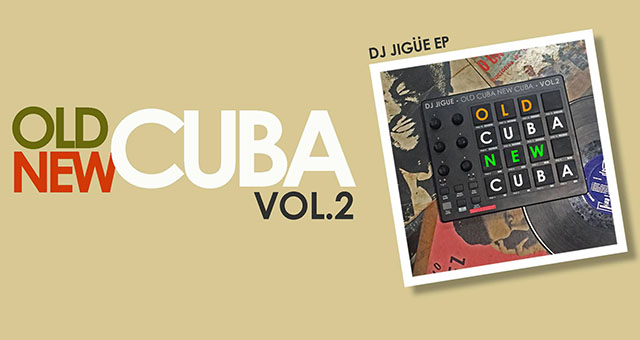 New Music: 'Old Cuba New Cuba Vol. 2' by Guámpara Music's DJ Jigüe
10 June, 2018
What is there to say about Cuba? Since President Barack Obama thawed relations with the island nation, and current President Donald Trump quasi-put a damper on things, tourists continue to flock to Cuba and experience the classic music (think the songs made popular by the Grammy-winning Buena Vista Social Club).
And when it comes to music, one remembers Diplo's historic concert in Cuba's capital city in 2016. Or, more recently, pop star Camila Cabello's big hit, "Havana," which the Billboard magazine ranked 17th in their "100 Best Songs of 2017." While a big hit, it wasn't really Cuban music, per se.
For those who care to look deeper, such as the bookers of SXSW, one of the most important music festivals in the world, let alone in the United States, there is Guámpara Music, a multidisciplinary arts collective from Havana that focuses on an urban sound and visual aesthetic that characterizes the Cuban core identity.
The collective has ansole DJ on its roster, and he's been on a roll.
DJ Jigüe, real name Isnay Rodriguez, is a 37-year-old Cuban music impresario who has been touring all over the world in recent years (including SXSW), has some new remixes to share with us.
For "Old Cuba New Cuba Vol. 2," Jigüe takes two very old Cuban classics, "Anabacoa" sang by Benny Moré, and "Nostalgia Cubana" sang in the 1960s by AfroCubano singers Barbarito Diez and Paulina Alvarez, and sprinkles the modernity of the music he sees on the streets of La Habana.
"My influence is electronic music intermingled with the sound of Cuban traditional music of more than 50 years ago and the use of contemporary digital elements and Afro-Cuban percussion," he told us.
As DJ Jigüe has been on the radar of many music writers, we've gotten to know exactly how he got to where he is today in a country many are quick to write off as poor and "cut off" from the rest of the world.
He recently explained to Topic how he built his recording booth:
For windows, he used glass from a set of drawers once belonging to his wife's aunt. For walls, he used wood salvaged from shipping pallets and an old closet. For sound insulation, he used egg cartons and sawdust.
"Es como un Frankenstein (It's like Franknstein)," Rodriguez says, grinning.
There's no industry for music-recording equipment in Cuba, explains Rodriguez, an industrial engineer by training, so there are only two options: import or invent.
"Obviously, we invent," he says.
(Read the rest of Topic's fantastic reporting, "Cuban Revolutions," here.)
If his equipment is Frankenstein, we're thankful for this monster.
Listen to "Old Cuba New Cuba Vol. 2" below, and follow DJ Jigüe's travails at the Guampara Productions Facebook page.
And, by the way, that big Camila Cabello hit? DJ Jigüe remixed that, too.

Follow Sounds and Colours: Facebook / Twitter / Instagram / Mixcloud / Soundcloud / Bandcamp

Subscribe to the Sounds and Colours Newsletter for regular updates, news and competitions bringing the best of Latin American culture direct to your Inbox.
Share: