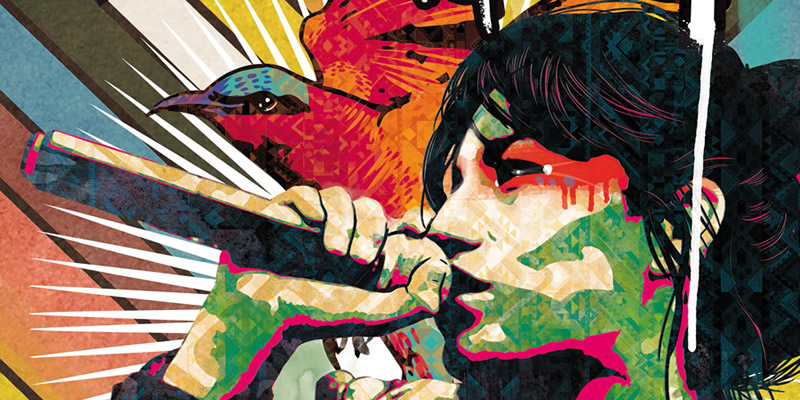 New Video for Anita Tijoux's 'Somos Sur'
11 June, 2014
As if to confirm her ascent to global torchbearer of muscial activism, Anita Tijoux's new video for 'Somos Sur', the second single from new album Vengo (reviewed here in S&C), salutes the many grassroots social movements taking place around the world. Much of Tijoux's recent work has been notable for its political outlook, and 'Somos Sur', the most defiant track on an album of unflinching opinion, evokes the Andean altiplano and the Middle East to emphasise that resistance to the system is a struggle shared by many.
Tijoux is joined by London-born rapper Shadia Mansour, whose lyrical content revolves heavily round the subject of Palestinean nationalism. The pair took to the rooftops of Anita's hometown of Santiago to make the video on Shadia's recent visit to Chile, home to Latin America's largest Palestinean community, while also dropping in on the city's Palestino football team.
In a recent interview with Rolling Stone Magazine (conducted, if we may say, after her exclusive chat with S&C – a clear example of her right-on prioritising), Anita had this to say: "The movements of global resistance, whether in Latin America, Africa or the Middle East, are fighting against the same patrons of violence who have repeated themselves throughout history. What this means is that many of these groups share similar demands. We are asking for a free Palestine in the same way as we are asking for an independent Wallmapu (the Mapuche ancestral territories in southern Chile and Argentina) in Chile, without police control."
As the mainstream festers in a pool of its own irrrelevant nothingness, it is uplifting that there are musicians who still engage with social and topical issues. We're looking forward to seeing what's next from both Anita and Shadia.
http://www.youtube.com/watch?v=D_vjO4yigcw

Follow Sounds and Colours: Facebook / Twitter / Instagram / Mixcloud / Soundcloud / Bandcamp

Subscribe to the Sounds and Colours Newsletter for regular updates, news and competitions bringing the best of Latin American culture direct to your Inbox.
Share: