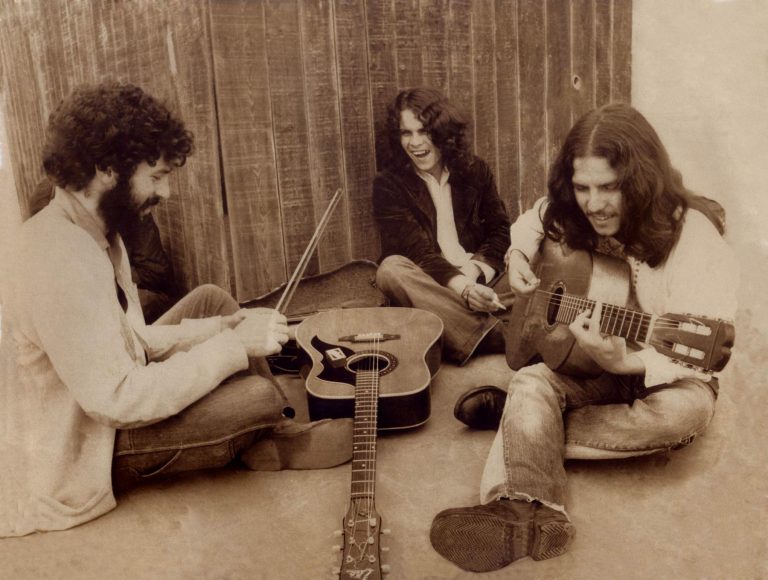 El Polen
The Psych-Folk Genius of Peru's El Polen Reissued On Vinyl
14 June, 2018
Buh Records, denizens of the avant-garde and the long-forgotten, recently reissued two of the finest psych-folk albums ever to come out of Latin America. Cholo and Fuera de la Ciudad were released in 1972 and 1973 and represent an early landmark in fusing rock and folk with elements of Andean culture. They were the works of a band called El Polen.
After playing in early beat bands like Los Shain's, Juan Luis Pereyra had given up music, instead concentrating on studies in architecture, when one day he dissolved a tab of acid in some orange juice, took a trip out to a local park with his guitar in hand and had a musical epiphany. Rock music in Peru at that time was largely influenced by The Beatles, Rolling Stones, Cream, Santana, and so on, following the vogue sounds of the US and England. Pereyra had other ideas. He wanted to incorporate rhythms and melodies from Peru's Andean culture, he wanted to make songs in free form (akin to what Amon Düül II and Faust were doing in Germany, though these were unknown quantities to Pereyra) and he wanted to let the music flow, getting away from familiar rock tropes. Together with his brother Raúl and various other musicians in Lima at that time, he formed El Polen.
After making their live debut in 1970, the group spent time near Cuzco, soaking up the hippie vibes and Andean culture that were strong there due to frequent Incan celebrations, as well as the open-minded tourists who were coming to visit Machu Picchu. Later, they returned to Lima, set up a free-spirited commune and recorded Cholo in 1972. Though the album functioned as the soundtrack for a film based on the life of the footballer Hugo Sotil, the songs featured on it were the group's actual repertoire simply lent to cinema. With no electric guitar in sight, the album stood out significantly in Peru at that time. Using violins, cellos, quenas and mandolins, this was an album that wasn't trying to impress anyone with bombast, though it did prove popular with "Valicha" hitting the top of some local and national charts, no doubt a result of the fact that huayno music was so popular amongst the vast Andean populations that had migrated to Lima.
After a spell in prison – due to marijuana possession – they travelled to Chile, where they were invited by Los Jaivas – one of the few other groups, along with El Polen and Arco Iris in Argentina, who were presenting a real fusion between Andean folk music and elements of Western folk and rock. On their return they recorded their second album Fuera de la Ciudad in 1973 which saw their sound mature, with key tracks such as "Mi Cueva" and "El Hijo de la Luna" taking the listener into completely new territory.
El Polen split up in the mid-70s due to a fracture in the music scene (caused by the increasingly overbearing nature of Peru's military dictatorship and changes in the public's tastes) which also saw many other groups break up around the same time. Thankfully, their two rare-to-find 70s records are now available on vinyl once more thanks to Peruvian label, Buh Records.
Buy Cholo and Fuera de la Ciudad from Buh Records on Bandcamp.
Listen to the albums below:

Follow Sounds and Colours: Facebook / Twitter / Instagram / Mixcloud / Soundcloud / Bandcamp

Subscribe to the Sounds and Colours Newsletter for regular updates, news and competitions bringing the best of Latin American culture direct to your Inbox.
Share: