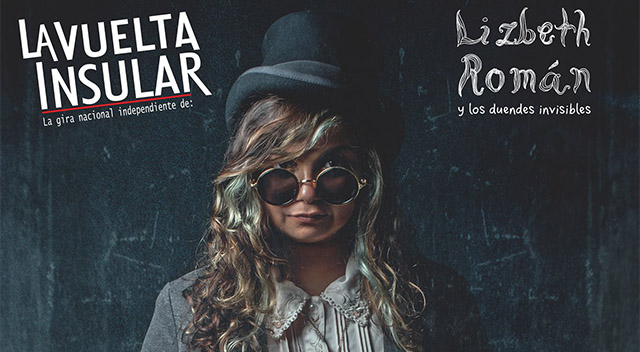 Puerto Rico's Lizbeth Roman is a Poetic Crooner
05 July, 2016
Meet Puerto Rico's Lizbeth Roman.
The 28-year-old indie jazz songstress recently played New York City for the first time as a solo artist and left us very impressed. We spoke with Roman, who toured New York City with her supporting band, Los Duendes Invisibles (the invisible trolls), in April. Born in Mayagüez and raised in Bayamon, she's a fairly new solo artist who is quickly creating buzz on the island.
Sounds and Colours: Do you recall the first time you wanted to sing?
Lisbeth Roman: I've always felt moved to sing, but I admit I began actually doing it fairly late, at age 16. I don't have one of those stories where I came from a family of musicians. In the beginning, it was quite strange for my family to accept that I wanted to do theatre and music, but they came to accept it.
S&C: Who are your musical influences?
LR: I always find it so difficult to identify specific artists, but can say I'm very much influenced by Caribbean sounds: folkoric, rumba, flamenco, and Spanish rock, even. An artist I truly love is [Dominican Republic's] Rita Indiana. I enjoy her style so much, even though I believe she's no longer making music. I always go to her and read her lyrics. She's someone I consider a muse.
Something people might find odd is that I love silence. Curiously, I spend a lot of time not listening to music.
S&C: Tell us about the acting side of your career.
LR: I graduated with a degree in theatre from the University of Puerto Rico. I had the opportunity to tour some of the United States (Washington and New York) with a company from the University. I also do independent theatre in Puerto Rico, writing and directing. I love it. It's part of me.
S&C: Does writing for stage inform your music, because we were blown away by your lyricism.
LR: I love to write. I will scribble anything and see what comes of it. I always wrote songs and poems. Without knowing what I was doing, I always wrote stories or songs.
Having love for theatre amplified the panorama and intensity of the stories in my music. Both are intermixed. I mix the poetic images that fascinate me and tell them to the world. That element is very present in my music. I truly enjoy the songwriting process.
S&C: What's next for Lisbeth Roman y Los Duendes Invisibles?
LR: We're very happy with how the public in New York received us. Our indie tour, "La Vuelta Insular," is a way to take the music to the people, establish community relationships, all while representing Puerto rico. We hope to return to New York, Miami, Panama, and more.
Lisbeth Roman y Los Duendes Invisibles are on their "La Vuelta Insular (around back)" tour to promote her single, "La Bruja," which you can grab via iTunes and Spotify. Follow her on Facebook.

Follow Sounds and Colours: Facebook / Twitter / Instagram / Mixcloud / Soundcloud / Bandcamp

Subscribe to the Sounds and Colours Newsletter for regular updates, news and competitions bringing the best of Latin American culture direct to your Inbox.
Share: