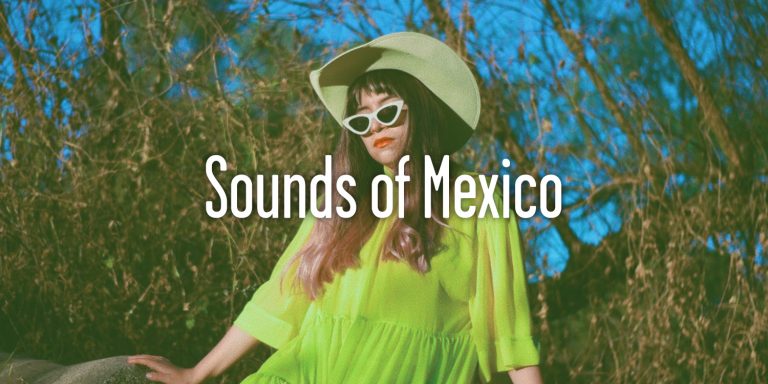 Sounds of Mexico #2
09 December, 2020
The end of the year is approaching, and it is time to remember the best releases of the year, but December was also full of new music. We are in the middle of Christmas season, and in Mexico this means that the Posadas, popular celebrations of Mexican origin, are approaching, taking place during the nine days before Christmas (16th-24th December). These festivities remind people of the pilgrimage of Mary and Joseph from Nazareth to Bethlehem, but has also become the perfect pretext for spending time with family and friends. This selection made me think about the music that would play in a Mexican party of this type, maintaining a contemporary sonority and sense of musical exploration but with sounds and themes related to the culture of our country.
It is becoming increasingly clear that genres are being transformed into listening experiences with artists less concerned about what genre they are playing than with conveying a musical idea. The fusions that music gives us today go beyond what we imagined, allow this industry to constantly evolve.
In this second edition of New Sounds of Mexico you can listen to music from Rubimente, La Isla Centeno, Arroba Nat, Griss Romero, Taylor Díaz, Daniel, me estás matando, Maiki, Hadrian, Condor, Alex Soto, Julio NT and Le Monqué Spazzuah.
I invite you to listen to a Musical Posada of the current sound of the Mexican scene with a glass of punch and Christmas spirit.
I wish you an excellent Christmas and a Happy New Year.
See you in 2021 with much more music.
Rubimente
The Mexican singer delights us with her first single "Piel de Chocolate" (Chocolate Skin), a melody that I found beautiful from the first moment I heard it. Rubimente finds a balance between the folk and pop sound resulting in an attractive, rhythmic song that as it progresses incorporates even more elements. In my analogy of the posada, this song is the moment when the children are breaking the piñata. In the classic star-shaped piñata, the spikes symbolize the seven deadly sins (pride, greed, lust, anger, gluttony, envy and laziness), so breaking it means ending these evils, while the sweets and fruit that fall represent the blessings that humanity receives for its good deeds.
La Isla Centeno & Arroba Nat
This carol that travels around the world every year, in the voice of La Isla Centeno and Arroba Nat, bringing us a beautiful version of "Silent Night". This version presents the melody as two voices with some harmonising, effects and mysterious Christmas atmospheres, that turn it into a beautiful song for the season.
Daniel, me estás matando
The bolero is one of the most elegant, romantic, ancient, painful and "apapachable" genres that music has given us. "Apapachar" is of Nahuatl origin that Mexicans define as "embracing with the soul". In a tribute to the genre and good taste Daniel, me estás matando transports us to another era with a vintage sound and their "bolero glam" style with "Ya Sé", a song of disaffection, danceable on one's own, and that emphasises the end of a relationship that you can't let go and torture yourself for remembering. A pleasant, melancholic and rhythmic sound that even if you are sad, it makes you dance. It is recommended to listen to this song accompanied by a good tequila.
Griss Romero
With a norteño pop fusion, Griss Romero, a singer-songwriter originally from Chihuahua with more than 10 years of a career that exploded on YouTube, presents "No Que No". It's a passionate song about a couple, with one of them refusing to say that the relationship is serious, but told in a humorous way and closing with the dicho (phrase) "Te salió el tiro por la culata", which means something like having an opposite result to the expected one. The Mexican dichos used from the end of the 9th century to the present day are popular forms, what could be called philosophy of the people, that in one sentence can express a situation yet with a history that many times we do not know its origin. In general, the dichos are not literal, but rather illustrate an idea or concept using rhetorical resources such as metaphor, allegory or irony.
Taylor Díaz
Latin urban has been one of the genres that has grown the most in recent years. In Mexico it has represented an emergence of new talents, such as Taylor Diaz, a young artist who on "IXI'IM", which means "Corn" in Maya, presents a theme rich in culture, rhythms and a clear vision; taking Latin rhythm beyond the limits of language and fusion. The singer-songwriter from Veracruz has released his first album Neutro, where R&B and boleros merge with trap and reggaeton to create a unique sound.
If you'd like to send Mexican music for consideration in this playlist please send it to [email protected]

Follow Sounds and Colours: Facebook / Twitter / Instagram / Mixcloud / Soundcloud / Bandcamp

Subscribe to the Sounds and Colours Newsletter for regular updates, news and competitions bringing the best of Latin American culture direct to your Inbox.
Share: