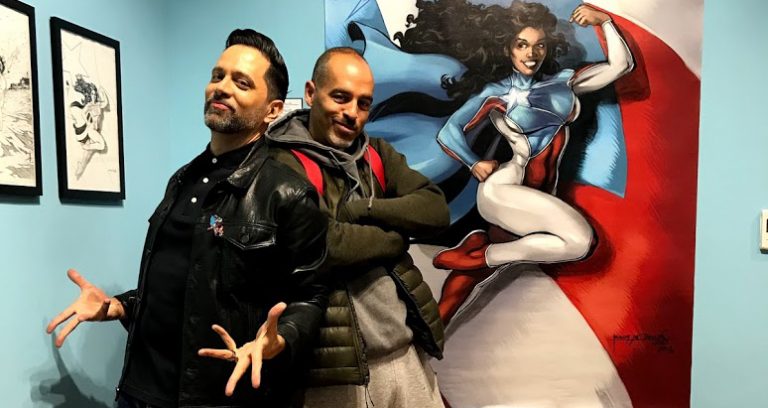 Stretch & Bobbito + The M19s Band: 'Que Bonita Bandera'
20 December, 2020
"Que Bonita Bandera" is the Puerto Rican anthem heard all over New York City throughout June—the month which has seen the National Puerto Rican Day Parade in the Big Apple since 1958. Obviously, COVID-19 interrupted the tradition in 2020.
Well, we're happy to report that 2020 brings with it some great music news for Puerto Ricans: a glorious rendition of the song by some New York City icons featuring an all-star cast.
New York City based radio pioneers Stretch and Bobbito (real names: Adrian "Stretch" Bartos and Robert "Bobbito" Garcia), along with the M-19s band, a group of elite hand-picked musicians, celebrate the upcoming 125th Anniversary (22 of December) of Puerto Rico's flag while raising awareness of the history and meaning behind it.
"'Que Bonita Bandera' has been an anthem for all Puerto Ricans worldwide, however many aren't aware of the truth behind Puerto Rico's flag and how it reflects the independent spirit of my people," Bobbito told us. "Our … version transforms the music and rhythm to encompass the Boricua diaspora and beyond."
The song's lyrics were re-written by project creator Edgardo Miranda Rodriguez, who also produced an accompanying issue of La Borinqueña comic book.
"[The lyrics] reveal historical context … and [the comic book] bring the song and words to a visceral level. I can't explain how much this all means to be a part of something THIS positive," Bobbito said. "It's para mi patria, mi gente, pero it's so much more than that. People who aren't even Puerto Rican have watched the video and cried, yo. In the long run, though, if this project allows the public to understand the conditions of what it means to be a colonized state, in terms of both land and mind, then that supersedes any entertainment value it may offer . . ."
The song features NEA "Jazz Master" award winner Eddie Palmieri on piano, and, on vocals, Jeimy Osorio (Netflix "Celia Cruz" series), Latin Grammy Award winner Mireya Ramos, Grammy Award nominee Danny Rivera, Ismael Cruz Cordova (HBO "The Undoing"), Bomba singer Chamir Bonano, and newcomer Sabrina Cintrón.
The video features cameos by Olympic medalist Laurie Hernandez, actors Rosario Dawson (Disney+ "The Mandalorian"), Lauren Luna Velez (Into the Spider-Verse), Oscar nominee Rosie Perez, Ramon Rodriguez (HBO "The Wire," Transformers II), Freddy Rodriguez (CBS "Bullet"), Justina Machado (CBS "One Day At A Time"), Modesto Lacen (Netflix "Celia Cruz" series), artist José Parlá, hip hop legends Crazy Legs and Tony Touch, former AND1 Mixtape star Tim "Headache" Gittens, and DJ Janzism of Puerto Rico.
100% of the net profits will be given to Afro-Boricua grassroots programs based on the island via the non-profit La Borinqueña grants program.
A flag with an important history
We had a chat with Edgardo Miranda Rodriguez about how this project came about and what it means for him.
For this third issue of La Borinqueña, he wanted to do something bigger than just a comic book, so he created a variant cover to commemorate the anniversary of the flag.
"However, I knew that unlike the first cover which was a celebratory moment of La Borinqueña flying down 5th Avenue in New York City during the National Puerto Rican Day Parade, I wanted my character to fly down la Milla de Oro (Gold Bullion Mile) in Hato Rey, Puerto Rico, with protesters to address the austerity measures imposed by the Puerto Rico Oversight, Management, and Economic Stability Act (PROMESA)."
And that's when the idea finally occurred to him: he should write a song and somehow enlist Puerto Rican celebrities sing on it.
"After Hurricane Maria in 2017, I produced the music video and cover artwork for Lin-Manuel Miranda's benefit song Almost Like Praying. I learned from that project what the power of bringing artists together could do," Miranda Rodriguez said. "This is something that I've always been aware of since I was young since I'm from the generation that grew up with Michael Jackson's We Are the World to Steven Van Zandt's Sun City. These songs as an adolescent sparked my political consciousness, this is what made me woke."
In researching the song, Miranda Rodriguez learned that Que Bonita Bandera was sang in Puerto Rico for years, but it wasn't until 1968, when Florencio 'Ramito' Morales Ramos made a recording of the track, that it became an "official" song.
"Morales Ramos' recording was released about ten years after La Ley de la Mordaza was repealed, so Puerto Ricans knew and vividly recalled the persecution that nationalists faced because of our flag and his original recording had a lyric where he addressed this when he sang 'quisiera verla flotando sobre mi Borinquen bella,'" Miranda Rodriguez said.
"Decades later, celebrations nationally across the world, many of us only grew up learning the chorus. The song lost all of its political impact over time and many people never knew of its origins as a protest song. I decided that this would be the song I wanted to recreate. I sat down with a sheet of paper, and started writing new verses, keeping the original chorus. In this song I would teach history and ground it in our resilience and love of our heritage," he said.
Miranda Rodriguez reached out to Bobbito and actress Rosario Dawsone about this idea, and things were in motion. But then COVID-19 happened.
Months later during the quarantine, they tried again and Bobbito offered to direct the music video. Other celebrities, like Jeimy Osorio (Netflix "Celia Cruz" series), and Ismael Cruz Córdova (HBO "The Undoing"), were brought into the mix. The song was made in a bomba version to honor and acknowledge Afro-Boricua heritage.
For Miranda Rodriguez, this was the first time he'd produce a comic book, music video, and 45 RPM vinyl picture disk at the same time. His character, La Borinqueña aka Marisol Rios de la Luz, is a superhero, but she's also a college student. Her love of knowledge, her heritage, and history would be key here, he said.
"In her first graphic novel, she received a star that allowed her to open portals to travel quickly, but also to see the past. Her star is like wearing smart glasses, where she can see history, but she doesn't interact with it," Miranda Rodriguez said. "With this ability I knew that La Borinqueña would be the storytelling device that I could use to introduce readers to this history around Puerto Rico and our flag. The lyrics of the song itself would be the outline I used to make the comic book. I had some archival photography for reference, but there were historic moments that were never documented visually. With my team of artists of Will Rosado and Chris Sotomayor, I was able to art direct a story that could teach readers this history and validate the celebrations of Puerto Rican culture that have been around for decades in the United States."
Watch the energetic music video below.
"Our hope is that this song and music video become this generation's anthem. A song whose lyrics will be sung generations later," Miranda Rodriguez said. "I also want this history which most of us didn't grow up learning is shared, embraced, and more importantly used to empower us to truly take part in a social just movement that addresses once and for all in our lifetime the decolonization of Puerto Rico."

Follow Sounds and Colours: Facebook / Twitter / Instagram / Mixcloud / Soundcloud / Bandcamp

Subscribe to the Sounds and Colours Newsletter for regular updates, news and competitions bringing the best of Latin American culture direct to your Inbox.
Share: