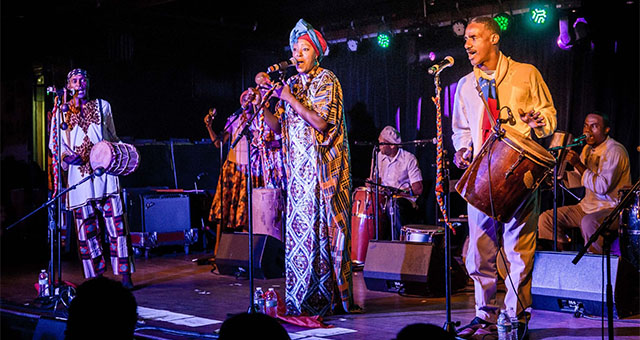 Venezuelans Have 'Parranda' in NYC with Singer Betsayda Machado
18 January, 2017
It may have come a few weeks after Christmas, but Venezuelans in New York City had a proper parranda with singer Betsayda Machado y la Parranda El Clavo.
Machado and her group, coming off of a standing-room-only debut at a sold-out globalFEST on Jan. 7, performed at Joe's Pub on Jan. 12 to another sold out venue that was packed with what seemed to be an audience that was 95 percent Venezuelan. The show was a true party.
"I felt that I was right in my country, enjoying our music," said Maria Virginia Caldera, herself a singer from Maracaibo, Venezuela, who is now living in New York. "This group is touring in the United States and they've done such a great job, going from venue to venue with help from their fans [via an Indiegogo campaign], and really they're doing it in a big way. They're introducing our music to those outside of the country and it's wonderful."
Born in the community of El Clavo, Barlovento (population 1,500), Machado is the carrier of a long tradition of nearly extinguished Afro-Venezuelan music characterised by call and repeat singing and thunderous tambores. Though Machado has been singing this music since she was five-years-old, it was film producer Juan Souki who brought her infectious voice and smile to the public outside of El Clavo.
After doing some project work with Machado, Souki embarked on a field trip to discover the source of her powerful pipes, and he describes his 60-minute bus trip to her tiny hometown village as time travel. There, he discovered the rich sounds of its former cacao field-working descendants, capturing songs and beats never before heard outside of the area. This sound is typified by El Clavo's resident band, La Parranda El Clavo, which began decades ago as a joyful, unstructured jam group, and has matured into a virtuosic percussion and voice ensemble. The music's raw percussive nature is reminiscent of other African-rooted music – from countries like Colombia, Cuba and Brazil – but was born of its own unique history and culture.
Currently, Souki is helping Machado and the group record an album.
Though Machado has toured parts of the United States in the past as a supporting singer with another band, this is the first time she brings the music of her tiny hometown to the masses.
"What satisfaction it is to tour with my own people," she said. "The farthest they've ever been is Caucagua (a city in the state of Miranda in Venezuela), not even Caracas. And last summer, to be able to tour Canada, it's incredible."
When asked about the many Venezuelans from New York City who filled the venue, Machado said "they obviously missed having a personal connection with their country and roots. And the way we parranda in Venezuela, going from home to home, we're doing it here, venue to venue, spreading that Venezuelan heat."
Watch Betsayda Machado y la Parranda el Clavo perform (footage from Canada last summer), and follow the band on Facebook.

Follow Sounds and Colours: Facebook / Twitter / Instagram / Mixcloud / Soundcloud / Bandcamp

Subscribe to the Sounds and Colours Newsletter for regular updates, news and competitions bringing the best of Latin American culture direct to your Inbox.
Share: