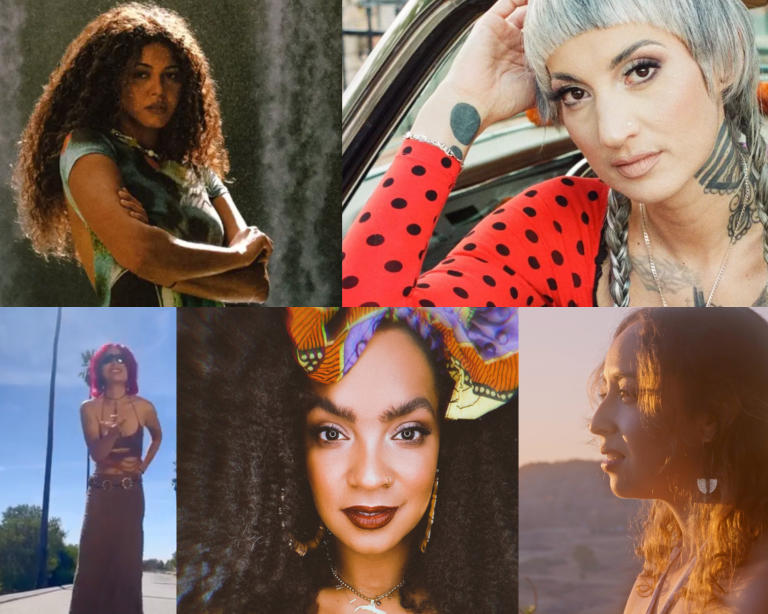 Women's History Month: 5 songs by Latin women you need to hear
16 March, 2023
Here at Sounds and Colours, we've always known that Latin women in music are a force to be reckoned with, so it's nice to see the rest of the world catching on. Earlier this month, Colombian pop star Karol G became the first woman to top the Billboard chart's No. 1 spot with an all-Spanish-language album. Meanwhile, Shakira's post-break-up song (Music Sessions #53) with Argentine producer Bizarrap is breaking Guinness World Records. 
So, as it's Women's History Month in the United States, what better way to pay homage to Latin women than by sharing five wildly different tracks we love at the moment. Enjoy:
'Herrera' by Yendry 
We were fortunate enough to hang out with Dominican-Italian singer Yendry late last year when she showed up to a Sofar show featuring her compatriot Yasser Tejeda. We would describe Yendry as effervescent, as she exudes light, cheer, and positivity. Her latest song, "Herrera," features Tejeda on guitar, and fuses electronic sounds to celebrate love in and for her hometown, Herrera in the Dominican Republic.
'Collapse' by Y La Bamba
Y La Bamba is an indie alternative/experimental band out of Portland, Oregon, led by singer-songwriter and guitarist Luz Elena Mendoza Ramos.. The band's forthcoming album, Lucha, comes out next month. About Collapse, Mendoza Ramos says:
"This song is about my self-empowerment, and not giving up on my evolution or holding back my intuition. It's a song about realizing that I have gotten myself this far even though shit has been rough for many years."
"I don't need anything from nobody" they sing, in accessing their personal discovery and self-worth.
'Ms. Moon' by Ambar Lucid 
Ambar Lucid (real name: Ambar Cruz) was born to a Dominican mother and Mexican father. The New Jersey native had an eventful 2022, marked by her first headlining tour and ending with a double single "444" and "Ms. Moon." Ahead of her 2023 album Estrella, the pair of songs boast bilingual lyrics, Latin beats, and open space for lush experimentation.
'Mulatica' by Seidy la Niña
Seidy La Niña is an artist with a fun online presence who popped onto our Instagram one day and we've been following them ever since. Seidy (real name: Saidy Carrera) was born in El Cotorro, Havana, where she grew up singing and dancing. In addition to still honing those crafts, Seidy describes herself as a survivor, a title she deserves. In 2014, she got into a grisly car accident just days before she was set to debut a music video for her first single. 
The accident left her in a coma for two months, and she had a long road to recovery. She's now forging ahead with that music career she started and doing so with "Mulatica." The song, which translates to "mulatto," (mulata in Spanish), commonly refers to a mixed-race ancestry that includes white European and black African roots. Across Latin America, it is a term that is commonly used to describe people of mixed-race backgrounds. 
We love how the song boasts pride in the beauty that is the skin tone of a mulata. (Translated lyrics:)
Mulatica (how pretty)
Mulatica (oh how rich)
She has a pretty face
It's the race that explains it …
A mulatto is a light-black girl
with the finest factions
Mixing white with black comes out color cartridge …
On our Radar pick: 'Viajera' by Karina Daza 
Latin artist Karina Daza wants to remind the world to recognize that immigration is a human rights issue, not a political one. A proud daughter of immigrants, the singer-songwriter fuses her Colombian roots with folk and pop, bringing us an anthem that honors the migrant's voyage. Written and produced by immigrant and first-gen musicians, alt-Latin/folk single "Viajera" features Guatemalan singer Gaby Moreno as producer, acoustic guitar, and background vocals. "I mean…goosebumps. Such a great song, and an amazing tribute to Karina's roots," Moreno said in a press release for the track.

Follow Sounds and Colours: Facebook / Twitter / Instagram / Mixcloud / Soundcloud / Bandcamp

Subscribe to the Sounds and Colours Newsletter for regular updates, news and competitions bringing the best of Latin American culture direct to your Inbox.
Share: