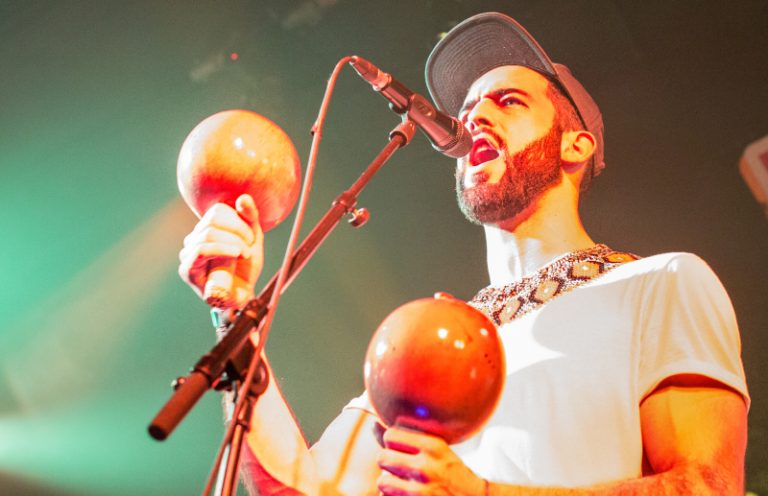 Julian Martínez
Esteban Card: Reopening a Portal to Colombia's Traditional Music
10 September, 2019
INELEMENTUM is Esteban Card's first album and with it comes a revival of the creative explosion influenced by Afro-Colombian music like cumbia and bullerengue that conquered London's alternative Latin scene ten years ago and that has been lost in the last few years. INELEMENTUM, with its unique blend of Colombian folklore, and influences of jazz, afrobeat, salsa brava, reggae and dub, has been described as trance-inducing music.
The journey that led to INELEMENTUM started in 2017 when Esteban Card, a Colombian émigré, attended a concert of Totó la Momposina in London, an event that would become a turning point in his career as a musician.
"I went to the concert alone and when all this drumming started to resound in the venue, I felt shaken. I cried a few times during that concert. It changed my life as it planted in me a curiosity for Colombian folklore," Esteban explains passionately. "I had heard Totó la Momposina's music, I knew it was cumbia, but I didn't know there were all these other different rhythms behind her music." And that's when the research started. Esteban watched documentaries about Totó on Youtube and discovered amazing women musicians like Etelvina Maldonado, who became a massive reference for INELEMENTUM. "I also started to listen to Petrona Martinez, Eustiquia Amaranto. I didn't know that bullerengue existed; it was my research on Totó la Momposina that led me to discover bullerengue music".
Living in London meant that the only source of research was the "cyberspace". Esteban listened to bullerengue music and paid close attention to the tambor alegre (traditional drum) "and since I had studied Latin percussion it was easier to catch on, but it's a long learning process" Esteban explains, drumming on the table with his hands to show me the rhythms.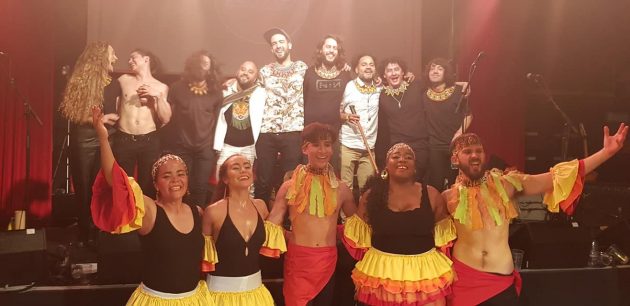 The album is inspired by the four elements: wind, water, earth and fire. "I had written a song called "Wind" way before the Totó la Momposina concert." The concert itself was not only a path to bullerengue music, it was also an inspiration for the song "Al Mirarte". "When I left the concert, I was walking on the street and I just started to sing the first lines of the song 'Al mirarte y nada más…'" explains Esteban, singing. "The lyrics of this song are the course of a river: it starts with a drop, then a creek, then a river that ends in the sea. It's an analogy of life".
INELEMENTUM is an album that was born out of a creative process rather than as a plan that Esteban set out from the beginning. "Listening to Totó la Momposina and watching documentaries I realised that all the people were singing and talking about the elements." And that's when everything made sense: Esteban had already written a song about wind and a song about water and new ideas started to emerge. He started to write "El Quinto Elemento" (The Fifth Element). "La Música es el quinto elemento…," he sings. "I am a very lucky person because the melodies come to me. I am going about my everyday life when suddenly: BOOM! I start thinking of a melody," he says.
When Esteban started to write "Enredadera", the song about the earth, he thought: "ay juepucha! What am I going to do with this material?" That's when he decided to create an EP with five songs: the four songs about the four elements, plus a fifth element. "Boom!," he exclaims.
Esteban turned his living room into a recording studio. Working three days per week as a sound engineer gave him two entire days to work on his personal project. "I recorded all the instruments: llamador, alegre, tambora [three different types of drums], the guitars and the bass. The only instrument I didn't record myself was the gaita [flute]," he says. "More ideas started to emerge and when I realised it, it was no longer an EP. I had an album."
Thanks to his sound engineering skills and the contribution of sound engineer friends, especially Matias Duarte who helped him co-produce the album, Esteban was able to record and mix the album to professional standards. And thanks to a successful crowdfunding campaign, he mastered the album at Abbey Road Studios with Alex Wharton, a mastering engineer who has worked with Radiohead and Paul McCartney, among others.
Once he had finished INELEMENTUM he went to Colombia to learn first-hand about bullerengue. He found out on the internet about a festival of bullerengue in Maria la Baja, a town in the Caribbean region of Colombia. "It was an amazing experience. All the people I had been studying from London on my computer were there," says Esteban.
"It was there that I really understood the different rhythms of this music: sentado, fandango, chalupa and also started to grasp other rhythms like tambora and chande. There are many rhythms!" During the festival they recorded footage that would become the video clip of the song "Fuego" (Fire).
Esteban found relatively little material about bullerengue on the internet, as it is a musical tradition that is passed on orally over many generations. "Musicians were on the streets of Maria la Baja doing ruedas of bullerengue and I would ask them, 'what do you call this song? where can I find it?' But only there you can find it. It's so traditional that it has been passed orally for years, and years and years, no one even know who wrote those songs." Esteban is now working on his new EP based completely on bullerengue and also embarking on a new, ambitious project: "This year I am going back to the festival in Maria la Baja with a friend, but we are going to arrive a few days earlier and record all the most representative musicians of bullerengue and produce a record and a documentary with them," Esteban explains smiling with excitement.
INELEMENTUM is out now on vinyl, CD and digital

Follow Sounds and Colours: Facebook / Twitter / Instagram / Mixcloud / Soundcloud / Bandcamp

Subscribe to the Sounds and Colours Newsletter for regular updates, news and competitions bringing the best of Latin American culture direct to your Inbox.
Share: