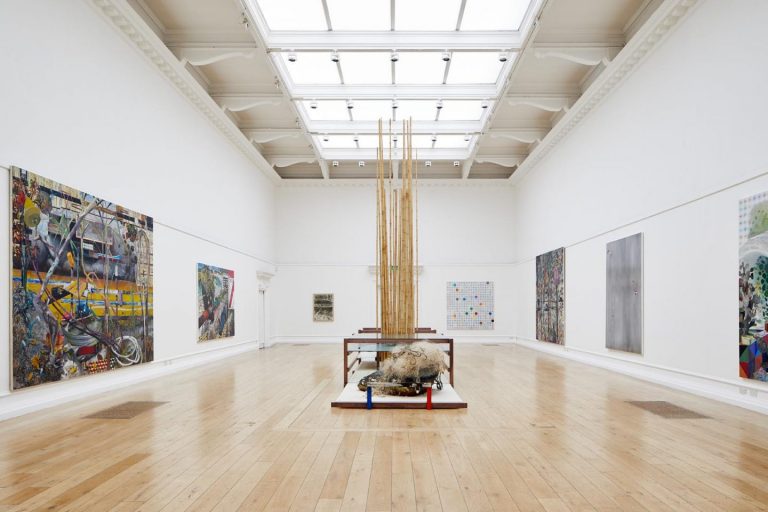 Luiz Zerbini: Razão Intuitivo
23 October, 2018
Luiz Zerbini presented his first major UK exhibition at the South London Gallery, taking place until August 19th 2018. This exhibition provided a (free) opportunity for the visitor to familiarise themselves with the work of an artist who was central to the famous '80s generation of Carioca artists and remains an important influence in Brazil's contemporary art scene.
Zerbini grew up in São Paulo, although as a young adult he moved to Rio de Janeiro and has since called the city his home. Rio's unique blend of energy, colours, dazzling nature, poverty and neglect, imposed order and man-made interventions, have long been central influences. This exhibition focused mainly on this stream of his work, allowing the curators to demonstrate Zerbini's fluid style, moving between abstract, geometric and figurative art.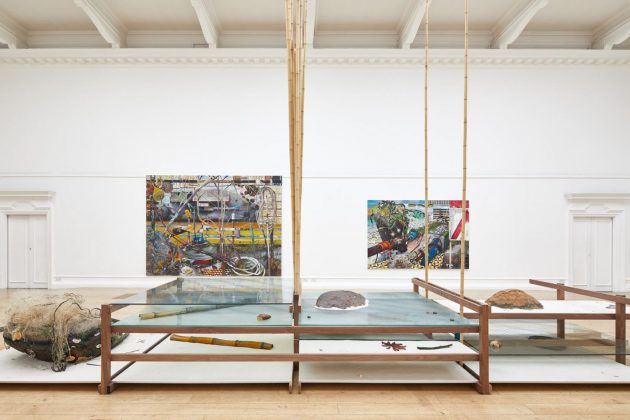 The show's title, Razão Intuitivo (Intuitive Reason), draws from the sculpture [pictured above] that confronts the visitor when entering the main gallery. It reaches 6 metres into the air and extends across 8 metres of the floorspace. This height is achieved by a growth of bamboo shoots that erupt from the middle of the sculpture, and the length is owing to an elegant structure of latticed Brazilwood frames. These frames contain a shallow layer of sand in which the artist has precisely arranged an abstract mix of objects that reference Rio's coastal setting. Found objects such as broken sandals, discarded fishing nets and decomposing coconut husks are placed alongside objects made in Zerbini's studio, such as hand-painted fibreglass Manjuba fish and rocks. Each frame is capped by a layer of glass on which the artist has painted a repeated wave-like pattern, reminiscent of the city's famous modernist promenades, designed by the great Roberto Burle-Marx.
The oscillating wave-like pattern also introduces a musical motif into the sculpture. Zerbini has for a long time been interested in the relationship between music and art. Indeed, the opening of this exhibition was marked with a performance by the eclectic music group Chelpa Ferro, of whom the artist is himself a member. Despite this interest, the sculpture is not accompanied by sound, which seems a missed opportunity given the size of the sculpture and the need to move around it to peer in and explore its many layers and alcoves.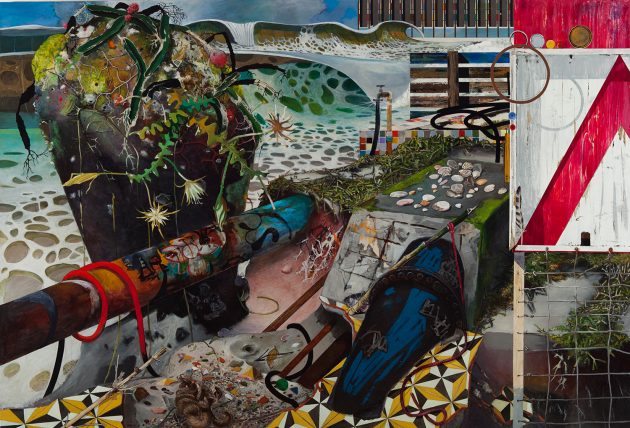 Large canvases such as "Erosão" (2014) [pictured above] and "Serrote" (2013) flank this sculpture and demonstrate the artist's interest in the meeting points between the natural and the man-made. Tropical scenes of Rio's flora and fauna mingle with graffitied walls, electrical appliances and telephone pylons. Depicting the strange facades and objects that comprise this city allows Zerbini to offer a refreshing take on figurative art, as his detailed studies remain exciting and almost hallucinogenic through highly saturated colours and clashes of patterns. Although seeming otherworldly, this intensity is in actual fact part of the city itself, and so remains in the realms of representative art.
These works, like many others in the main gallery, showcase Zerbini's process of abstracting bits and pieces from reality to construct stylistic mash-ups. Whilst sometimes appearing chaotic, these mash-ups adhere to the artist's precise logic, carefully balanced in terms of colour and composition. We are offered a glimpse of this underlying logic in "Quebra Côco" (2016) and "Concrete Jungle" (2011) [pictured below]. Just visible behind their strange collection of objects, these canvases expose a system of tiny rectangles, individually filled with blocks of colour to create a geometric kaleidoscope of assorted hues. These hues echo the vivid colours used elsewhere in the canvases. Appearing like the artist's colour wheel, we see the way Zerbini has brought different shades and tones together to create these energetic cityscapes.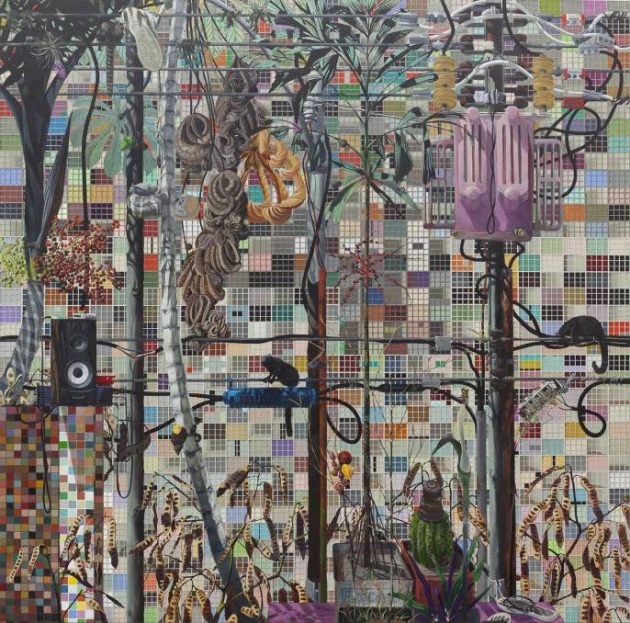 Balancing the intense colours and scale of the works in the main gallery, the first-floor spaces bring some much-needed calm to the exhibition. Smaller watercolours and collages are paired with two video pieces, both of which focus on water and the ways it can distort our viewing experience. In "Cerco" (2013) we see a boat's outline blur as we watch it through torrential rain, and in "Sertão" (2009) we see the facades of buildings slowly twist and shimmy as we observe their reflections on a pool of water. Neither of the videos have a clear narrative and both are filmed from a fixed perspective, creating a tranquil environment in which the visitor may dip in and out as they please.
Whilst editing "Sertão", Zerbini discovered a digital glitch that occurred during the filming process. At a particular moment in the film a crack in the pixels reveals a pattern of coloured squares beneath the image. Instead of editing this out, Zerbini has exploited this rare glimpse into the internal working of the digital camera and multiplied the glitch to reappear throughout the length of the film. Although the two exhibition spaces create very different atmospheres, this repeated gesture brings the spaces together as both galleries offer moments of reflection on the logics and processes that underpin the surface image.
The collection of works on display in this exhibition demonstrate Zerbini's fascination with the facades and objects that comprise the city of Rio de Janeiro. But more than this, it also reveals his deep interest in the structures and patterns that serve as its foundations. Exploring these forces allows him to bring together different artistic styles and approaches into some dramatic and stimulating works. Razão Intuitivo offers Londoners a needed introduction to the work of this contemporary Brazilian artist.
Luiz Zerbini's Razão Intuitivo was exhibited at South London Gallery.

Follow Sounds and Colours: Facebook / Twitter / Instagram / Mixcloud / Soundcloud / Bandcamp

Subscribe to the Sounds and Colours Newsletter for regular updates, news and competitions bringing the best of Latin American culture direct to your Inbox.
Share: