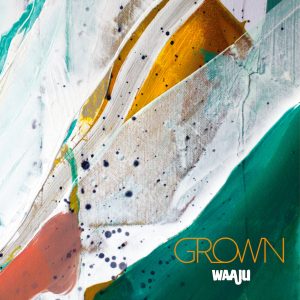 The second album from this young London-based quintet is, in terms of its musical influences, about as diverse as one might expect from a sprawling multi-cultural 21st century capital city: jazz predominantly, with traces of dub, funk, Latin and Caribbean music, and a few African guitar motifs for good measure. If you had to give it a label, it might lie somewhere on the spectrum of Afro-Latin jazz. But that's only part of the story. It was a shared love of Malian folk music in general and Ali Farka Touré in particular that served as a catalyst for Waaju. The Jazz Café hosted the band's reinterpretations of the 'desert blues' guitarist's back catalogue in 2018 and 2019, and the spare austerity of his music has left its mark on the new album.
The front line of Tal Janes (electric guitar) and Sam Rapley (tenor sax) is ably grounded throughout by a tight rhythm section of Joe Downard (bass), Ernesto Marichales (percussion) and leader Ben Brown (drums). Apart from the one song, "Time's Got a Hold" – sung rather well by guest, Will Heard – the five other numbers are all rooted in frugal but intricate instrumental improvisations built around the interplay between Janes' variegated guitar and Sam Rapley's tenor. They don't feel like compositions as such. Which is fine, given that arguably the greatest jazz album ever made, Kind of Blue, was little more than modal improvisations around a set of vague themes suggested by Miles Davis. It's no accident perhaps that the longest and most riveting track on Grown is the delicious, moody late-night dub-jazz of "Wassalou", which – to these ears anyway – carries distant echoes of "All Blues".
The music on this album seems very much to derive from an egalitarian collective. There are no overt stars, but if there's a 'starman' waiting in the wings, it's probably Janes, who can slide stylistically from Franco to Pat Metheny to The Edge with impressive ease. Grown feels confident, coherent and artistically grown-up. Not unlike trumpeter Laura Jurd's outfit, Dinosaur, which is busy making waves in the current UK jazz scene. Although there's nothing startlingly original here, there's plenty to appreciate. The way the hand-clapping and percussion meld so pleasingly on the opening "Moleman". The album's fiery and funky first single, "Listening Glasses". The intriguing pedestrian rhythms and asymmetric guitar refrain of "Rollando", which make for such an unsettling but memorable backdrop to the surface daubs of dub. The wailing wah-wah guitar and squalling sax that coalesce furiously towards the end of the title track before the hand drums lead us back to the album's peaceful conclusion. Waaju's second coming is a tight and promising affair. While there's still room for growth, they're a young band with plenty of time on their side.
Grown is released by Olindo Records and available on vinyl/digital

Follow Sounds and Colours: Facebook / Twitter / Instagram / Mixcloud / Soundcloud / Bandcamp

Subscribe to the Sounds and Colours Newsletter for regular updates, news and competitions bringing the best of Latin American culture direct to your Inbox.
Share: