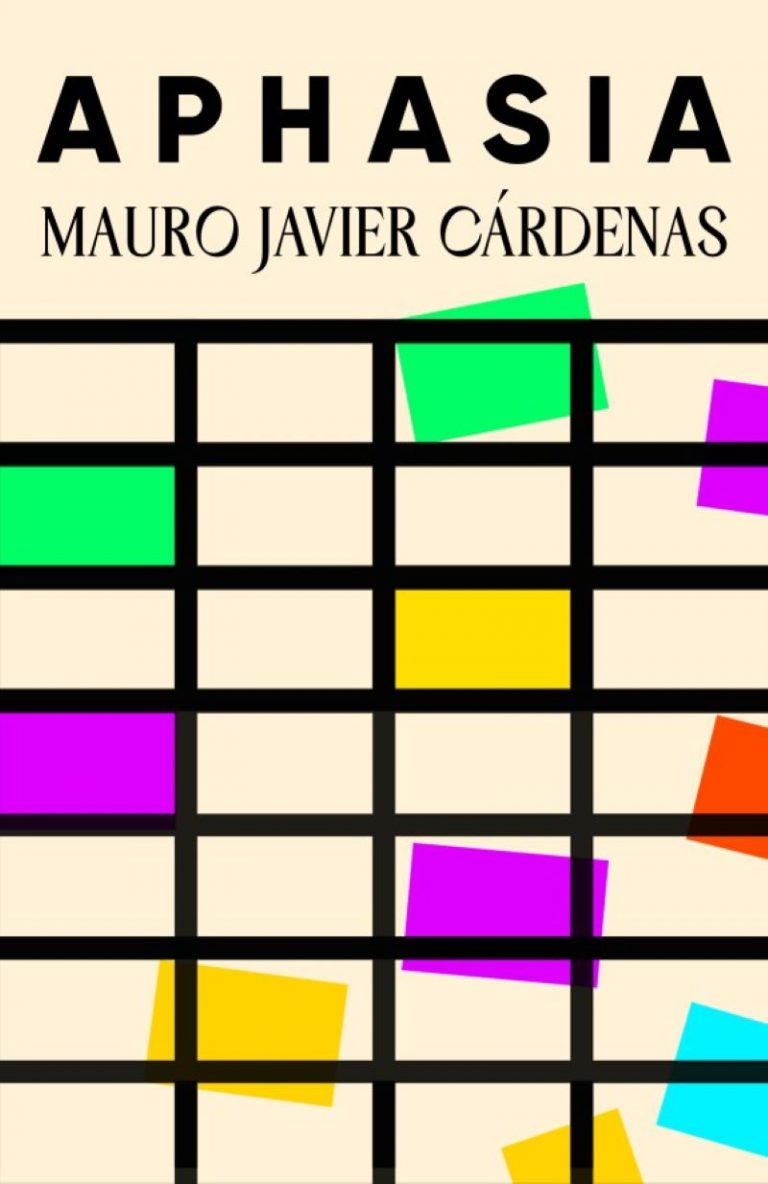 'Aphasia': An Exciting Experimental Novel by Mauro Javier Cárdenas
11 April, 2021
Reviewers of Aphasia by Mauro Javier Cárdenas described the book as "innovative", "monumental", "a vibrant modernist novel" and one that will appeal to "fans of Latin American fiction that navigates the bleeding edge of experimentation". These phrases from its reception indicate that it is an unusual novel, for a number of reasons.
The factual premise of Aphasia is as follows: the main character, named Antonio, struggles with his family situation and how to be a father to his two daughters after his recent divorce. The novel jumps back and forth in time, so we also hear about his activities on a seedy pick-up website called 'Your Sugar Arrangements', elements of his childhood in Bogotá, and his sister's story. Most of his sister's story is told through transcripts of recordings that Antonio is making of conversations with his mother, though as Antonio transcribes, he has his own flashbacks, and through all of this we learn that his sister Estela was arrested for causing public nuisance, but she resists being put in a mental institute and feels a deep-seated fear that her family are conspiring with President Obama.
As the novel progressed, I started to understand that the plotlines are not quite as ridiculous as they first seemed. And more importantly, I enjoyed the revelation of the emotions behind the characters and their thinking; most of which were complicated but poignant. Reading Aphasia is an interesting experience, and what makes the experience what it is are the linkages between its many threads, ideas and emotions. The novel has an interesting experimental form and structure, and covers complex themes including memories and trauma.
An experimental form and structure
To say that the sentences in Aphasia are long is a bit of an understatement: the first sentence, for example, is a page long, and this is by no means the shortest. They essentially follow a thought through, accepting all of its interruptions or side-points and even jump time and space before returning back to the original. On top of this, there is an element of auto-fiction in that Antonio is often writing about, transcribing or reading the text that becomes part of the long sentence. Plus, there's Spanish sprinkled in there too. The chapters then have cryptic title names are each labelled with a number and a letter (I have to say this latter point didn't add as much for me as the other interesting experiments with form, but they didn't get in the way of my enjoyment of the text either).
The novel is not completely confusingly abstract: there are of course plenty of abstract concepts that the main character thinks about, but overall the setting is reasonably relatable. If you wanted to picture an exact scene you'd be able to do so, right down to the brand of headphones a character is wearing (Sennheiser), the music they are listening to (Arvo Pärt) or the books on their bookshelf (such as A Questionable Shape by Bennett Sims or The Bystander by Gina Berriault). The threads that the author creates to pull the abstract and concrete ideas together though, are what I felt made Aphasia inventive.
The narrative style of course takes some adjusting to, but means that the storytelling has many layers and also that the pace can vamp up very quickly, flicking from one emotion to the next quite quickly, so I found I easily fell into it and got satisfaction out of following each trail of thought.
Memory and trauma
There are a number of flashbacks in Aphasia, as much or perhaps more than its telling of the present-day stories, and these flashbacks (or flashes-to-another-character's-point-of-view, if that is a thing) are embedded into the narrative's sentences. I started to realise as I was reading that effects of painful events were by no means resolved, for Antonio's painful events and that understanding his memories becomes part of his present-day struggle. Trauma inflicted on both Estela and Antonio's mother influence his already-complicated psychology, as does his former wife's personal background. His reflections then feed into questions about what sort of father he is to his children, for example, how will they remember him?
The book's title refers to the word which means a 'dysfunction in specific brain regions', and at one point, Antonio thinks he might want to the power to perform 'aphasia' (to erase painful memories?). Though it is also suggested that 'aphasia' is a metaphor for excessive paralysis, which prompts Antonio to remember a time he had been paralysed by excessive fury, and he then goes on to acknowledge an overwhelming feeling of guilt. A lot of mess gets made in the exploration of these themes, and while there were very few resolutions, there were some very profound points made. And I did think by the end that perhaps part of the point was that while pain and trauma does not get neatly packaged up, the journey towards understanding is an important one.
There is plenty to explore and to think about throughout the reading experience of Aphasia. It has a modern, psychological and very poignant approach and has made a strong impression on its readers, myself included.
Mauro Javier Cárdenas was born and brought up in Guayaquil, Ecuador and studied Economics at Stanford University. He was included in the Hay Festival anthology Bogotá39 highlighting a selection of the best young Latin American novelists working today.
Aphasia is published by Oneworld. It is available to purchase via Sounds and Colours' page on Bookshop.org.

Follow Sounds and Colours: Facebook / Twitter / Instagram / Mixcloud / Soundcloud / Bandcamp

Subscribe to the Sounds and Colours Newsletter for regular updates, news and competitions bringing the best of Latin American culture direct to your Inbox.
Share: