Biutiful Review
08 May, 2011
Nominated for two academy awards, Alejandro González Iñárritu's Biutiful could be described as his greatest achievement. Focusing on the ever present themes of love, loss and redemption, Iñárritu has once again moulded a film of irrepressible beauty.
The film focuses on the character of Uxbal, played by the wonderful Javier Bardem (No Country For Old Men, Vicky Cristina Barcelona). He is a man fighting the demons that many of us see in ourselves, which only aids the sheer desperation that Uxbal expresses throughout the film. Living in the dangerous underworld of Barcelona, he has the responsibility of his two young children whilst still trying to maintain a somewhat 'normal' relationship with their bipolar mother, Maramba (Maricel Álvarez).
Along with his brother Tito (Eduard Fernandez) Uxbal has strong dealings with illegal migrant workers, creating an atmosphere of grimey underworking's and intensifying guilt. Unlike many stereotypical 'gangsters' before him, Uxbal treats these workers with affection and respect, showcasing the character's ability to strive for good. Adding to Uxbal's complex personality, he can also speak to the dead before they 'cross over,' highlighting some slightly disturbing moments. Offering his services to bereaved relatives, his guilt is apparent as he takes the money from their hands.
Uxbal's world is turned upside down as he is diagnosed with a serious illness, giving him only months to live. Worried for his children's futures, he sets out to change his ways to create a path they would be proud to walk on.
The cinematography throughout the film creates a beautiful, yet wholly depressing backdrop to the story. Each shot contains a hint of blue and grey, which fulfils the melancholy ambience already portrayed by the characters. The handheld camera shots construct an almost fly-on-the-wall experience that further ties you to the story, unable to let go of the attachments Inarritu has moulded between audience and character.
Bardem's performance well and truly steals the show, as it is often said that he doesn't act but lives on camera. The emotions that are tapped into to create Uxbal are mesmerising yet realistic, whilst showcasing a rawness that is often needed in characters of this complexity. Hanaa Bouchiab's performance as Uxbal's eldest child Ana is heart shattering, as she confronts her father about his hidden illness. This scene in particular is one of the highlights of the entire film.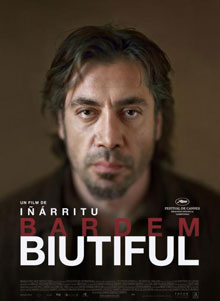 Iñárritu's ability to interweave an array of themes and stories with such directorial legitimacy proves his worth as one of the best directors of our time. Biutiful punches your heart to smithereens, then gently caresses it with a small glimpse of hope.
Available to own on Blu Ray & DVD May 16th from Amazon and other retailers.

Follow Sounds and Colours: Facebook / Twitter / Instagram / Mixcloud / Soundcloud / Bandcamp

Subscribe to the Sounds and Colours Newsletter for regular updates, news and competitions bringing the best of Latin American culture direct to your Inbox.
Share: