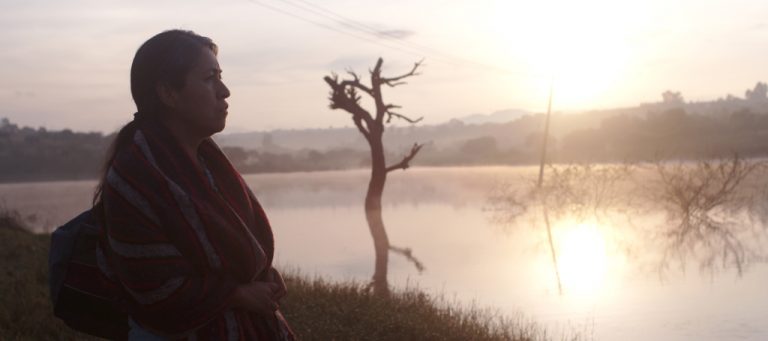 Stills from 'Identifying Features' courtesy of Kino Lorber
'Identifying Features': A Mother Embarks on a Dangerous Journey from Mexico to the USA
19 January, 2021
This article was originally published by Sounds and Colours's partner, Latin America Bureau. You can read the original here.
Disappearances of young people in Mexico have grown exponentially in recent years. The latest national statistics have listed more than 73,000 people missing across the country, of whom twenty per cent are children. This has sparked protests and searches for the disappeared. At the centre are mothers, determined to seek answers and action.
Fernanda Valadez's film Identifying Features (2020) follows a mother, Magdalena (Mercedes Hernández), who has not heard from her son Jesús (Juan Jesús Varela) for two months since he left their home in Guanajuato, travelling to the border in an attempt to enter the US illegally. Hope, tension and despair ensue as the audience accompanies Magdalena's search to discover what has happened to her son. Through this one mother's quest, Valadez examines shared migrant stories as part of a large-scale social crisis, asking why so many have been lost on this particular journey.
Ahead of the film's premiere at the BFI London Film Festival, LAB caught up with Fernanda Valadez. Valadez explained to Lia Gomez-Lang how Mexico's social issues have steered the direction of her films. As a middle-class Mexican, she feels a duty to use her position of privilege to show global audiences the scale of her country's troubles.
Valadez explained that two important tragedies spurred her to begin work on this film: the two San Fernando massacres in 2010 and 2011, which subjected undocumented immigrants to murder on a mass scale. The two events were a result of cartel warfare and "Changed us in Mexico, the way we felt about the country we were living in," Fernanda tells LAB. This is the reason Valdez's character Jesús, like many others, leaves his home in search for a better life, and is lost to the violent landscape across the border.
The main objective of the film, she says, is to engender emotional understanding. She and co-writer Astrid Rondero did not want the audience to be interested in rational terms, but to feel empathy for the characters. To immerse themselves in the place and its people, the director and her all-female crew moved to Guanajuato for a year. Here, the crew scouted different locations, captured each season as it changed and Valadez got to know two parents who had lost a child on a similar path to the protagonists. Perhaps their time in Guanajuato is what helped Valadez to approach such painful issues with tenderness, expressing humanity in many different ways.
Identifying Features teaches through feeling, creating a harrowing yet deeply rewarding cinematic experience. The natural landscape is used to counteract the pain of the stories taking place within it. Claudia Becerril Bulos creates a dreamlike spectacle through her cinematography, showing that there is beauty, despite the heartache, within this story. As tensions build, the unfamiliar border country becomes more absorbing, captured by longshots of pink sunsets over its vast and desolate terrain.
Valadez engages with violence in unexpected and intriguing ways. Bloodshed is at the core of the events, yet her artistic direction steers focus away from the actual acts of terror. The audience are not shown or told what happens along Magdalena's journey, they are only offered glimpses as she travels onwards. Open graves, regulated body identification stations and destroyed and desolate towns give indications into the consequences of these acts of violence. Questions are posed and left unanswered: we draw our own conclusions and are encouraged to learn for ourselves about these unimaginable issues. "The more you show, the less you feel" Fernanda states, preferring to show the emotional impacts of events rather than portray the detail of the events themselves.
The concept of 'border' is crucial to the film's meaning. Whether physical or emotional, borders provide limitations: borders separate, prohibit and distance. In the film Magdalena comes across Miguel (David Illescas), a young man deported from the US who returns to find his home destroyed in the aftermath of an attack. As their paths cross and narratives entwine, both become a source of support from each side of the perilous border. Miguel's story is typical of many migrants who are faced with the brutality of ICE (U.S. Immigration and Customs Enforcement), whereby crossing this space makes them illegal.
As Fernanda highlights, "It is something crazy in itself that people are seen as illegal" and met by systemic structures that lack humanity. Magdalena crosses a symbolic border through her search for the truth, and as she encounters more painful social realities, "She understands that the border between being a victim and being a perpetrator is really thin, making it very confusing and very complicated."
Identifying Features recognises that the lives lost along the border are often presented as an indistinguishable multitude, and in turn changes the narrative by identifying individuals and their stories. In Fernanda's words, the message of the film is that "In the end, despite our differences, what we share is humanity. People shouldn't be forced to cross borders just because they want to look for a better future and we have a co-responsibility as a global society to make life more bearable and more just for all of us."
Identifying Features will be available to stream at virtual cinemas from 22nd January 2020. More information here.

Follow Sounds and Colours: Facebook / Twitter / Instagram / Mixcloud / Soundcloud / Bandcamp

Subscribe to the Sounds and Colours Newsletter for regular updates, news and competitions bringing the best of Latin American culture direct to your Inbox.
Share: