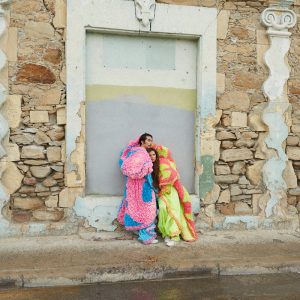 Review
Buscabulla – Regresa
Experimentalism is part of Buscabulla's DNA. In fact, we might even say that it is the main element of the musical formula developed by Puertorriqueños Raquel Berrios and Luis Alfredo Del Valle. With Raquel's magnetic voice added to Luis' striking bass lines, the duo formed an identity all of their own, that conquered ears eager for something different. They made an impact.
With the intensity of their first two EPs [EP I (2014) and EP II (2017)], they started knocking on the doors of major festivals. Based in New York City at that point, you could sense the city's subcultures in their mix of dense alternative 90s R&B with pulsating ballads. Now, on Regresa they have expanded their repertoire considerably.
The title [regresa meaning "return"] refers to their arrival back in Puerto Rico in 2018 after Hurricane Maria. "You feel like a stranger in your own home, because the island is going through very difficult and strange times," says Raquel. "Most people our age have fled. We also changed after being away for so long ".
This journey generated many feelings and much introspection, which became the emotional fabric for the construction of the album. The mixture of joy, melancholy and pain has resulted in a reflective musical experience, guided by a homogeneous mixture of psychedelic synths, oscillating electronic beats and Latin references (which are more evident than on previous projects). It is emotional ("Club Tú y Yo" and "Mio" represent this moment very well), political and even spiritual ("Manda Fuego" and "Nydia" are good examples). It expresses the anxieties of a world that has had to isolate itself socially because of a pandemic. But it also gives some opportunities for celebration in the midst of chaos, showing that it is necessary to have hope and to persevere (as suggested in the positive "Vámono").
Digestion is not immediate. To fully absorb the ideas it is necessary to close your eyes and let it flow, listen more than once if necessary. Regresa arrives at the right time. It portrays the decadent reality of many (esp. Latin American) societies.
"It's about our own personal isolation on returning home and the struggle to keep love alive in an increasingly lonely and uncertain world," notes Luis, with Raquel adding: "it's about self-acceptance of yourself with all our imperfections".
Regresa is released by Ribbon Music and available to buy on vinyl/digital here
You can find out more about Buscabulla's return to Puerto Rico and the journey that brought Regresa to life in this short documentary below:

Follow Sounds and Colours: Facebook / Twitter / Instagram / Mixcloud / Soundcloud / Bandcamp

Subscribe to the Sounds and Colours Newsletter for regular updates, news and competitions bringing the best of Latin American culture direct to your Inbox.
Share: