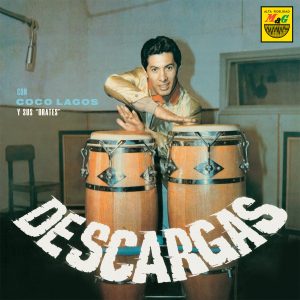 Review
Coco Lagos y Sus Orates – Descargas
Blessed be the crate-diggers, for they shall inherit the airwaves. Vampisoul of Madrid have been rummaging around the vaults of South American labels like Colombia's Disco Fuentes and Peru's MAG for quite a few years, regularly rescuing dance-floor delights from total obscurity. Originally released in 1967 on the MAG label and due for resuscitation, Descargas is a joy from start to finish. As the old advertising slogan once suggested, there's nothing added, and nothing taken away: simple, unadulterated Latin dance music that makes you smile and makes you wanna move.
The clue is in the title, of course. As jam sessions go, the Latin variety is generally the most infectious of all. The album was conceived very much in the spirit of the descargas cooked up by the Alegre All Stars in New York, whose records the MAG label made available in Peru. Percussionist Coco Lagos, and his "Orates" – consisting of bass, congas, timbales, piano, vibes, sax, trumpet and vocals – serve up a dozen brief crowd stirrers (only one of which tips over the three-minute mark) that bear the hallmark of Cachao, Charlie Palmieri and those two vibe-meisters, Joe Cuba and Cal Tjader. Indeed, "Brava Pachanga" and "El Hueso" are both Joe Cuba compositions, while "Guaracha y Bembe" is a Cheo Feliciano number recorded by the Joe Cuba Sextet. Anyone, too, who remembers the first X-rated cartoon, 1972's Fritz the Cat, may well remember Cal Tjader's "Mamblues" as the stand-out number from a great soundtrack. Vibraphonist Carlos "Charlie" Palomares does full justice here to the man described by Eddie Palmieri as the most professional musician he ever worked with. Add for good measure "Nochebuena", "Lajuventud A Go Go" and the glorious "Busco Una Chiquita", numbers associated with Johnny Pacheco, Larry Harlow and Cuba's Chihuahua All Stars respectively, and you get an idea of the album's rhythmic thrust. Don't expect any ballads here; the pace rarely lets up for a minute.
You'll be hard pushed to find anything about Coco Lagos y Sus Orates around the web. Coco and his crack band of Peruvian session musicians don't have a Wikipedia page. This much we know about the percussionist, however: having kicked off his career at the tender age of 13, he played congas for artists passing through Peru, such as Pérez Prado, then worked as a regular session man for the MAG label before being given this opportunity with other in-house alumni. He recorded a follow-up in 1968, again with pianist Alfredo Linares, before leaving MAG to record some albums of salsa in the 70s, with some of the original Orates. Back at the time of his debut, he suggested that "for a long time I had the idea of forming a little group… I think that, with a little bit of luck, we'll win over the listening public." He certainly won over this particular reviewer and, with a little bit of luck, Vampisoul might unearth a few more Coco Lagos gems for the listening (and dancing) public.
Descargas is reissued by Vampisoul and available from Bandcamp and your local record store

Follow Sounds and Colours: Facebook / Twitter / Instagram / Mixcloud / Soundcloud / Bandcamp

Subscribe to the Sounds and Colours Newsletter for regular updates, news and competitions bringing the best of Latin American culture direct to your Inbox.
Share: