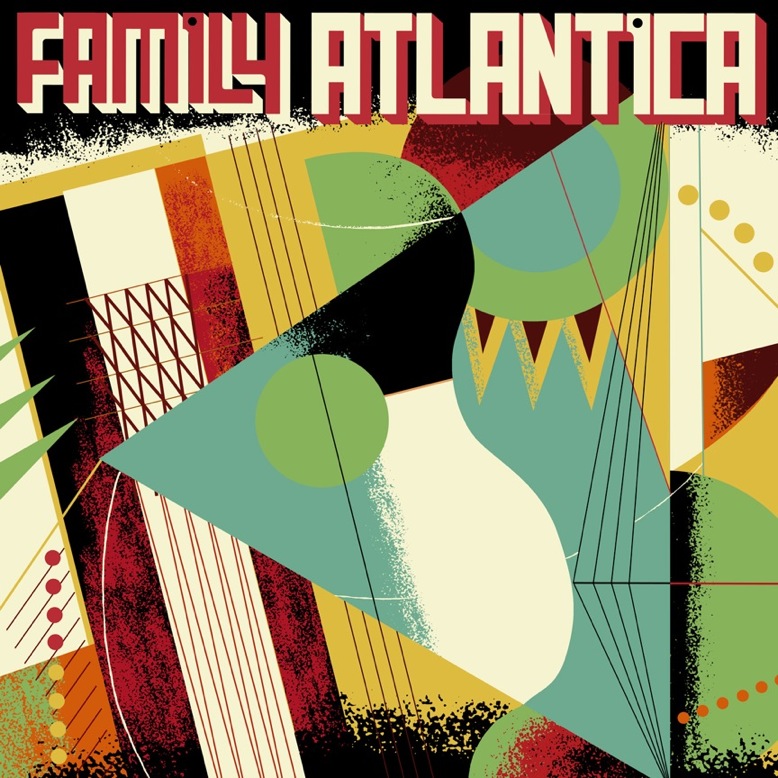 Is it possible that an album could be too unassuming? This sometimes feels the case with Family Atlantica's self-titled debut. Press play and after four or five tracks you'll still be slightly unsure what you're listening to; is this Latin music, is it African, or jazz maybe? There are so many flavours that come and go, little pinches of rhythm or unexpected instrumental incursions, flurrys of percussion and snatches of song. Suddenly though, while the songs wash over you, you realise you're hooked.
As the album progresses and the prominent elements become more familiar – Luzmira Zerpa's voice, Kwame Crentsil's percussion – the rhythm of the album begins to make sense. Nothing feels forced, a natural unity forms between the different styles, whether they be the mellifluous harp-like guitars of "Arena", Mulatu Astatke's appearance on "Escape To The Palenque" or the infectious groove of "El Manicero" (fans of Toto La Momposina and highlife alike will love this song).
At the centre of the sound is an African heart – given it's pulse by the percussion and it's voice in the chantlike nature of many of the songs – but this isn't a heart that has stood still. "El Negrero" tells how Africans made their way to England and then Latin America as slaves, "Pescador Saharawi" speaks of the Saharan people stranded away from their previous coastline home; on songs such as "La Familia" and "El Manicero" you are transported most definitely to Latin America. Family Atlantica feels like a scrapbook of stories about Venezuela, about Africa, but, most of all, about the even wider Afro-Latin diaspora.
It links African and Latin music – with dashes of jazz and funk – in much the same way as Gilberto Gil's Expresso 2222, but never lets virtuoso musicianship get in the way. It's clearly an album made by a group of top musicians but here they are servient to the music and it's themes. They never let their instruments overshadow the songs, resulting in a spontaneity and freshness to the record.
The undoubted highlights are the lively salsa of "Cumbacutri", complete with horns and spontaneous scatting; the string-led lament "Clavelito Colorado" and the electrifying "Tamunangue Blues", but really there's gems all over the place in this album. Sometimes the real thrills are found in the interludes where you'll find periods of deep meditation broken by the sound of car horns or a simple guitar motif that doesn't outstay it's welcome.
Family Atlantica is an incredibly ambitious album, combining themes and rhythms from across continents. It's greatest achievement is that it manages to sound completely natural while doing this. In a world that has become increasingly inter-connected there are no shortage of international projects and collaborations, but this is one of the few that feels like it's found the source – the point from where traditional African music, Westernised African music and Afro-Latin music all came – and then has been able to build on that. Listen to "El Apamate" and you will hear a fusion of guitars (both a funky riff and a sensuous finger-picked delight), percussion and vocals that sounds completely unique, but yet never sounds alien. It has a soul and heart to it that creates a connection between the music and the listener.
My only recommendation with this album would be that you give it your full attention on first listen. Casual listening may give you the thrill of some tasty rhythms and textures, but this is an album that you need to immerse yourself into. You will not be disappointed.
Family Atlantica is released by Soundway Records and is available from Amazon and iTunes

Follow Sounds and Colours: Facebook / Twitter / Instagram / Mixcloud / Soundcloud / Bandcamp

Subscribe to the Sounds and Colours Newsletter for regular updates, news and competitions bringing the best of Latin American culture direct to your Inbox.
Share: