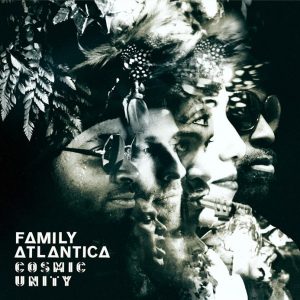 If you've never had the chance to listen to their self-titled debut, sign their name down, because Family Atlantica are set to become one of the sensations of 2016. The Latin… hmm, actually they're not just Latin. African… well they're not entirely African either. Caribbean… Not fully Caribbean too. So, let's just define them as boundless or transcendental London-based band…
The transcendental London-based band is ready to amaze you with their new work titled, and staying on the mystical topic, Cosmic Unity.
Since their 2013 debut, Family Atlantica have grown up: their sound has matured and refined, their teamwork has enhanced, but the band still drive at full rhythmic throttle. If on the one hand, volcanic front-woman and singer Luzmira Zerpa is less centralizing than before and her expressive voice doesn't always play the main role, on the other the six-piece band fully embraces the influences brought by their latest guests of honour. In fact, Cosmic Unity is exalted by the participation of two legendary saxophone players: Nigerian afrobeat pioneer Orlando Julius and Marshall Allen, one of the most renowned free-jazz interpreters, and part of the Sun Ra Arkestra.
As a matter of fact, thanks to the decisive contribution of the two musicians, Family Atlantica's sound seems to have its compass pointing at West Africa. Afrobeat, high-life and some afro-futuristic twists blend themselves into the already full-flavoured musical brew of the band. In this way, Cosmic Unity traces a line which sees light on the border between Colombia and Venezuela and their traditional Latin melodies ("Neti Neti" and "La Humanidad") and upbeat Caribbean mood ("Biao Infinido"). Then it crosses the Atlantic reaching West Africa, taking on board the local rhythmic patterns and brass solo lines ("Okoroba" and "Efik"). Finally, it stretches itself towards Ethiopia recalling the characteristic ethio-jazz and -funk diluted atmospheres ("Enjera").
As if that mix of music styles wasn't rich enough, Family Atlantica decided not to give any references away with the lyrics either. Luzmira Zerpa loves indeed to combine, alternate and frequently change her linguistic clothes. Throughout the abum's 15 tracks, the Venezuelan artist sings, recites, declaims and chants the dichotomy between earthly and otherworldly elements. Next to her native Spanish, which is still present on the lion's share of the tracks and allows her to put into words all her energy, she also uses English and Portuguese. In addition, "Efik" enjoys an effective call-and-response in Yoruba.
It almost goes without saying that Cosmic Unity is a fulfilling and gratifying album: it has an entire world inside and an endless sequence of sparks and references. It is able to widen cultural and geographical horizons offering a sui generis experience to its listeners. Then, just think that, when it comes Family Atlantica, the studio dimension is not even their most exciting one (you really have to see them live).
Cosmic Unity is available from Amazon UK, Amazon US and iTunes

Follow Sounds and Colours: Facebook / Twitter / Instagram / Mixcloud / Soundcloud / Bandcamp

Subscribe to the Sounds and Colours Newsletter for regular updates, news and competitions bringing the best of Latin American culture direct to your Inbox.
Share: