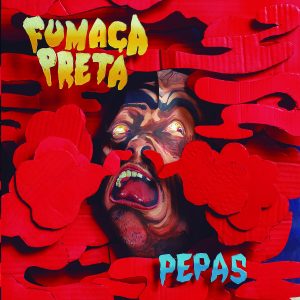 Review
Fumaça Preta – Pepas
Fumaça Preta have done it again – their new album Pepas is one "pepa" (pill) you'll want to swallow for sure! The UK and Amsterdam-based power trio seem to exist simultaneously on a parallel lysergic astral plane hovering between an infernal anti-paradisiacal South America and an existential tropical medicine dispensary. It's a self-created environment the band navigates with a sure artistic and moral compass where truth to power is the norm and the trickster spirit reigns supreme. And if you were to try and throw some rational musicological terms at it — like Latinx underground tropical, garage, hip-hop, psych, cumbia, musique concrète, punk, metal, chamber music, surf, funk or jazz — you would see your folly because none of it would really stick. It is all of these and none of these, the sum greater than its parts, micro and macro, taking you to the brink of overdose and reviving you at the last minute. Like some fever dream conveyed on a gale of billowing crimson smoke, it slips through the hands and into your ears with an insectoid bionic insistence all its own. It becomes a part of you like some jungle parasite, but instead of eating your good parts, it absorbs the bad.
Following a natural progression from their previous two albums, Fumaça Preta's Alex Figueira (drums and percussion), Stuart Carter (guitars, Moog and organ) and James Porch (bass) take it up a notch and turn out their best work yet, unleashing a blistering, bouncing, fuzzy collection of eight tunes that bear multiple repeat dance and listening sessions. Peel back the acidic layers to this exotic fruit and what emerges is a fiercely original and passionate work that reflects lead vocalist Alex Figueira's anger and sadness with what he sees as an untenable situation in his native Venezuela, a place that fills him with an intense feeling of frustration and powerlessness. But this album is not only about the outer world and its difficulties, it is also an exorcism of inner demons. Far from seeming like a simplistic topical political diatribe defined by the narrow focus of a single subject, the lyrics instead point at universal themes of corruption, brutality, oppression, excess, illness and hypocrisy while the musical accompaniment leads the listener on an expansive tour through all sorts of uncharted terrain, ending with a cathartic, careening hardcore finale that leaves you gasping for breath (did you inhale too much of that crimson smoke?).
The packaging is as intense and uncompromising as the music and lyrics, with the fantastic cover art commissioned from Colombian visual artist Mateo Rivano, known for his work with his compatriots Frente Cumbiero, Los Pirañas, Romperayo and Meridian Brothers, all avant-garde cumbia outfits which make for fitting company with Fumaça Preta's brand of tropicália gone haywire. According to the label's press release, Rivano produced a three-dimensional self-portrait where we see his anguished face "engulfed in an acrid red mist spewing from his every orifice." The massive art installation was "made out of dozens of different types of hand painted cardboard, took two months to complete and displays the same obsession with detail that the band endures during their recording process." This is the sort of uncompromising work ethic and artistic vision the recording merits, demands.
What really brings the record to another level is the fact that Pepas acts as a form of occupational art therapy for all involved, and its initially blustery and caustic yet ultimately healing and transformative qualities will probably make you feel cleansed of aggression, rot and depression once you emerge from its mind-altering fog. Interestingly, the feeling of anguish and catharsis inherent in the trajectory traced by Pepas is actually born out in reality. According to Alex Figueira, working on this record has been the hardest thing he has done as a musician to date. He has suffered from depression his whole life, and after the second Fumaça Preta record came out, there was a lot of empty hype and some negative backlash as well, plus the band couldn't get an agent, resulting in them needing to go back to square one to rethink things. As a result, Figueira slipped even deeper into his depression, which led him towards a prolonged period of questioning everything about his life as an artist. In reality, what happened with the second album was just one factor among several that became a catalyst for his worsening mental and emotional condition. His own on-going existential crisis as an emigrant and the news coming daily from Venezuela were probably just as important. For Figueira, the crucial factor perhaps was the fact that his earnings as a musician were not allowing him to financially assist his family in Venezuela as much as he would have liked. He struggled badly with that dilemma, especially when the situation started to reach dramatic proportions, which is no doubt something that every Venezuelan abroad has to confront.
Soul-work and healing is not easy but Figueira admits the album happened in a crucial moment for him after he hit bottom and got back on his feet. He goes on to say he managed to push himself by focusing on the rage, frustration and desperation that the situation in Venezuela was making him feel (an overarching concern that comes through a lot of the lyrics is his disappointment with leftist ideas that never delivered on their promises), at the same time turning the equation around and using those emotions towards constructive ends in order to exorcise those demons that were haunting him. That is why the entire album is in Spanish (as opposed to Portuguese, which featured on the last album, and was exclusively used on the debut), essentially because Figueira couldn't address those issues and emotions in any other language.
Thankfully for all of us Alex Figueira didn't give up on making music. It's plain to see the musicians rallied brilliantly around him, all working together to successfully complete the album, which found an excellent home on Stolen Body Records. Additionally, the band has had some very successful gigs to promote Pepas, all of which proves art is its own reward. This record is not just blowing smoke up your nose, it's a real achievement that deserves widespread exposure and recognition.
Pepas is available on Stolen Body Records

Follow Sounds and Colours: Facebook / Twitter / Instagram / Mixcloud / Soundcloud / Bandcamp

Subscribe to the Sounds and Colours Newsletter for regular updates, news and competitions bringing the best of Latin American culture direct to your Inbox.
Share: